What is Podcast?
Podcasts are mainly audio or video recording episodes of a program. It can also be a recorded radio or TV broadcasting program, an event, lecture, or a performance. As we all know, the podcast was introduced and popularized by the colossal Apple Inc. which is the maker of iPhone, iTunes, etc. However, if you don't subscribe to a podcast update using iTunes on your PC, you won't receive any update reminder. This is why many podcast fanatics wonder on "how to transfer podcasts from iTunes to phone"? This can be a tricky task, yet it can be done easily through the ways below.
Best ways to transfer podcast from iTunes to phone
The way to transfer Podcasts from iTunes to iPhone/iPod/iPad
The commonly-used way to transfer podcast from iTunes to iPhone, iPod, or iPad is to sync it from iTunes to computer. There is no need to get extra software, for every iOS device owner basically has iTunes readily available. Anyone can do it easily as it's just like transferring a media file into your iPhone. Here are the steps for you.
Connect your iPhone, iPad, or iPod to your PC with iTunes installed.
Now open iTunes and hit the "Podcast" tab.
A list of your available podcasts will then be shown. Choose which of these podcasts you want to appear on your iOS device.

If you want to copy an iTunes playlist into your Apple devices, simply put a checkmark beside them under "Include Episodes from Playlists". You can navigate to podcast app to find these podcast playlists .
And to start the process of synchronization simply hit "Sync" tab.
How to sync podcasts to Android phone
Getting a podcast can be easy on using any iOS devices. But it seems to be impossible to have if you are an Android device user. However, by using this method you can now transfer podcasts in iTunes library to Android by using a tool called Salling Media. This program can make podcast transfer possible for any Android devices with just few clicks. To make use of this way here are the steps to follow:
Install and run Salling Media.
Connect your Android device to a PC using data cables.
Once detected, it will lead you to the main interface and will ask you to mount your device as disk drive. So swipe down the notification bar, and pick "Disk drive" and hit "Done".
Now when the tool detects your device as a disk drive, it will automatically show a window that contains menus from iTunes such as Music, Podcast, and Photos. Click "Podcast".
After that you can select which podcast to sync, whether you want the items like 3 most recent, 5 most recent, and so forth.

When done, you can begin with the transfer by hitting the "Sync" button.
Use Phone Transfer to transfer iTunes podcasts to any supported phone
If you need to transfer a podcast from iTunes to iPod and other iOS devices at the same time manage your files, then this method is for you. It only requires a great application named Phone Transfer. With this solution you can easily transfer any media files that you have on your computer: photos, music, SMS, videos, call log , contacts, documents, podcasts and many more. Aside from transferring, this tool can also be used to managing your data files and handles smart phones that run on Android 2.1 to 4.4, Symbian 40/60, iOS 5 to 7.1, as well as Blackberry 7.1. Here are the steps for this way.
Install and run Phone Transfer.
Connect your phone to a computer using data connector.
Once your device is detected, the main interface will appear automatically.
Make the appropriate settings by choosing your device as the "Destination" and "iTunes music and playlist" as the Source.
Next is to pick the podcast playlist that you want to transfer.
To begin with the process, hit "Start copy".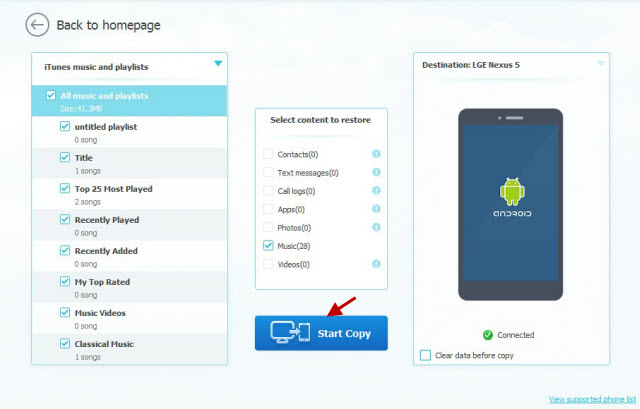 Conclusion and Comparison
Transferring iTunes podcasts to iPad or other iOS device is concerned by many users, since there're times that your podcasts do not appear in the list for synchronization or cannot be transferred to the devices properly. To avoid this kind of hassle, it is better to use an outstanding application like Phone Transfer. By using this program you can easily transfer your podcast and other data files without losing their quality.