Selfies, which is also known as the self-portrait taken on your own, is the new "in thing" these days. Social media websites are full of literal self-portraits of people who want to present themselves with more than just words. Camera provides the way to take a selfie. Unfortunately, there hasn't yet been a single smartphone that allows people to take high quality selfies via its front facing camera.
With the new HTC Desire Eye, you'll have a front facing camera that can even match the back cameras on most of the other mobiles. The 5.2 inch Android device boasts a 13 Megapixel front-facing camera, that also incorporates a dual LED flash to make sure that you can take self-pictures even in the most dimly lit environments. In fact, this phone's front and back cameras are almost identical. What this means is that you'll be able to take highly detailed selfies in dark environments, and even when you're taking them with a crowd!
In fact, if you're as much of a selfie addict, you'll probably end up with many pictures on your phone. To move them onto computer for safekeeping, you'll soon be searching for a fast way to perform HTC Desire Eye file transfer!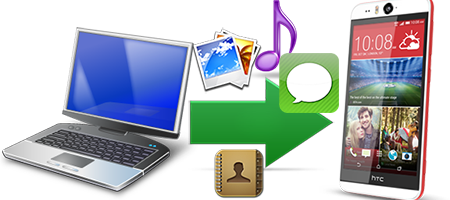 How to transfer files between HTC Desire Eye and PC
There are near endless ways to transfer files to HTC Desire Eye: you can use apps both paid and free on Google Playstore or transfer files via Bluetooth or USB cable. Here are some of the best methods for newcomers to try:
Way 1: Use Apowersoft Phone Manager
Transferring files from computer to HTC Desire Eye has never been easier –Apowersoft Phone Manager is a complete, comprehensive phone management solution that lets you perform specialized file transfer operations between your phone (iOS/Android) and your PC in a hassle free manner.
Features
It recognizes your phone the moment you connect it, and lets you manage photos, videos, music, contacts, SMS and a host of other file types.
You can also back up your phone's data using this software, and restore this backup to your phone at any time you want.
There are three ways with which this software lets you connect your device to your PC – via USB cable, through entering verification code and scanning QR code.
User guide:
You'll need to start the program before you make the connection. Using the USB method, please open USB debugging first on your HTC Desire Eye, your phone will be detected by the software the moment it is connected. If you're connecting over WiFi, you'll need to install Phone Manager App on phone, open WiFi and then it will acquire a verification code automatically.
Once you're connected, the contents of your phone will appear under the software's appropriate sections e.g. Videos, Picture, Music, Messages, Apps, Contacts, etc. You can transfer files to PC from HTC Desire Eye by tapping "Export" button for the files belonging to each category. The software also has a dedicated File Manager component which lets you browse through all the files and folders on your phone.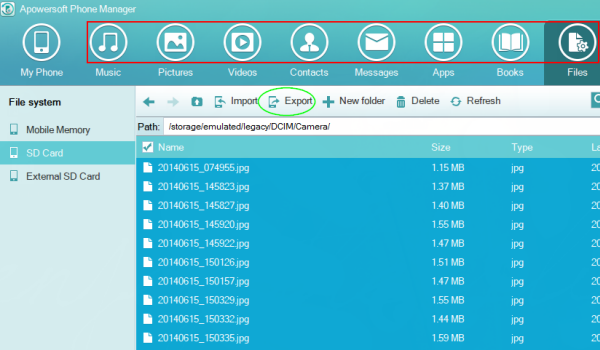 Way 2: Transfer via USB:
Note: Due to differences in phone models, the actual steps may be slightly different, but the method described below is the general course to take.
If you don't want to install any software on your phone or PC, you can perform a USB transfer manually too. You'll have to navigate to "Settings" on your phone and change your Desire Eye's default connection type to "Disk drive". Once you've done this, connect your phone to the computer and navigate your phone's directory. After that, copy files to it using Windows Explorer or any other file explorer you use.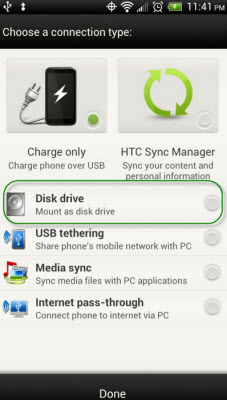 Way 3: Transfer via Bluetooth
There is a third way of transferring files from computer to HTC Desire Eye – Bluetooth connection. You will have turned on Bluetooth on your smartphone and your computer (make sure that your computer has Bluetooth connectivity, or use a Bluetooth dongle).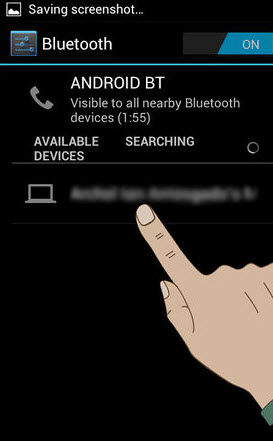 How it's done:
Before you can send files over Bluetooth to your phone, you will have to pair the two devices. Make sure that your phone is discoverable and likewise for your computer. From your computer, right click on the "Bluetooth notification" icon, and click on "Pair a device". The computer will scan for nearby devices. Once the scan completes, select your phone from the list and proceed. You will need to enter a security code on your phone after which the two devices will be ready to exchange data. Locate the file you want to send from computer, go to "Send to", select Bluetooth and make the transfer.
Conclusion
It is quite obvious that HTC file transfer – Apowersoft Phone Manager is the quickest, most efficient way of the three. It requires very little configuration on your part (as opposed to the other two methods) and sort files in right section. The WiFi transfer feature and the USB transfer feature are combined together in the software, which means you have a backup method in case either fails.