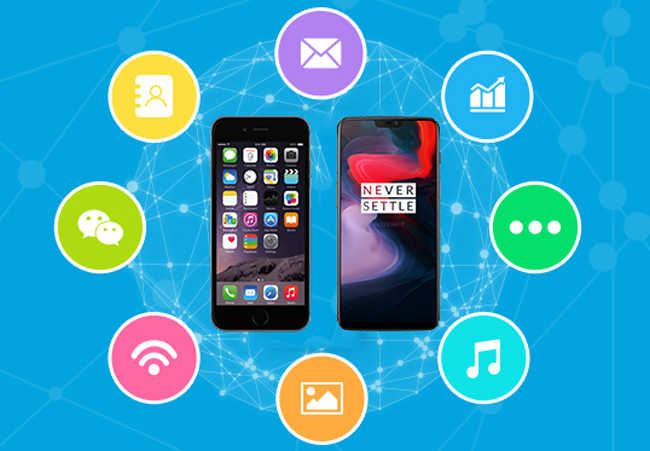 We are living in an increasingly paperless society where even your phone number book, albums, and calendars are going digital. That might make your life easier because you can quickly get the information you want with a phone in your hands, but that sometimes doesn't bring you the sense of security because you worry about your privacy. Actually, there are also times when you change to a new phone only to find that there is nothing left of your saved data. Then you start to consider how to move the data from your old phone to the new one. If you ever used a iPhone and now you owe an OnePlus 6T, then you know how hard it is to sync data from iPhone to Android. But never mind that, here we will show you how to transfer data from iPhone to OnePlus 6T.
How to Transfer Data from iPhone to OnePlus 6T
ApowerManager
To move data from iPhone to OnePlus 6T, you'll need this popular software. ApowerManager supports both iPhone and Android and can run on Mac and Windows. It is not only software to help you transfer data between phones, but also help you transfer data between phones and computers. In addition, this program enables you to transfer various files, such as photos, music, videos, contacts, messages, documents and so on. You can choose to connect your phone via the WiFi or the USB cable, and both ways are easy to follow. If you are wondering how to transfer data from iPhone to OnePlus 6T using ApowerManager, then you can refer to these instructions:
Download and install the software on your computer.
Launch it and connect your iPhone to PC using a USB cable.
Once connected, select some files and export them to your computer.

At this moment, connect your OnePlus 6T to PC using a USB cable.
Go to "My Device" and click the name of your device at the bottom left corner to switch from iPhone to OnePlus 6T.

Click the name of your OnePlus 6T and import all your iPhone data from your PC to your OnePlus 6T.
AirMore
If you are looking for a free app to transfer data from iPhone to OnePlus 6T, then you can try AirMore, which is providing a new solution to transfer data between mobile phones. The free app is compatible with both iPhone and Android devices. It works by wirelessly sending your data from iPhone to OnePlus 6T in just several clicks and allows you to transfer music, photos, videos, contacts, etc. between iPhone and Android. Below are the steps to transfer data using AirMore:
Connect both phones to the same WiFi and launch the app.
Go to "More" > "Phone Transfer" on iPhone. Wait for AirMore to detect the nearby phone.

Click the avatar named OnePlus. Then the two phones are connected.
Choose a file or a folder to transfer. You can also click "All" to transfer all files.
Click "Send" button at the mid-bottom of the interface.
AirDroid
AirDroid is the alternative to AirMore. It has a number of features meant to help keep your data more organized, making it easy to find the files you need. You can transfer pictures, music, videos, contacts, etc between phones. AirDroid also supports transferring data between mobile phones and computers. This app is also free to use, but you'll need to sign up for an account before you get all its features. Below are the instructions for how to transfer data from iPhone to OnePlus 6T using AirDroid:
Install AirDroid on both your iPhone and your OnePlus 6T.
Connect both the phones to the same internet.
Go to "Nearby" on iPhone, and wait a moment for the app to find your OnePlus 6T.
Click the avatar of OnePlus 6T.
Once connected, click the icon on the bottom-right corner to select a file type to transfer.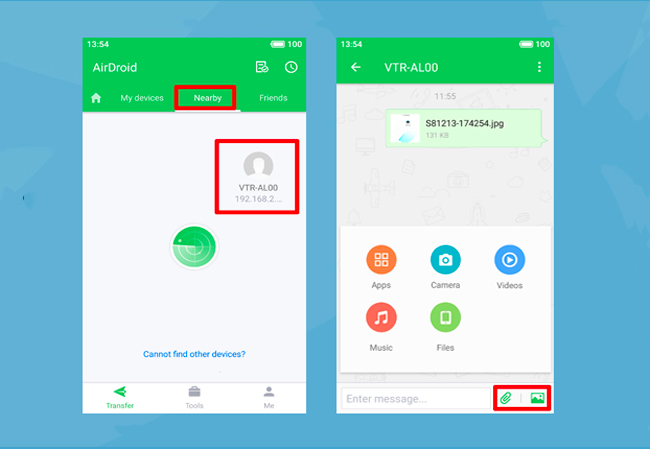 Conclusion
There are over a million and a half apps for iPhone and Android to transfer data and the number just keeps growing. Luckily, above are the best apps we picked out for you to transfer iPhone data to OnePlus 6T. ApowerManager is the desktop software while AirMore and AirDroid are the online tools. All of them can help you quickly transfer data between your phones.