Blackberry has a line of smartphones and tablets used by many people around the world. However, it seems that Samsung is taking the lead as more and more people choose this brand for their mobile phones. The latest of its Samsung S series, which is the S5, is one of the most popular smartphones. If you made the switch from Blackberry to Samsung S5, one of your concerns may be transferring contacts from Blackberry to S5.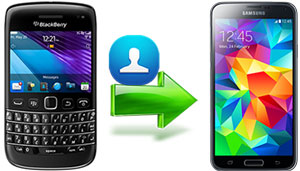 Manually saving your contacts can be time consuming, especially if you have hundreds of them. You don't have to go through this inconvenience as there are ways on how to automatically transfer your contacts, without having to do it one by one. In this article, I'll share with you three methods on how this can be done. Take a look and see which would work best for you.
How to Transfer Contacts from Blackberry to Samsung S5
Method 1: Use Phone Transfer
Our first method requires the use of Phone Transfer, which you can download below. It's easy to use and perfect for every type of users. It lets you transfer contact from Blackberry to Galaxy S5 with just a few clicks.
It does not just work on Blackberry and Samsung, but with other phones as well, including Apple, LG, Sony Ericsson and more. Once you have the application installed on your PC, launch it and click the "Start" button under "Phone to Phone Transfer". Connect your Blackberry and Samsung phones on your computer using their USB cables. They will be detected soon and showed on the window.
Make sure that Blackberry is on the left panel as it's the source and that Samsung is on the right since it's the destination. If not, click the "Flip" button to switch them. Click the box next to "Contacts" and click "Start copy". That's how simple it is to transfer Blackberry contacts to Samsung Galaxy S5 using this method.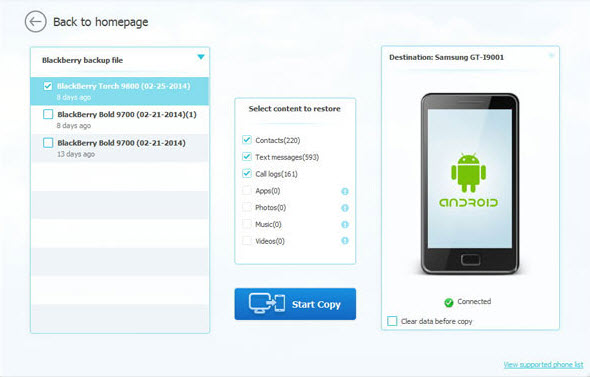 Method 2: Use Gmail, Blackberry Desktop Software and Microsoft Outlook 2010 to transfer contacts
This next option is free but it can be a bit tricky since it requires the use of various applications. You need to have the Blackberry Desktop Software and Microsoft Outlook 2010 installed on your computer. Also, you have to access to Gmail on your Samsung phone in order to get contacts saved on your new device. Moreover, the procedure contains several steps, which could be challenging to some users.
Here are the steps on how to transfer contacts from Blackberry to Samsung S5 using this option:
Launch Blackberry Desktop Software on your computer and connect your Blackberry phone.
Click "Cancel" when you get the message saying that you've connected a new device.
Select "Organizer" and click "Contacts".
Go to "Accounts Settings", choose "Microsoft Outlook" next to "Contacts Account", and choose "One Way Sync" and click "Ok".Click "Sync organizer" and click "Sync".
Once the process is complete, launch Outlook then click "File", select "Open" and choose "Import".
Click "Export to a file" then "Next".Choose "Comma Separated Values (Windows)" then "Next".
Click "Contacts" then "Next" again.Save the file with your preferred filename and destination, select "Next" and click "Finish".
Once export is complete, go to google.com/contacts and sign in with your Gmail account.Select "More", choose "Import", find the file for the contacts you saved and click "Import".
Once the process is finish, access "Settings" then "Accounts" on your Samsung S5. Tap "Google" and select the Gmail account used for importing contacts from your PC. Tap to place a checkmark on "Sync contacts" and select "Sync now".
Method 3: Transfer through Blackberry Desktop Software and Samsung Kies
Moving on with our last alternative, it's also cost free and it requires the use of two applications. These applications are Blackberry Desktop Software and Samsung Kies. You'll use the Software to backup your information from your Blackberry Device. To do this, launch the said application, connect your Blackberry phone to your computer and click "Back up now". Once a backup is complete, launch Samsung Kies, connect your Samsung phone onto your PC, click "Basic information", choose "Select a device" and click "Blackberry" then select contacts or other data that you need to transfer.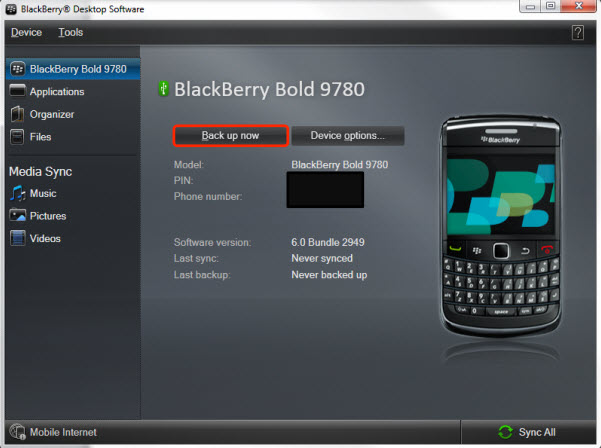 Conclusion
The second method wouldn't cost you a dollar but you must use several applications and the steps can be complicated. The third Blackberry to Samsung S5 contacts transfer option is also for free but it still requires the use of two separate programs. Using Phone Transfer may come with a small price tag, but it's the most convenient to use. It's user friendly and it's the only application you'll need. Furthermore, it supports various devices and allows to transfer other data aside from your contacts.