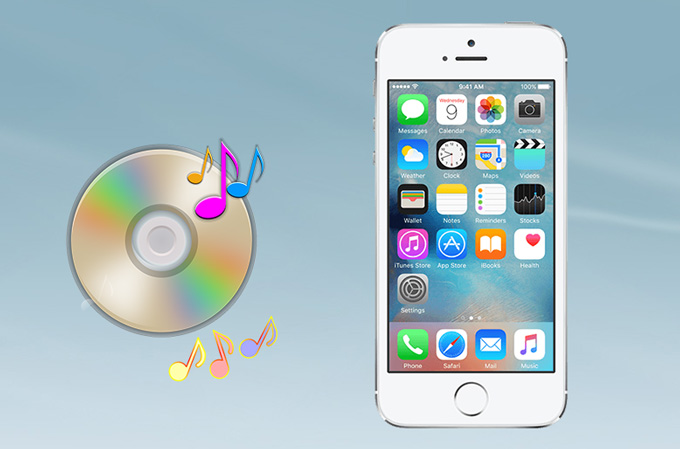 Downloading music online can be a hassle especially when you have the CD version of the songs you want to listen. The problem of relying on your disc, however, is that you can't bring it anywhere with you unless you own a portable CD player. Furthermore, you won't be able to play audio on your phone because devices don't have the means to process files saved on CD. Hence, here are some possible solutions to transfer music from CD to iPhone. Scroll down to know the two different ways on how you can do this.
How to Import Songs from CD to iPhone
How to Transfer Music from CD to iPhone without iTunes?
1. Convert Songs to iPhone Formats with Windows Media Player
Since most of the files from CD have different formats, you need to convert the audio files into mp3 before transferring them to your phone. The easiest way to do this is by using your Windows Media Player. This is a free music and video player that can be accessed readily on Windows computer. Aside from playing audios, it is also capable of extracting contents from CD. However, the default format of the converted file will be WMA which can't be played on your iOS devices. So, you need to change this option first to make the file compatible to your phone. To do this, follow the steps below before you learn how to import songs from CD to iPhone.
The first thing you need to do is inserting the CD to your computer and make sure that you're in the library mode on your media player.
Select your disc from the Library option and dropdown "Rip Settings". Press on "More Options" > "Rip Music" then choose mp3 from the formats available.

After that, click on "Change" and select the folder where you want to save your audio files (optional).
Hit "Ok" and go back to the main library. From here, click "Rip CD" and wait until the program process your files.
2. Import songs from CD to your iPhone With ApowerManager
Once you have ripped your files, you can now copy CD to iPhone with the help of ApowerManager. This is a software that manages your mobile contents on computer efficiently. It supports transferring contacts, books, notes, video, photos, messages and music between mobile phones and computers. As a matter of fact, it can be used to export and import unlimited songs as well as ringtones. Moreover, the app takes pride on its ability to process bulk files without compromising the quality and transfer speed. What sets this apart to its competitor is that it does not have limitations in terms of file size. So, you may copy large files between your phone and computer. In addition to that, it works even without an internet connection; thus, you can access this when you're residing in remote areas. Here's how to transfer music from CD to iPhone:
To start, locate the installer of ApowerManager and run the file on your computer.
On your iPhone, proceed to the App Store and install the mobile version of the application.
Next, launch the program and connect your device with a lightning cable.
Upon processing your phone, tap on "Trust" to allow successful connection.
From the main interface of the program, click on "Music" or go to the "Manage" tab and choose "Music" from the left side bar to view the songs stored on your device.

At this point, hit the "Import" button and upload the songs you've extracted from your CD.

Tip: You may choose whether to import a whole folder or a single file.
How to Import Songs from CD to iPhone with iTunes?
Another feasible method on how to copy CD to iPhone is iTunes. It is a phone managing application developed by Apple for iOS users. As such, this can be used to transfer music, videos, pictures, and eBooks between computer and iPhone, iPad, or iPod touch. It also serves as a media player and downloader. With this, you can directly import your songs on your CD to your phone as it can read disc inserted on your PC. However, users of this program complain about its laggy performance and complicated interface. So, if you're not techy, you might need to search for articles on how to use the application. Anyway, read the guidelines provided below on how to put CD on iPhone.
First, insert the CD on your computer and run iTunes. Click the CD icon located at the upper left area of your screen.
A pop-up message will appear asking if you want to import the disc into your library. Simply hit "Yes".
From the extracted files, check the items that you want to import and click "Import CD". Set your format to mp3 then press "Ok" to apply the changes you've made.

After these steps, connect your phone to iTunes and under "Devices", select your iPhone.
Click on "Music" > "Sync Music" and choose "Selected playlists, artists, albums, and genres". Tick the box beside the album you copied from your CD and hit "Sync".
Conclusion
The above ways show you how to get music from a CD to your iPhone. As you can see, both programs work flawlessly in extracting and transferring files from your disc. However, ApowerManager is more reliable than iTunes as it does not disconnect your phone unexpectedly. Furthermore, it has additional features like creating playlist or adding ringtones which are easy to operate.