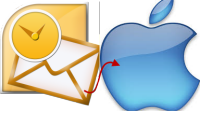 Microsoft Outlook is an email and personal information manager which allows users to manage emails, contacts and calendar easily. Many corporations use this, because it is more organized when compared with other email servers and it can easily coordinate with meetings, get updated with calendar events and more. Additionally, Outlook can also be synched with some devices like iPhone. Nowadays, people are too busy to check their computer all the time. It is important to sync Outlook to iPhone, for it can help users in checking their emails and be notified all the time. Furthermore, contacts on Outlook can also be synched and users can easily find important person contact details. There is no need to turn on PC but just to check an email, calendar events, or look for a single contact.
On the other hand, some people are having a hard time in synching Outlook contacts to iPhone that is why they just go with checking their computer all the time, which actually is a little hassle. With this, below are some ways to help people sync Outlook to iPhone.
Three Ways to Sync Outlook to iPhone
Way 1: Use iCloud to sync Outlook to iPhone
One helpful way on how to sync Outlook contacts with iPhone is through iCloud. Just like iTunes, you need to have an iCloud account in order to make this method work. iCloud is a cloud storage and it is created by Apple Inc (the maker of iTunes and other IOS devices including iPhone). iTunes account can be used in iCloud. To sync contacts, see the steps as follows.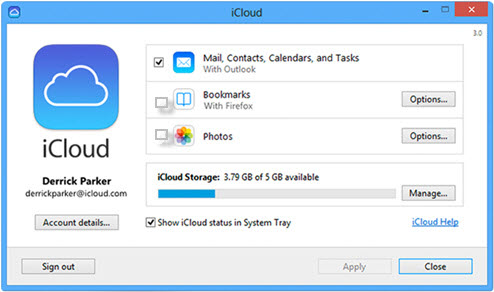 Download and install iCloud in the computer.
Log in using your iTunes account.
Check on "Mail", "Contacts", "Calendars"
Click on "Apply" to finish the process.
Way 2: Use Exchange to sync Outlook to iPhone
This method is very useful for company owners and employees. It is applicable if the company has Microsoft Exchange 2003, 2007 or 2010 set up. Actually iPhone can be synced by means of ActiveSync protocol.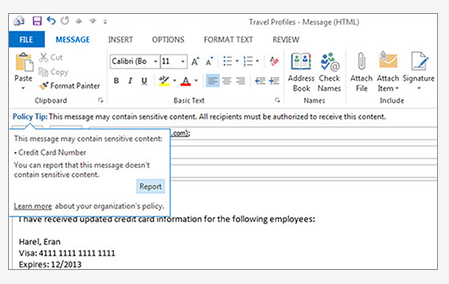 Set up an Outlook account using Exchange.
On the iPhone, go to "Settings > Mail, Contacts, Calendars".
From there, click on "Add Account > Exchange".
Fill out email, username, password, domain and description.
In case auto- discovery is enabled in Exchange, more information will automatically be filled. If not, you need to fill out the server information and click on "Next" afterwards.
After that, iPhone will display the list of data you want to sync. Choose contact and click on "Save".
Way 3: Use iTunes to sync Outlook to iPhone
Using iTunes is one of the easiest ways to sync Outlook contacts with iPhone. Many iPhone users definitely have iTunes account because this is one of the requirements in running an iOS device. Follow the steps below to sync your Outlook account to an iPhone. Note that you need to make sure that the iTunes plug-in is enabled in Outlook.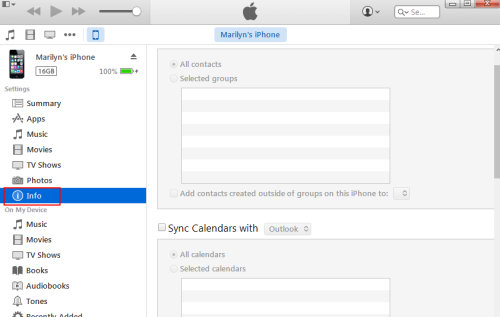 Connect the iPhone in the computer and iTunes will automatically appear. If not, just simply look for the iTunes icon in the computer and click it to open.
Next, open "Info" tab, check on "Sync Contacts with:"under Contacts label and drop it down and select "Outlook".
In case you want to sync all the contacts, click on "All contacts". However, if you just want to sync just few, click on "Selected groups" and choose the group you want to sync. These two options are found just below the Contacts label.
Note that these steps also imply with calendar events. Just check on the Calendar label and check those you want to be synchronized.
Lastly, click on "Sync" button to finish the process.
Aside from synching contacts and other stuff, iTunes is also used to manage iPhone files in order to have them well organized. Furthermore, aside from iTunes, Apowersoft Phone Manager is also another tool which can manage files on PC. This tool is specially made to manage phones like iPhones. It allows users to back up files, restore the phone, import and export images, videos, music, messages and even contacts as well. Additionally, as compared with iTunes, this tool is much easier to use because it does not require any account in order to run. It can also be used to change phone settings such as wallpaper and ringtone. You can try it out for free by clicking the download button below.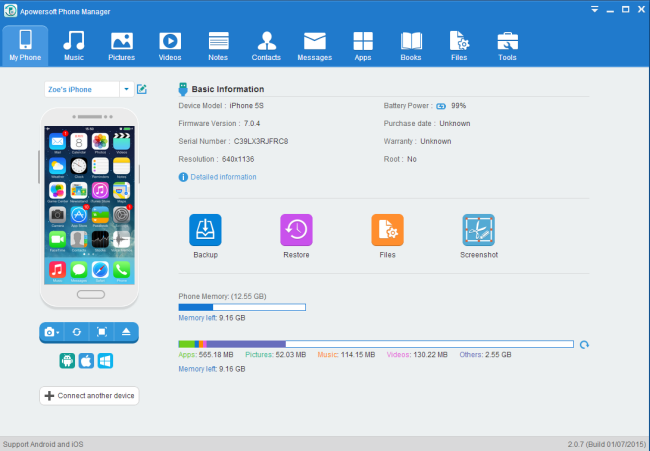 Those are the three simple ways on how you can sync Outlook contacts to iPhone. All these methods are free and handy. Users just need to have a good understanding of instructions and they will be able to sync contacts and calendars easily.