How to sync music to Android from PC is a big question especially for novice mobile users. Transferring your most wanted audio files from your computer to your new smartphone entails both confusion and complication. Imagine that you need to connect your device, install software both on your computer as well as cellphone, specify location paths and keep an eye on hard-to-follow instructions. The worst thing is that after transferring your music, it won't play on your Android tablet or cellphone.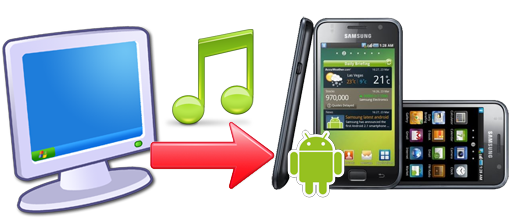 Luckily, there are lots of programs meant to make your life incredibly easy. With these tools, you can forget all about the confusion and complication. You just need few clicks, good connection and reliable program to get things done. If you want to enjoy good music on your phone minus all the hassle of transferring, read on to this article.
Method 1: Sync Music to Android from PC Wirelessly
One of the most common ways of transferring your music from computer to Android is by using the supplied USB cable. But what if you have a broken USB cable? Or you lost one? How can you sync music to Android from computer? The answer is simple, use Apowersoft Android Manager to transfer music wirelessly. Forget the cable and step into the future of technology, go wireless!
With Apowersoft Android Manager, you can not only transfer music into your mobile phone but also do the same for contacts, photos, videos, documents, SMS and all others. Using it is very simple, see this below:
Check if your device is supported. Most Samsung, HTC, Nexus and Motorola phones are compatible.
Download and install the latest version of the software.

Connect your Android device to your computer using the same Wi-Fi connection. The program will automatically detect your phone and the device's name will appear on the main window.
Locate the "music" tab on the left column and click "add" to add audio contents. You can also transfer the saved iTunes playlists and music folders.

Upon completion, a pop-up window will appear the transfer is finished.
That's it, fast and super easy to use. You can similarly do other things such as transferring music files from internal phone storage to SD card as well as deleting and organizing audio contents.
Method 2: Using USB Cable
If you don't have Wi-Fi at home but you have a USB cable, you can use it to sync music from PC to Android phone. Depending on the brand of your phone, manufacturers do have exclusive desktop applications on where you can manage files. Simply download the program, connect your device using the USB cable and follow instructions.
However for those who don't want to search and install exclusive desktop apps from Android manufacturers, you can still sync songs to your Android phone and tablet PC using your USB cable. Follow this guide below and learn how to transfer audio files without programs or applications but only a USB cable.
Connect your Android smartphone to your computer using the USB cable.
Hold on until windows recognize your device. For first time users, wait until all plugins and required software are automatically installed.
On your smartphone, tap the notification bar and click connect as media device.
Use windows explorer to transfer music contents.
Choose desired files or folders, right click, hit "copy" and transfer songs to your mobile phone.
Method 3: Using Windows Media Player
As a more specific way to sync audio with your Android phone, you can use WMP to do so. But before you go ahead and plug your device into your computer, it is a must to note that you should set-up your Windows Media Player library first. Make sure that all your songs or playlists are integrated into your Windows Player. After which go ahead with the following steps:
Connect your smartphone to the computer using a USB cable and choose "connect as portable media player".
Windows will install additional files and for first time users, this might take few minutes.
Open Windows Media Player and it should automatically recognize your device.
To transfer music files, select songs and click the "sync" button on the right column.

You can equally drag and drop music going to your Android smartphone, then hit the "sync" tab.
There are several ways on how to sync music to Android device from PC. You can go with third party application – Apowersoft Android Manager with additional features such as backing up and organizing files. Also, you can transfer audio files using windows explorer together with your USB cable or using Windows Media Player with automatic sync options. Whatever method you choose, all are proven to be easy to follow and effective.