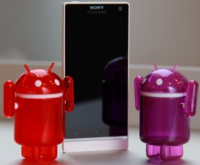 We cannot deny the fact that the smartphone market is clearly dominated with Apple and Samsung gadgets. Although they have a large market share on the mobile world, long established manufacturers such as Sony has its own followers as well. Sony Xperia is the most popular flagship handset of Sony – these smartphones are well known for its stunning camera, brilliant display and powerful processors.
If you're an owner of Sony Xperia, one of the most important tools you should have is the Sony Xperia PC Suite. Sony PC Suite is important because this allows you to transfer photos, videos, music, documents, files, contacts and other mobile data. You can equally use it to organize your mobile content as well as receive software updates from the manufacturer. Additionally, PC Suite offers backup and restoration which is very important in the event of phone reformat or accidental loss of data.
Below are some of the most popular PC Suites compatible with Sony Xperia handsets. Together with their pros and cons, check them out after the jump.
PC Suite for Sony Xperia and related models
Sony PC Companion
The Sony PC companion is the official PC Suite for Sony Xperia handsets. This official desktop application from Sony provides transferring tool, content management, backup and restoration, software update and some other functionality needed to make syncing of files from your Xperia handset to PC such a breeze.
The major advantage of using this software is that you'll get to update your handset with the latest firmware. However, the Sony PC Companion can only manage selected media files which is worse than other software. Equally, it has a rather strict PC requirement. You need to have at least Intel Pentium 4 3.6Ghz, 5GB free space, 2GB of RAM and 2.0 USB ports. Also, bear in mind that this PC Suite Sony Xperia can only run on Xperia handsets, not on Android gadgets from other manufacturers.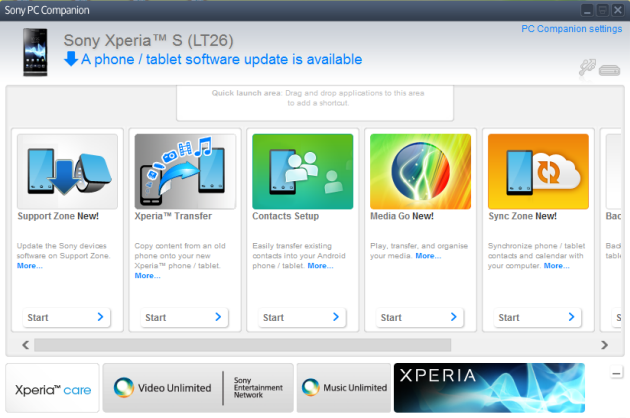 Apowersoft Phone Manager
This software might not be the officially released PC Suite from Sony but it can do tons of things other applications can't even handle. The Apowersoft Phone Manager comes absolutely free and it is fully compatible to both iOS and Android handsets. It supports not just Sony Xperia smartphones but Samsung, LG, HTC, Apple and Lenovo along with other popular smartphone brands.
This Phone Manager can transfer all files from your Xperia handset to PC and vice versa. You can use it to move all your pictures, videos, music, documents, files, contacts, applications and many more. Moreover, this Sony Xperia PC Suite can perform data backup and file restoration. This one-stop management tool can connect your Sony to PC in two ways; plug in USB cable or scan QR code via Wi-Fi. You can download it online for free and it comes absolutely clean with no viruses, malwares, spywares or add-ons.
On top of these things, the Apowersoft Phone Manager can even project your mobile screen on PC in real time. You could also take mobile screenshots directly on PC by clicking the one-snap button. The Apowersoft Phone Manager is a light application, it offers fast transferring speed, equipped with different functionalities, and best of all 100% free.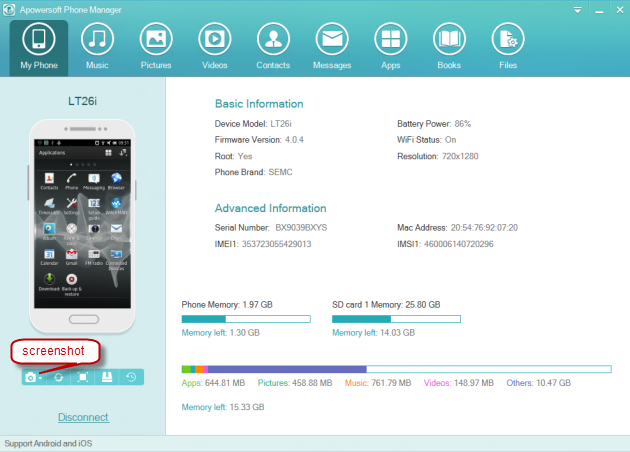 SnapPea
SnapPea is yet another PC Suite for Sony Xperia. Comparing with Sony's Companion, this app is compatible to other Android handsets but not with iOS devices. SnapPea is filled with different features such as instant access to photos, free downloadable applications, content backup, file restoration, data transferring, and different ways to connect your Xperia smartphone to PC. It is likewise free to download and there is a counterpart mobile application for your handset.
The only problem with this Sony PC Suite is that the android application is so large that it would consume too much space and memory. Also, the Windows version of SnapPea is still in beta version so don't be alarmed if there're bugs, errors and other technical glitches.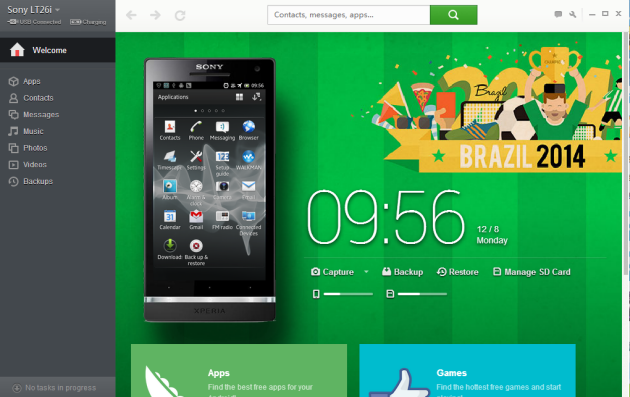 Mobilego
Another Sony PC Suite for Xperia is the Mobilego. It has all the essentials you will need such as media management, file transfer, device optimization, cloud support, cleaning of junk files, smooth operation, wireless desktop connection and all other functionalists Android fanatics would surely enjoy. This suite is only compatible to Android gadgets while there is an equivalent app for Windows users.
Even though filled with sumptuous features, the Mobilego lacks some intelligent function such as the contact name needs to be adjusted manually instead of automatically. Also, it has a slow connection speed and poor file transfer. The biggest loophole of this software is that it doesn't come free, you can download and use it for 30 days then after which you need to purchase the license key.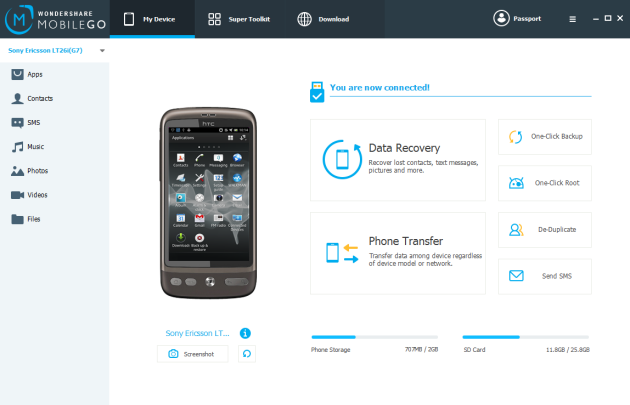 When it comes to selecting the best PC Suite for Sony Xperia along with other Xperia models, bear in mind the usability and price of the software. Why pay for a costly software when you can have the same features for free? Also, why install the official application when you can only do limited things? So choose your Sony PC Suite wisely.