I'm such a Samsung fanatic and I have been using various Samsung devices for many years. Recently, I bought a new Samsung S5 and I'm satisfied with it. However, I have one issue on "how to transfer contacts from Samsung to Samsung?" I have hundreds of phone contacts and to enter them manually will take much time.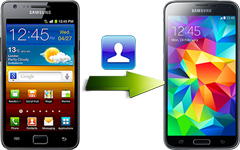 The phone contacts are always the first concern for any smart phone users, for a smart phone is somewhat useless without any contacts saved. Entering contacts manually on your smart phone is the usual method, but it will take lots of time if you have numerous contacts to transfer. So what will you do if you need to transfer contacts from Samsung S4 to Samsung S5 after an upgrade? To solve the problem, you can refer to the rest of the article below.
Three ways to transfer contacts between Samsung phones
Way 1: One-click way
The easiest and fastest way to transfer contacts between Samsung phones is by using Apowersoft Phone Transfer. This robust application can also be utilized in transferring various files such as audio, video, images, music, applications, call logs, SMS and the likes. Moreover, this great tool supports most of the well-known smart phones with brands like Samsung, Apple, HTC, and so on. It can also back up and restore phone data. Most of all, this application has the ability to transfer files from phone to phone with zero quality loss. To transfer Samsung contacts using this program, here are the steps to follow:
Download and Install Phone Transfer on your computer.
Now open the program and it will lead you to its main interface. Click "Phone to Phone Transfer" then "Start".
Next is to connect both of your Samsung phones (eg. Samsung S4 and Samsung S5) using data cables.
Wait for a moment till the tool detects both of the devices. Your old phone with contacts should be the "Source" on the left, while the phone that should receive the contacts must be the "Destination" on the right.
After that, simply tick the box for "Contacts" on the middle pane, and then hit "Start Copy".
Just wait until the transferring process is done.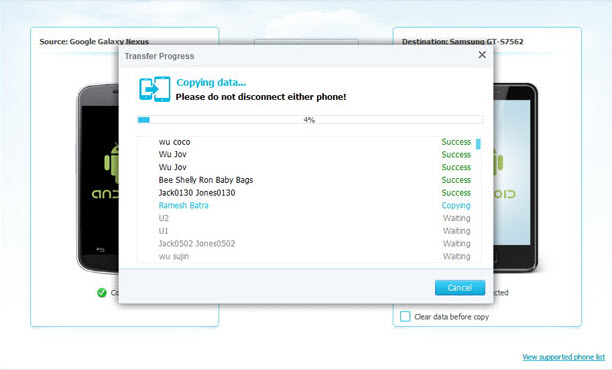 Way 2: Via Bluetooth
Another valid way to transfer contacts from Samsung phone to Samsung phone is by using the phone's Bluetooth function. To use this method here are the steps:
Simply swipe down your Samsung phone and tap the "Bluetooth" icon to activate it.
Next, get the Samsung phone that has the contacts to be transferred then go to "Phone" > "Contacts" > "Menu" > "Import/Export" > "Send namecard via".

A list of the contacts will be then showed and tap on "Select All Contacts".
Now Select "Bluetooth" and look for the phone where contacts are going to be transferred and select it.
A small data file will be then transmitted from the old phone to the new one which is called vCard or vcf.
All you need to do now is to accept the transfer of contacts in the new Samsung phone. It will begin transferring files automatically.
Way 3: Wireless way
On the other hand, if you don't know how to transfer contacts from Samsung Galaxy S2 to S4 (Also including other previous versions) then you can do it in this way. This way will require an app called Samsung Smart Switch Mobile. By using this program you can send contacts from an old Samsung phone to the new one without any cable connection. Here are the steps to use this program:
Install Samsung Smart Switch Mobile application on both Samsung phones.
Next is to position the both smart phones within 50 centimeters range with each other, and open the app.
Initiate connection by tapping on the "Connect" button from one of the phones.
When both devices are connected to each other, a list of data types will be shown and select "Contacts" then tap the "Transfer" button.

To finalize the transfer you'll need to accept the prompt by tapping "Ok" then continue.
Comparison of these methods
All of the solutions that we've discussed above provide a good result. However, sending files such as contacts from a Samsung phone to another by using Bluetooth may be unreliable, due to some reasons. Just be sure that both of your phones are virus free to avoid any damages. While using app like Samsung Smart Switch Mobile may also present some inconsistencies such as 50 centimeters range limitation. In this event, it is better to utilize Phone Transfer by Apowersoft for it is 100% safe and it transfers files without any quality loss.