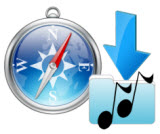 First exclusive only to Apple gadgets, a version of Safari for Microsoft Windows was released June of 2007. Safari is a web browser developed and released by American technology giant Apple. It is preinstalled on OS X and iOS operating systems meaning it is the default browser for Apple mobile phones and personal computers. Equipped with fast browsing speed and minimalist modern looking interface, it has become one of the most popular Internet utility programs of all time.
However, not everything with Safari is flamboyantly great. It has its own share of disadvantage such as complicated downloading mode. Comparing with other browsers, grabbing MP3s online using it requires some technical know-how's for things to be successful. If you want to download MP3 in Safari, it is advised to use third party applications to make the jobs easier. Know more about them after the jump.
Part I. Free Online Tools
Part II. Advanced Third-party Software
Two Apps to Download MP3 File in Safari
Apowersoft Video to MP3
Apowersoft Video to MP3 is actually one of those few applications that can grab MP3 songs online without the need to install plugins on Safari. With it, you'll get to enjoy hundreds or even thousands of different songs through its powerful MP3 search engine. You can equally use it to convert video files into popular audio formats such as MP3, WAV, WMA, AAC, FLAC and many more. Best of all, it is totally clean and safe, and comes absolutely free with no limits.
This Safari MP3 downloader is very easy to use, even novice users would get accustomed to its downloading process in minutes. Check out this quick instruction below:
1
Open the Apowersoft Video to MP3, choose "Search" and type-in related keywords such as title, artist or album and click "Search" button.

2
Results would be displayed below the search field, right-click on the "Download" icon and choose "Download linked file as".
3
Select a folder for storing the downloaded music and click "Save".
4
Later, open target folder to play the music.
Then again, there's a different way to download MP3 from Safari. Instead of searching and saving songs directly, you are able to extract sound from web music videos. Hit the "Convert from Web" tab, copy and paste the URL containing music and click "Convert". Then, download the audio off Internet.
MP3Skull
Same as the above online application, MP3Skull is another site which lets you download MP3s within a few clicks. Though, put in mind that it doesn't have a stunning interface and advertisements may pop-out from time to time. But nonetheless, it gives you the ability to stream contents directly on the site or save the file on your hard drive for a more convenient playback.
Using it to download MP3s with Safari is simple, all you need to do is to enter the song title into the blank search bar and click "Search" button and you will get relevant results. From there you have an option to play the file or save it to your PC. Besides, you can check the Top 100 Downloads on the homepage, then download desired songs. It is suggested to preview the song before downloading for the site doesn't give accurate results sometimes, titles do not match the actual content of the song.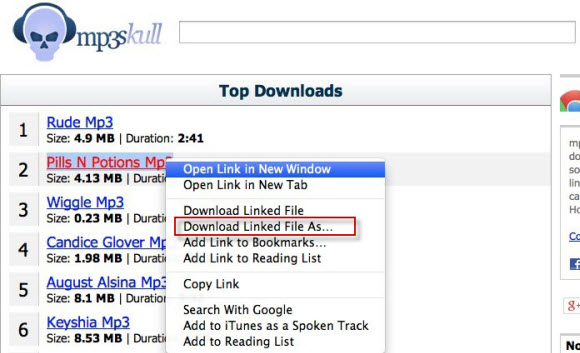 Software to Download MP3 in Safari
If you don't want to undergo the process of downloading MP3s in Safari or if you want a tool that can directly record playing audio files on your computer without losing any of its quality, Apowersoft Audio Recorder for Mac is what you need best. This handy tool can record any sound playing from your computer system or external sources such as microphones. It doesn't have recording limits and you can use it to grab songs from popular streaming sites such as Vevo, MySpace, Pandora, Deezer, MTV, iTunes Radio and more.
With this desktop program, no more complicated Safari MP3 download, everything is as easy as counting 1-2-3.
Download and open it on your computer and adjust settings as necessary.
Play the MP3 or audio file you want to grab.
Click the "Record" button to start recording process. While recording, you can pause and resume it at any time when needed.
Press "Stop" to stop recording.
The program will automatically save the file on your hard drive.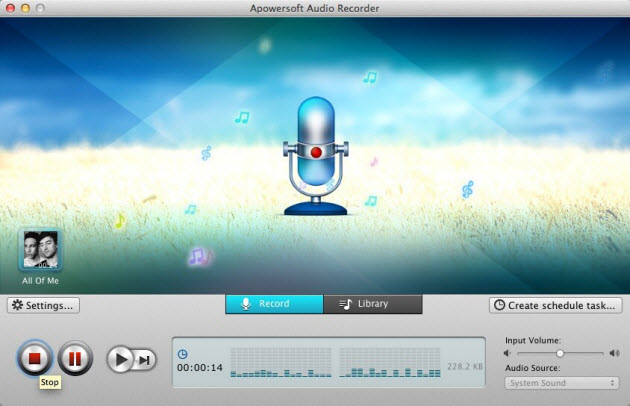 Unlike other Safari MP3 downloader, Apowersoft Audio Recorder for Mac allows you to manage recorded files by going to the "Library". From here you can rename files, delete MP3s, add songs to iTunes, automatically find ID3 tags, edit incorrect ID3 tag labels and more. Additionally, this software comes with built-in scheduler, reliable audio editor and embedded music player.