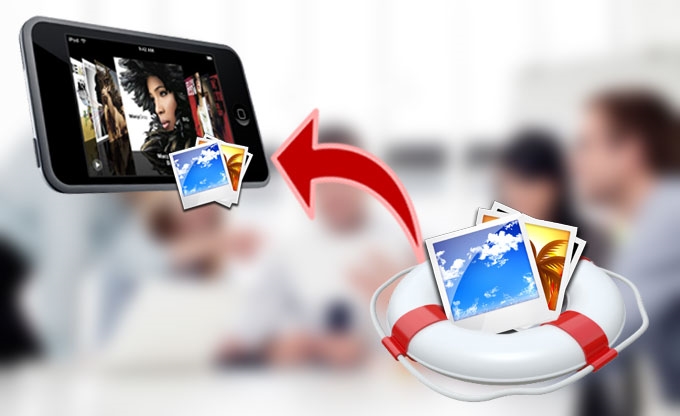 Aside from iPhones, iPods are immensely popular today. Many of us love to use our iPods to take photos simply because they are convenient and portable. As you listen to your favorite songs, you can just grab your iPod to capture interesting moments whenever and wherever you want.
However, it's inevitable to delete pictures sometimes, whether accidentally or intentionally. You don't have to be frustrated if you have recently lost your precious photos and videos. This article will teach you how to recover pictures from iPod touch easily using recommended methods.
Solution 1: Use a third party program to recover deleted photos from iPod directly.
This is data recovery software specially designed for iPhone and iPod touch. It allows you to retrieve all of your deleted photos, videos, contacts, notes, memos and various other important data. It's completely safe and easy to use, fast and effective.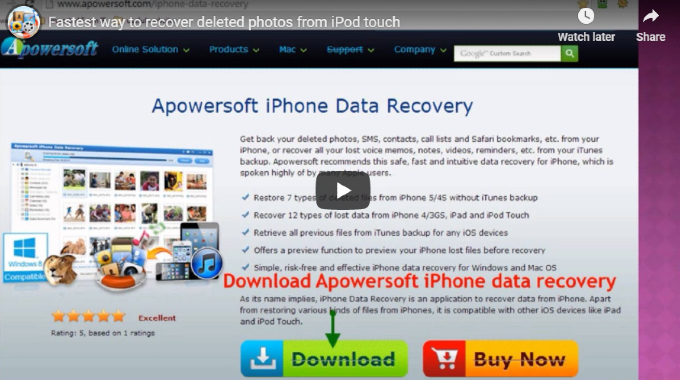 Here's how you can use this iPod touch photo recovery tool to restore your iPod's data.
Step 1: Connect your iPod to your computer.
Upon successfully installing the program, connect your device to the computer through USB cable.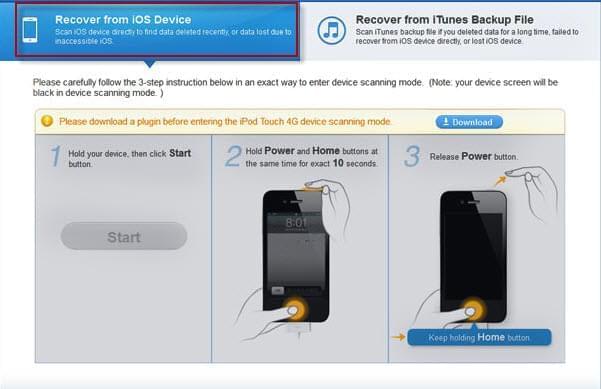 Step 2: Select "Recover from iOS Device" to recover deleted data directly from your iPod.
Step 3: Click "Start" to begin the scanning procedure.
Step 4: During the scanning process, you'll get a glimpse of all images and videos that can be restored. Select which ones you'd like to recover.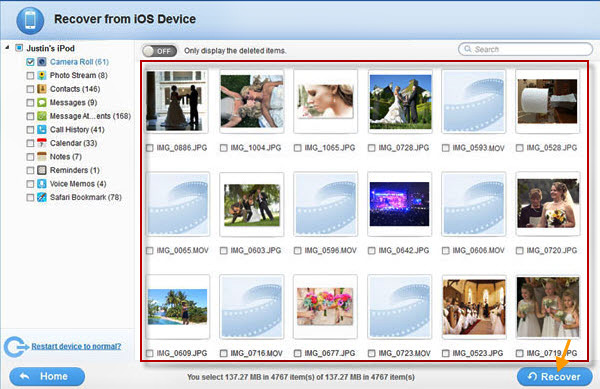 Step 5: Click "Recover".
As simple as that, you can quickly recover deleted photos from iPod touch 4g. It only takes several minutes and a few clicks to complete the recovery procedure.
iPhone Data Recovery is one of the best tools around for iPod data recovery because of the superb features that it offers:
Restores 12 types of lost data from iPod Touch, iPhone 4/3GS and iPad
Recovers all files from iTunes backup
Provides a convenient preview function so you can see all of the lost files before starting the recovery phase
Works on both Windows and Mac OS
With its two reliable recovery modes, you can easily get back lost files whether with the use of iTunes backup or iOS device recovery.
Solution 2: Recover from iTunes backup
To retrieve deleted pictures from iPod 5, you may opt for iTunes backup recovery. Ensure that your iPod's automatic syncing is turned off before connecting the device to your computer.
Click iTunes > Preferences > Devices, and then click "Prevent iPod touch 5". This recovery mode is best recommended if your iPod is inaccessible due to damages or any other reason.
Solution 3: Recover pictures from iPod touch based on special conditions.
Condition 1 – Accidentally resetting your device but items were backed up with iCloud
If you can't seem to reset your Apple ID but you have an iCloud account, there's still a good chance that you can retrieve your photos.
iCloud can back up items online or by plugging your device to the computer. If you did either of this before accidentally resetting your iPod, you should be able to restore all deleted data to its original state when you backed it up. If this doesn't work, then you'll have to recall your Apple ID password so you can get back your lost files.
Condition 2 – Backed up photos with iCloud and looking to restore the back up from weeks ago
You can do this if you backed up your files from that point. However, if your last backup was only a few days ago, then you can't possibly restore the files to a backup point before that. To recover deleted photos from iPod, try to check the latest sync of your device and see if it works. You may also check your iCloud account to restore files.
Conclusion
The solutions detailed in this article are great for getting back your valuable pictures, videos and other data. Compared to iCloud or iTunes backup recovery, the use of versatile iPod touch photo recovery software is the best solution that you can use because it offers direct recovery from your iPod as well as iTunes backup. More importantly, iPhone Data Recovery is a hundred percent effective, risk-free, fast and feature-rich.