VoIP is an acronym that stands for Voice Over Internet Protocol. Instead of your usual analog phone signal when making phone calls, it converts voice signals into digital packets, making it possible to create two-way transmission using the internet. In other words, VoIP is just like your normal telephone service but instead of using cables and lines, the power of the internet is being used.
People use VoIP for many reasons, such as getting low cost rates and functionality to automatically route your phone calls everywhere you go. Additionally, in order to save conversation and important information, many people are thinking of recording VoIP calls. Here are the top reasons to do VoIP record job:
It is useful for secretaries and assistants who want to recall important conversation notes.
Recorded VoIP calls can be shared through your friends and families.
Collecting valuable information from previous conversations is possible with VoIP record.
If you want to make use of VoIP audio recording, see these well trusted recorders below and pick the one that suits your needs best.
Popular VoIP Call Recorder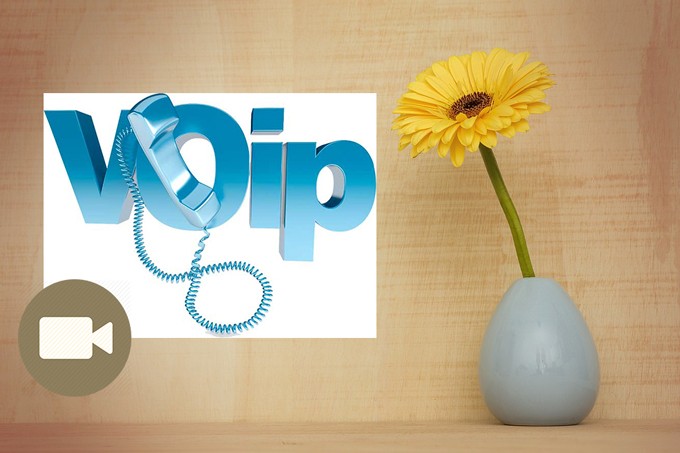 Apowersoft Free Online Audio Recorder
Apowersoft Free Online Audio Recorder not only can record VoIP conversations but anything you can hear from music playing on the internet, and voice chats also can be captured using this smart tool. It gives you the freedom to record any audio with just one click, powerful enough to save wide variety of audio files. It is convenient to use, and 100% totally free. Using it is simple, you just need to:
Navigate to Apowersoft online free recorder, click the button "Start Recording" and permit the java applet.
Choose the right input audio source. For VoIP calls it should be system sound while microphone is for external outputs. Select "System sound and Microphone" if you're unsure.
Start conversation with VoIP, hit the "Record" button to record VoIP calls.
Click "Pause" and "Stop" to finish recording.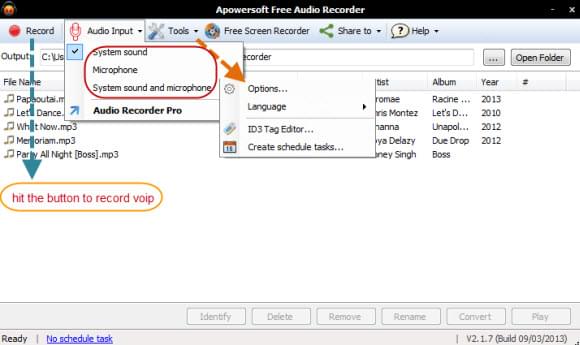 That's done. You are supported to edit the file you've just recorded, convert it into different formats or simply save it for future playback.
Streaming Audio Recorder
For premium users, Apowersoft Streaming Audio Recorder is your goldmine. Aside from the capability to record VoIP dialogue and other audio files playing in the background, this tool gives you extra features such as downloading music from video streaming sites, directly recording from radio stations, automatic ID3 tagging, burning sounds into CDs, and compatibility for both Windows as well as Mac users. Below is the guide for easy usage.
Get the software and install it. Then, run the application and adjust settings according to your likings. For example, you can specify the exact format and default path on your hard drive. Next, choose input source as system sound, microphone or both. Okay, begin conversation over VoIP, press the "On" button to record and click "Off" when done.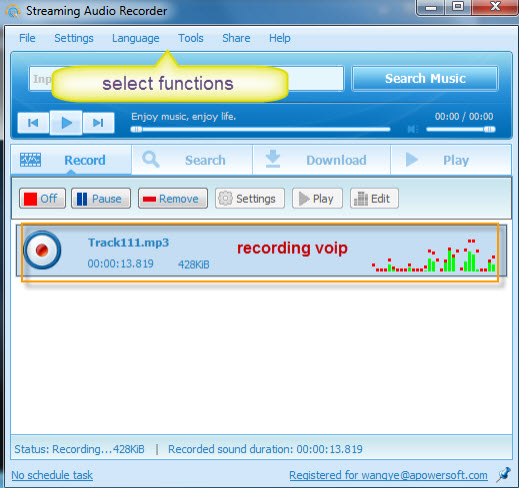 Free Sound Recorder
Another tool that enables you to record VoIP call free is the Free Sound Recorder. Just like other audio recorders, you can use this software to capture VoIP conversations and other files playing from your computer. It has the ability to capture sounds from CDs, cassette. Scheduled recording is as well as editing functions also supported.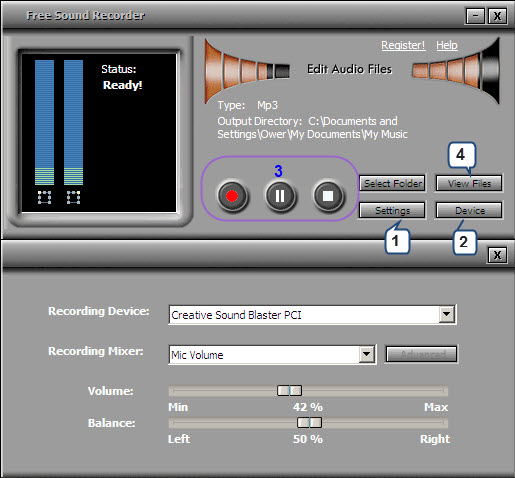 This tool is 100% free but there are some drawbacks you need to bear with. Downloading this would gain permission to other software that would be automatically installed on your computer, for some users this is just irritating. Also, hotkeys don't always function right.
Related knowledge: How to choose a good VoIP Recorder
Since we have introduced three useful recorders to record VoIP conversations, you may feel confuse about which one is better and which one is more suitable. In order to help you make a choice, I will give you some suggestions on how to select a good recorder.
Quality – This is the first thing you should consider. The program should record internet calls in original quality. In the case, you can listen to the clear sound later.
Output format – MP3 is the most widely used format, and this format can conserve the quality of sound well. So, it is better to choose a tool that can output audio in MP3 files.
User-friendliness – Especially for computer beginners, it is very important to select an easy to use program. The interface should be intuitive, and the operation should be simple.
Price – Depending on your financial situation, just choose a tool with the price that you can accept.
Best VoIP Providers
Aside from the above tools and methods which allow to record VoIP calls, top VoIP service providers are very much rampant. Some of the long standing and trusted companies are listed here, including but not limited to:
VoIP.com – with just $16.95 per month, you can now enjoy talking over the internet. This is actually lower than what other competitors offer. With VoIP.com you will get a softphone, second line and voicemail for mobile phone – all included on your subscription fee.
Skype – if there's one thing that we love from this provider, it should be the popularity across the globe. Instant messaging is free while voice calls can be as low as $4.99 per month. Moreover, users will love it for it does not need setup or cancallation fee. Additional second line, toll-free number and fax support are available with extra charges.
Lingo – this is a premier VoIP provider with a rate of $21.95 per month. It features unlimited calling to the US, Canada and 22 other countries. Equipments comes free together with other features such as caller ID, simultaneous ring, call waiting, speed dialing and all others.
VoIP is really a helpful tool, take advantage of it and choose the right way to record VoIP conversations instantly.