Launched in March of 2009, Google Voice is a telecommunication service created by the internet mogul Google. This application features free calls including pc-to-phone (US only), pc-to-pc, video calls, low rate international calls, voicemail transcription, conference calls and many more. It is available for all Gmail subscribers within and outside the US except for some functions.
Within the efficient, practical and all-around communicating functionalities, millions of people all around the world use it. Moreover, if you want to keep track of important things such as directions, client memos, conversation with friends, tasks from the boss and all others, the best way is to record Google voice calls. To know more about Google voice recording, continue reading below.
Way 1: Online Tool (For Windows)
Way 2: Practical Software (For Windows)
Way 3: Advanced Program (For Mac)
Efficient Ways to Record from Google Voice
Apowersoft Free Online Audio Recorder
If you don't want to spend a penny or having a hard time following Google Voice's own recording instructions, the app called Apowersoft Free Online Audio Recorder is what you need best. The tool can record any sound from your computer and external sources such as microphone. It endows you the ability to record audio at any length because it doesn't have recording limits. According to you need, it is easy to save audio into different formats. To record Google voice with this web app, follow the instructions to do the trick:
Visit Free Online Audio Recorder website and click the "Start Recording" button.
Permit Java to run and the tool's interface will appear. Click "Tools" then "Options" to adjust settings before recording.
Start Google Voice call and carry on with the conversation as normal.
Click the "Record" button to begin recording Google voice. Pause when needed and hit "Stop" to finish recording process.
Recorded file would be automatically saved on your hard drive, press "Open File" to find it.
Right after recording, you can also use the app to convert the audio file you've just recorded.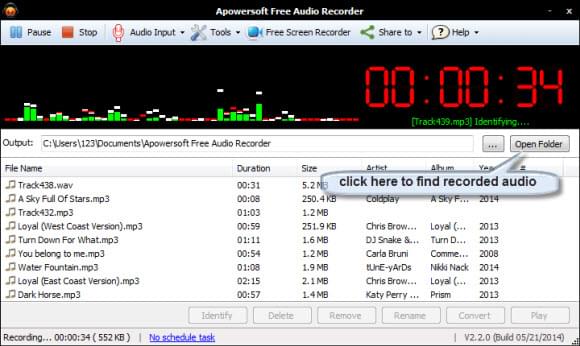 What makes it a clear cut above the rest is that it allows you to create scheduled recordings, so you can conveniently record Google calls even if you're not in front of the computer.
Total Recorder
Another Google voice recorder available in the market is the Total Recorder. Unlike the previously mentioned application, it is a desktop program that needs to be installed on your PC. It can capture and convert audio within several clicks. The biggest advantage of the software comes from its ability to edit audio files in various ways. Basically, it helps to normalize, split, cut or join compressed audios, edit tags, do audio cleaning, etc. However, you should use several steps to configure settings before recording. Here's the guide for you:
Open the application and press "Recording source and parameters" button to adjust options.
Tick "Software" and hit the "Advance" button.
From here you can select the input stream, speakers, recording level, desired pauses, etc.
Go back to "Recording source and parameters" to adjust recording file format.
After which press the "Record" button to record and "Stop" to finish it.
Save the audio on your hard drive by clicking "File" then "Save as".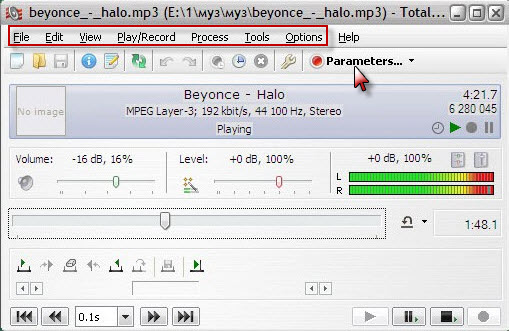 Indeed, the Total Recorder works as intended. In fact, it is a great Google voice record tool. If not for its complicated set-up and tedious recording process, beginners might see it as a user-friendly audio recorder.
Simple Way for Recording Google Voice on Mac
Mac users who need to capture Google voice can get things done with Apowersoft Audio Recorder for Mac. Take a look at the simple guide below:
After downloading it, install and open the program. Adjust recording settings according to your preference.
Make Google voice call, resume the program and click the red icon to start recording the call. Press it again to stop recording task.
The recorded file would be listed in the "Library".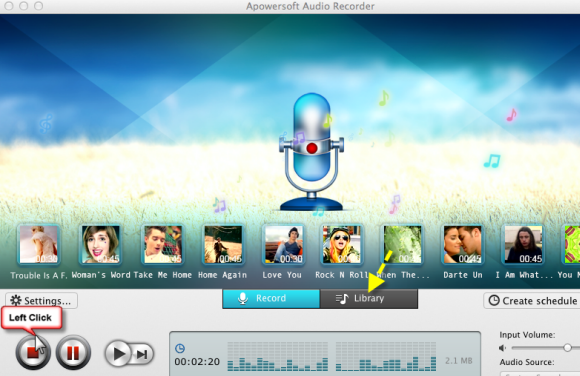 This program comes fully compatible with all Mac OS X including OS X Mountain Lion, OS X Mavericks and latter. It can record both internal and external sounds in 1:1 quality. Additionally, you can use it to edit audio files, identify ID3 tags, split recordings, filter ads, create schedule recordings and more.
There are many ways to record Google voice calls. For on-the-go users, free and online based recorders will do wonders because they are easy to use and need not to be installed. On the other hand, full blown premium apps like Apowersoft Audio Recorder for Mac are meant for professionals as well as users who frequently need to record audios or calls. Just a note to remember, before purchasing complex and highly technical recording tools, make sure that you have the right knowledge to operate it.