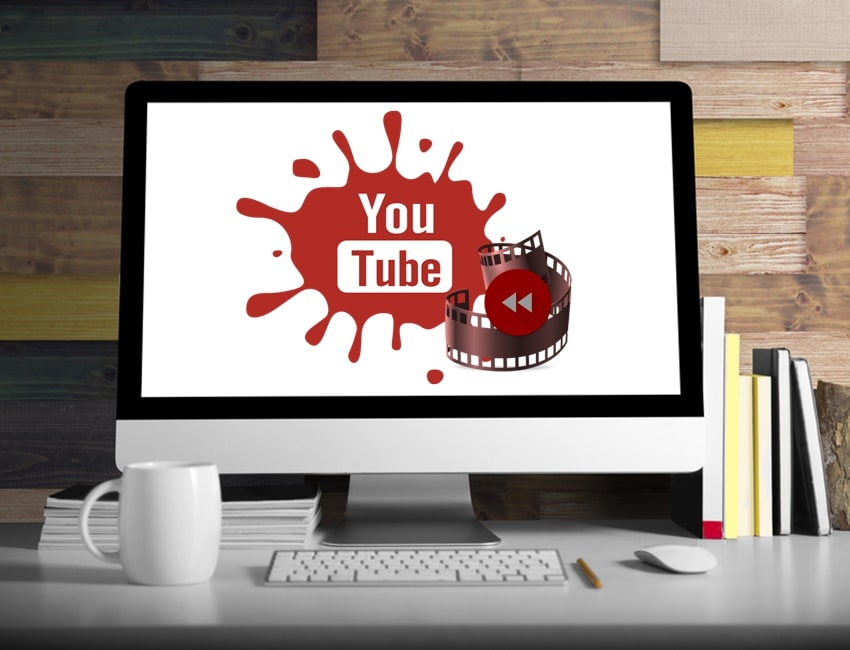 Youtube is the biggest video sharing site that we have nowadays. We can find all kinds of videos there every day. One of the trend that becomes popular recently is play YouTube video backwards, which is really a funny way to play around with video. In this post, we collected the best and easiest tools that can help you reverse video from a large number of tools in the market. Now let's check what are they.
5 Tools to Play Youtube Video Backwards
Reverse Movie FX
User's rating: 4.6
System requirements: Android 4.1 and up
Size: Varies with device
Reverse Movie FX is an Android app will let you play YouTube backwards quickly and easily on your smartphone. It will also let you record a video to reverse with the built-in camera. Moreover, you can add music to the video that you will reverse. You will surely be amazed! This app doesn't have other functions, which is only focused on the video reverse function which makes it brilliant than other apps.
Go to Google Play Store to download and install the app.
Run the app, tap the "Start reverse" icon at the middle of the screen, then select "Choose movie" to naviagte to the photo gallery to choose your video.
Once it is uploaded, select the starting and the ending frame then hit the "Start" button.
A window will pop-out, then tap "Start reversing" and wait for the video to be processed.
Pros:
It has magical reverse options.
It is simple and easy to use.
Cons:
Sometimes the video process is a little bit slow.
Reverse Vid
User's rating: 4.5
System requirements: iOS 9.3 or later
Size: 5.9 MB
Reverse Vid is an iOS app that can play YouTube video in reverse mode. This app can quickly and easily reverse your YouTube video backwards by just tapping the playback speed option. You can also adjust the speed of the video if you want. Indeed, you can't go wrong with this app.
Go to App Store to download and install the app on your mobile phone.
From the interface of the app, click the gallery icon to upload the video that you will use.
If you are sure with the video that you upload, then hit "Choose".
Then a new interface will open, select your prefer speed toreverse video and hit the check mark icon.
Pros:
It has speed and rewind action with instant replay mode.
Cons:
Sometimes it can't recognize some video format.
Beecut
User's rating: 4.7
System requirements: Windows
Size: 67.7 MB
BeeCut is one of the highly recommended video editing tools that has the ability to play YouTube video backwards without hassle. You just need to upload the video, and check the reverse function, then the software will do the magic for you. It is really an incredibly easy editor that doesn't only simplify the process of editing a video, but it also has all editing fucntions for rendering a video. The interface is well designed for beginners. So it's very easy to get started. You can also refer to the simple guide below to play YouTube video in reverse.
Download and install the program by clicking the button below.
From its interface, select 16:9 (Widescreen) for YouTube video aspect ratio.

Then, import the video on the program by clicking "Import" > "Import file".

Next, drag the video to the timeline, then double click your video to run out the editing window. Check the "Reverse" function, then it will automatically be converted in reverse.

Once done, click the "Export" icon to save your YouTube video.
Pros:
Intuitive and user-friendly interface
Keep the original quality of the reversed video.
With full-featured editing functions.
Cons:
ezgif.com
User's rating: 4.5
System requirements: Online
Size: —
Ezgif.com is the tool that will allow you to play YouTube video backwards online. This amazing site can automatically process online video after you put the YouTube video URL in the required section. You can have the same resolution for the processed video. Since this online tool gathered too many functions together, it might be a little hidden for first-time users to find the reverse function in it. You can just follow the steps we prepared for you.
Visit the official website of the tool.
Then, under "Video to GIF", click "Reverse".

Upload the video that you need by selecting either the two methods which are "Choosing file" or "paste video url". After that, hit the "Upload video" button.

Your video will be automatically reversed, just click the "Save" icon to save your edited video to your computer.
Pros:
You can reverse YouTube video in an instant.
Cons:
It has size limit for uploaded videos.
The video quality is not the same to the original one.
Kapwing
User's rating: 4.5
System requirements: Online
Size: —
Another online tool that you can have is Kapwing, this free web service can also play YouTube video backwards online. Like the above mentioned online tool, this one also provides two ways to upload a video. The best of it is you will not be asked to create an account to start. After you open it, you can just choose what you want to use to start. But it will leave a watermark on your video unless you log in it.
Open your browser, and open the official website in your preferred browser.
From its interface, choose the way that how you want to upload the video.

After that, go to the upper left corner of the screen to adjust the reverse speed that you prefer.
Finally, click the "Create" button at the lower part to process your YouTube video.
Pros:
It has a user-friendly interface.
Functions are very easy to use.
Cons:
Leave a watermark on the final file if not login.
Conclusion
Those 5 tools mentioned above can be used in different platforms to play YouTube video backwards. With them, you can easily output a YouTube video in reverse effect.