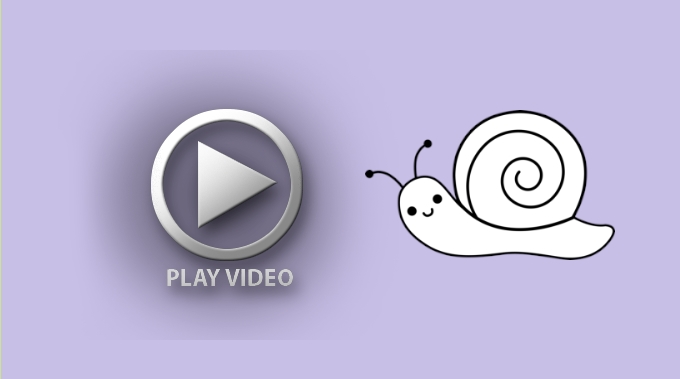 There are various reasons why people want to play a video in slow motion. There are some instances in the video where the scene is too fast and you need to slow it down to understand it properly. Some users are mesmerized with a certain scene that's why they want to review it in slow motion over and over again. Standard media players usually don't have this kind of function, that's why you need to have specialized programs such as the ones shown below.
Download
5 Easy Ways to Play Video in Slow Motion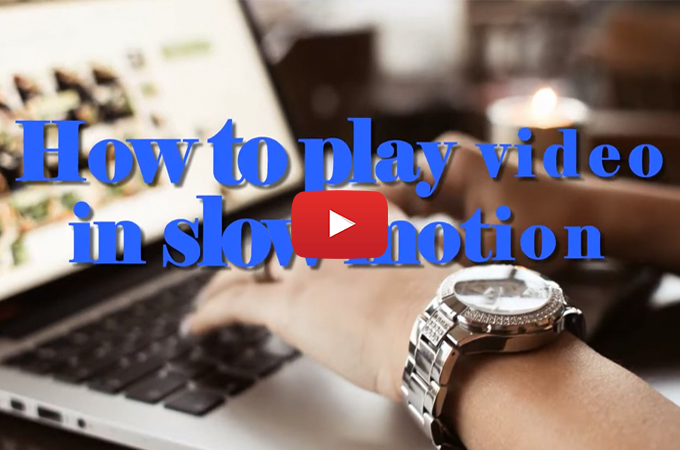 Via BeeCut
BeeCut is actually a simple video editor yet with many professional video processing tools. It doesn't only give you a way to play video in slow motion, but also provides you with the freedom to adjust the speed from 0.2x to 5.0x, and output the file in high quality at fast speed. A great number of video types and qualities are supported on it. No matter it is an MP4 video, an MKV, MOV or other kinds of file, BeeCut has no limit on the file types. And its simple interface will have you started making or playing video in the slow-motion video in a very easy and straightforward way. Let's see the steps.
Open your video in BeeCut, and drag the files to the timeline bar.
Select the file in the timeline, hit the "Edit" button on the middle toolbar and the window for changing the video motion will come out.

Drag the slider to set the playing speed for your video and hit "OK" once you are okay with it.

Play the video with the built-in player and if you wish, you can click the "Export" button to save the video to your computer permanently.
If you tried BeeCut, you must find that it has many practical video editing tools. It offers 30+ text styles, 80+ filters, 30+ borders 40+ transition effects and 60+ animated elements to be applied to videos, apart from its basic splitting, cutting and cropping features.
Via Video Converter Studio
If you want to play video in slow motion then you might consider using this multi-functional application called Video Converter Studio. This application provides you not only file conversion, but also video downloading, screen recording, and video editing. It is also equipped with a media player that is essential in watching slowing down videos. By using this tool, you can watch your video in slow motion.
Here's how you can watch a video in slow-mo using this app.
Install the app by hitting the Download button below.
Once installed, open the video that you need to play in slow motion by dragging it directly in the tool's interface, or by clicking the "Add files" button.
When the video is loaded, click "Edit" located at the lower portion of the uploaded video.
This will lead you to the editing portion of the program along with a media player. From here, go to "Effects" and then under "Speed", move the sliders to the left until you reach the speed that you need. After that, you can play the video in slow motion.
Via Movie Maker
Movie Maker is a well-known default video editing program for all computers that run Windows OS. This program is capable of doing basic editing such as adding text, effects, transitions, and audio. It can also be used to cut, trim, and split any videos. Plus, it also has a built-in media player to see the modification that you made for your video. Aside from these, this app even has a speed adjustment function that is located under the program's "Video Tools". This is where you can manipulate the speed of the video.
To play video in slow motion with this tool, all you need to do is to open the app and load a video into its interface. Once loaded, click "Edit" and under "Speed", select the speed that you want to attain. After that, you can play the video using the default media player.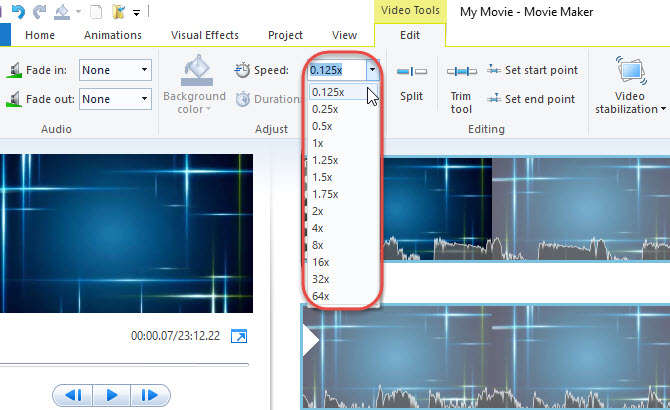 Via Jaksta Media Player
Another video player with a slow-motion function is Jaksta Media Player. This is a free media player that is available for all Windows OS users. This tool supports all types of video formats and it has a fast forward and rewind button to compliment the basic play and stop button. It is also equipped with a slower and faster function to modify the speed of the video.
To watch a video in slow motion with Jaksta Media Player, simply open the video that you wish to play. To slow down the video speed, right-click on the mouse and then select "Playback". Now under "Playback" choose "Speed" > "Slower". You will then notice the change in the speed of the video that is playing. You can repeat this process until you achieve the speed that you wish to have.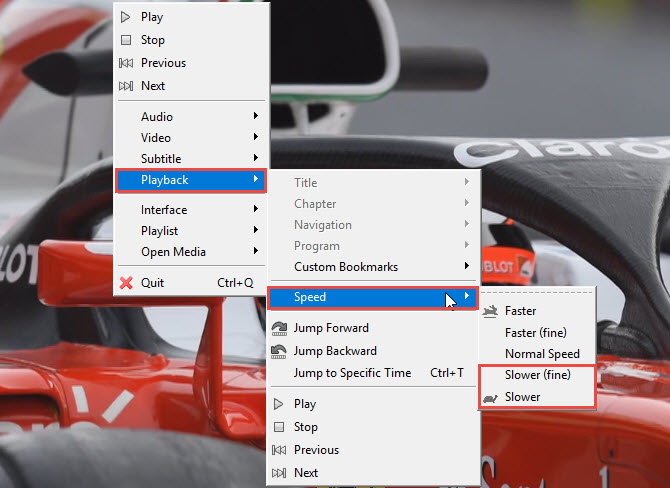 Via BS.Player
If you like a media player with a cool look, then BS. The player might be the one that you are looking for. This program is equipped with different player skins that you can choose to customize its appearance. While its function is quite identical with other media players including a play and stop, rewind and fast forward, as well as pause function. It also has a function to make video slower or faster.
To slow down a video speed, all you need to do is to open the video and right-click on your mouse. A window will appear now select "Playback", another window will appear now choose "Playback rate", then hit "Decreased by 1%" or other choices.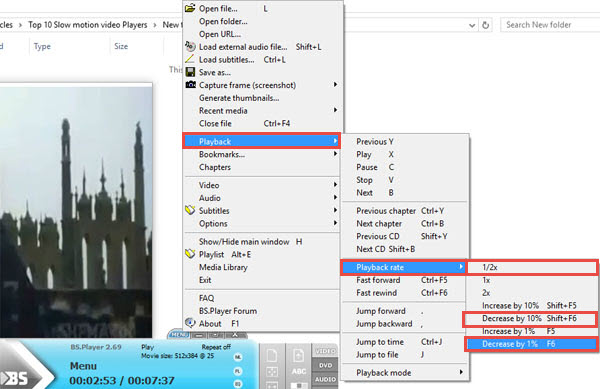 Conclusion
Those are the 5 quick ways on how to play video in slow motion. Jaksta and BS. Players are both media players so if you just need to play a video without adding any further text, effects, etc, then check out these programs. On the other hand, BeeCut, Video Converter Studio along with Movie Maker have video editing capabilities, which are useful in extensively modifying your video clip.