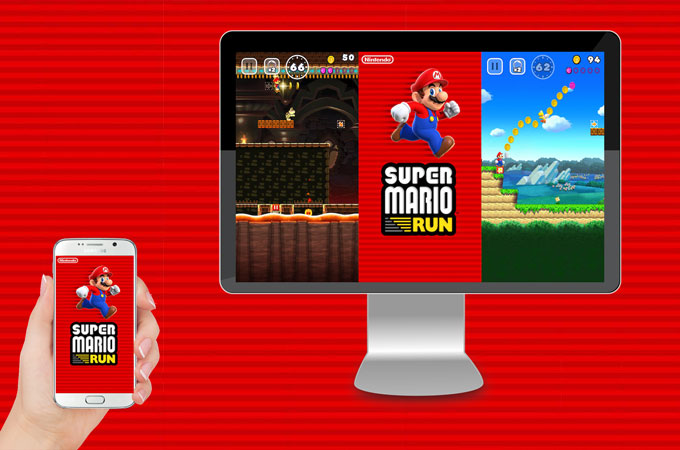 Super Mario Run has attracted a lot of attention since last year's Apple Event, when Nintendo announced it would be releasing this game. It is a hit, many people are playing it. However, the game is only available for iOS device owners. But don't worry! At the beginning of this year, Nintendo confirmed that the Android version would be available in March, which means Android users can play this game in this month. Even though the game is great on an iOS device, people are asking: how to play Super Mario Run on PC? And it is sometimes difficult to play for long periods of time on a phone or tablet. What's more, to get Mario across the obstacles and earn more coins, the screen must be tapped constantly and your fingers could get sore. Fortunately, there are some solutions to this problem and this article will show you how: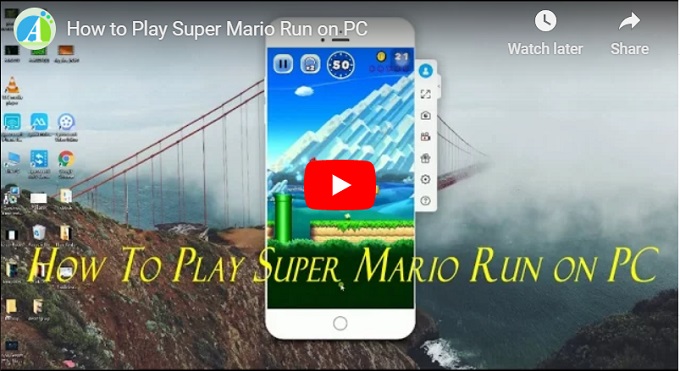 Methods to Play Super Mario Run on the Computer
ApowerMirror – An Application for Screen Mirroring
As the name implies, it can mirror your phone screen to a PC screen. This program can not only mirror your phone to your PC screen but it also allows you to capture the game play. Whether you are a Mac or PC owner, you can display the screen of iPhone and Android devices. Besides, for Android users, you can play the mobile games with the mouse of the computer. Now, click the button below to download the application on your computer and let's see how to use ApowerMirror!
Android:
Use the USB cable to connect Android to PC. If it is the first time you have used the program, the mobile app will be automatically installed once connected.
After that, you will see a notification on your PC and the phone. Tap "START NOW" on Android and you can play Super Mario Run on PC.
Tips: In order to control Android on the computer, you have to connect Android to your PC for the first time. Once controlling mode is enabled, you can choose WiFi or USB connection.
If you would like to play games on the computer without a cable, there is also the wireless connection method.
When you enable the function of controlling from PC, connect Android and your PC to the same WiFi and go to "WiFi Connection" on your mobile.
Tap "M" button on Android device, choose your computer and then "START NOW".
You can play Super Mario Run on the computer without USB.
iOS:
Make sure your iPhone and the computer are in the same WiFi. Open the software on PC.
Swipe up from the bottom of iPhone to open the Control Center. Tap "AirPlay Mirroring" and the name of your PC.
After this, the phone screen is cast on your computer.
Pros:
It is available for Android, iOS, Mac and Windows.
You do not need to download the app or game on PC again.
The game data can be stored on your phone without any loss.
Cons:
You cannot use the keyboard to control the game like playing the computer games.
For Android devices, voice cannot be streamed to PC directly.
For iOS devices, you can view phone screen on PC, but you cannot control the phone from PC.
Nox Player – An Android Emulator
You might have heard of BlueStacks. Actually, Nox Player is an emulator like BlueStacks. On it, you can download and play Android games without using your phone. So when the game is available for Android, it is also a great tool to allow you play Super Mario Run on PC.
Download the software on the computer and open it.
Go to Google Play on the interface and log in with your google account.
Install the game on the emulator.
Pros:
You can use the computer like playing on the mobile device.
You can utilize the keyboard when playing games. For example, press "WASD" to move the character in the game.
Both Android and iOS users can play this game on the computer with a google account.
Cons:
It will slow down the running of your computer, especially when the computer's performance is not great.
You cannot use the same account on your emulator and mobile simultaneously.
Summary
With these tools, you can easily play Super Mario Run on PC. I've already listed the advantages and disadvantages of each method, you can take them into consideration and find a more suitable way for you to play.