Today, Apowersoft is very proud to announce the release of Apowersoft Phone Manager 2.0 to the world. We have been preparing Phone Manager 2.0 for several months and trying our best to make it perfect. You will be pleasantly surprised when you experience the software.
This mobile management tool was improved a lot compared to the version 1.0. It comes with more streamlined user-interface, advanced features for managing music, pictures, videos, contacts, messages, applications, books and other files. It also empowers you to take phone screenshots and mirror phone screens on PC.
Well, let's start to take a close look at its distinctive features right now. We believe you will like it after reading all of its wonderful features.
Video Tutorial
Here is the detailed and vivid video introduction of Apowersoft Phone Manager 2.0.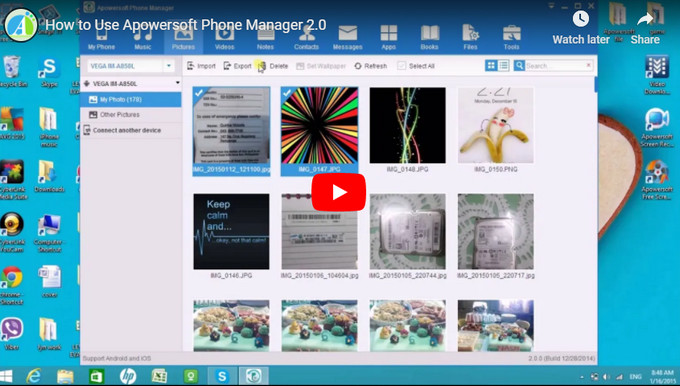 Key Features of Apowersoft Phone Manager 2.0
1. Optimized User Interface
Even if you are the newbies, you will find it super easy to connect your device to Apowersoft Phone Manager on computer. It enables you to quickly find the guides to open USB debugging mode for Android devices, connect your Samsung mobile gadgets to it via WiFi or make your iPhone 6 Plus connected to the tool.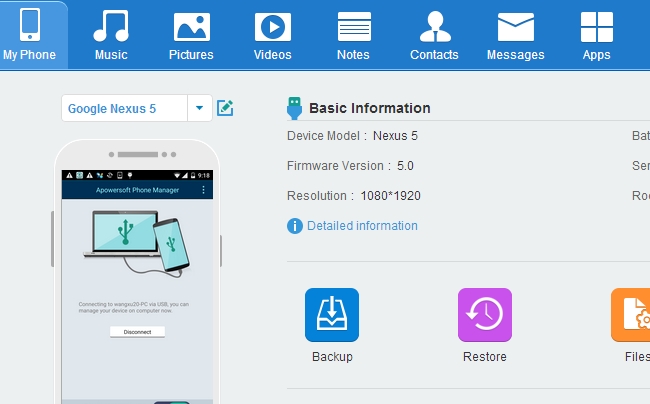 2. Support Managing Two or More Devices at a Time
If you have two or more mobile devices, it may be inconvenient for you to manage one at a time. Now this tool can help you solve this issue. You can connect several devices with different or the same operating systems to it, switch the devices and manage all mobile files like a breeze.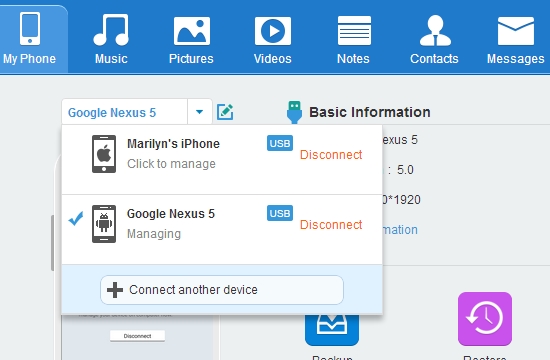 3. Manage All Your Mobile Essentials
You may want to delete thousands of photos on your phone or import some songs to your tablet, etc. How do you do that? Now just with one tool – Apowersoft Phone Manager 2.0, you can import/export data, delete unwanted phone files, set ringtones, reply messages, manage contacts, uninstall apps on your phone and so on easily. In one word, you can handle everything on your device in just one place.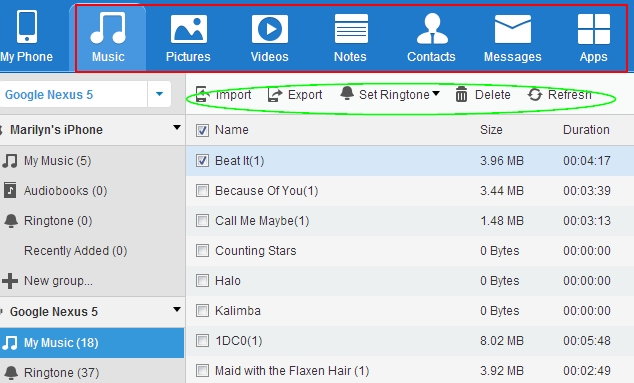 4. Secure Your Mobile Data
Always worrying about losing the important contacts or call logs stored in your phone? Take it easy because you can take advantage of this tool to backup contacts, messages, call logs, bookmarks and apps on PC. Using the restoring function of it, you could regain all backup data effortlessly.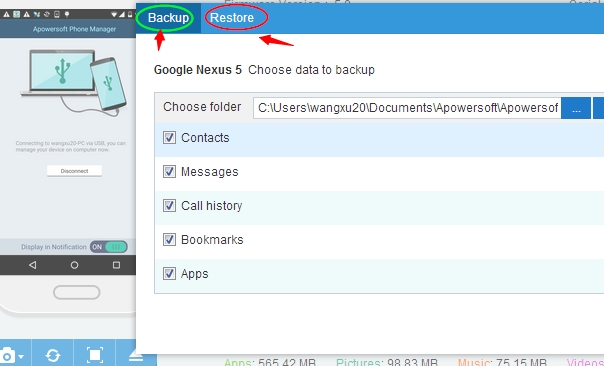 5. Check All Information on Your Phone
Once connect your phone to Phone Manager successfully on PC, you can view not only its basic but also detailed information. You will know of your phone brand, device model, battery power, resolution, firmware version, phone capacity, media files and so on.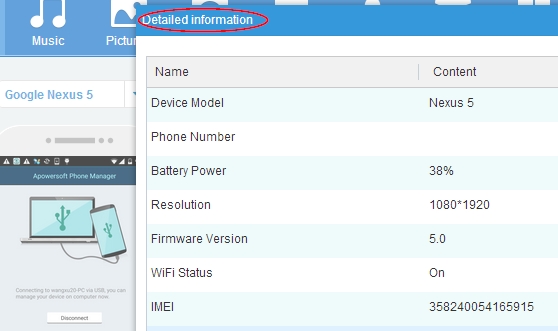 6. Take Phone Screenshot with One Click
Although we can take phone screenshot by pressing home and volume buttons, it is inconvenient sometimes. Simply click the camera icon on its home interface, you can take mobile screenshot.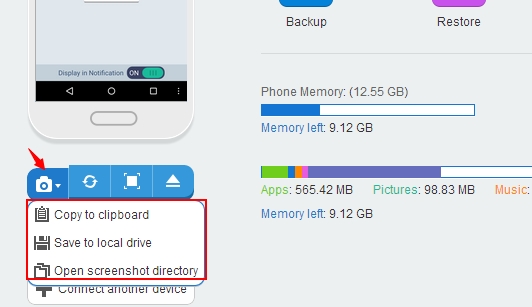 7. Mirror Mobile to PC
Due to the small screen size of phones, you will find it hard to share their screens online or with your friends clearly. Many apps on Play Store which require root access allows you to mirror phone screen on PC. While no matter your device is rooted or not, you can display phone screen on PC via this tool. More greatly, it can insure the larger image quality the same as the phone itself.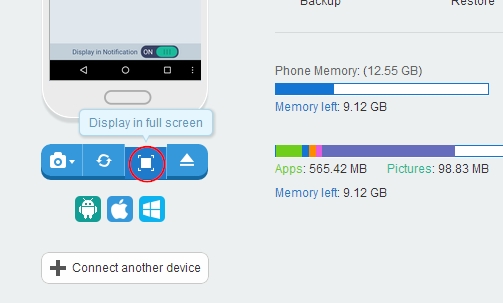 8. Other Free Services
This program has many easy-to-use free online services like Video Converter, Screen Recorder, Audio Recorder and Video Downloader.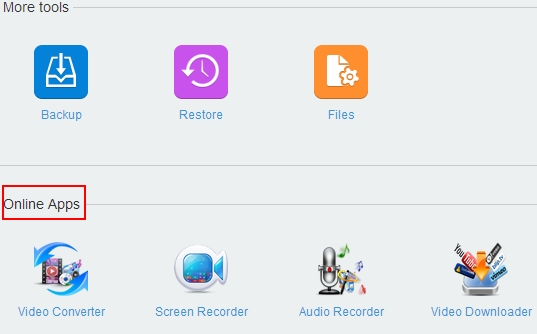 Apowersoft Phone Manager for Android
1. Free and Handy
Apowersoft Phone Manager for Android provides you the ingenuity to connect your device to its PC version by scanning QR code or entering verification code. It will be convenient for the users who don't like to use USB to connect their devices to the program. As it is a small application, it won't consume much battery on your phone.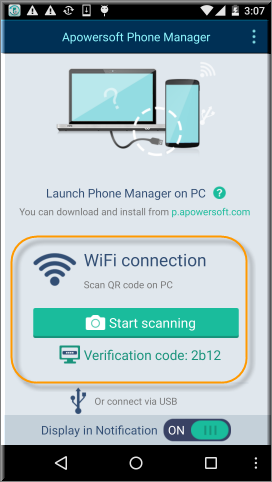 2. File Manager
Combined with file manager tool, it enables you to manage files in phone memory, SD card, or you have received or downloaded in your device. It can filter out some large files in your phone so that you can delete junk or unwanted files to free up space. All media files including pictures, music, videos and documents can be deleted, copied, cut or shared via it.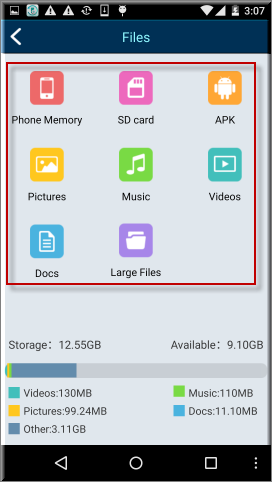 3. App Manager
If you have installed too many game, music, shopping apps or else, your phone will run very slowly. With the help of App Manager tool, you are able to batch uninstall apps quickly.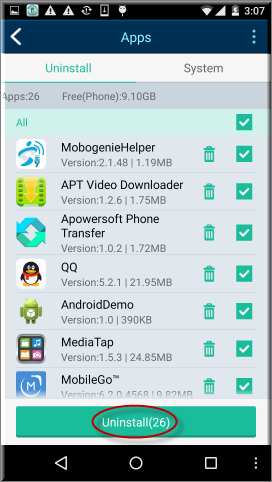 4. More Practical Tools
Designed especially for our customers, we have developed other useful and common-used tools such as QR Code Scanner, Flashlight, Hotspot and Tethering. And the Phone Transfer tool allows you to transfer various data like photos, apps, music, videos, and files among phones by clicks.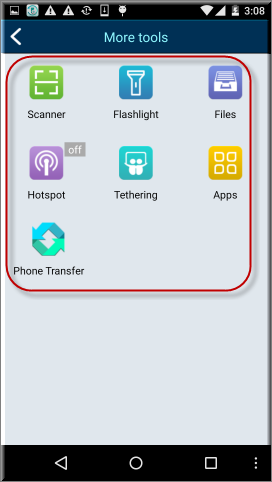 All in all, Apowersoft Phone Manager 2.0 which owns the innovative designs, high technology, and multifunction will be your first-choice when you are looking for phone management tool. Click the download button below to start your journey of managing your mobile devices right now!