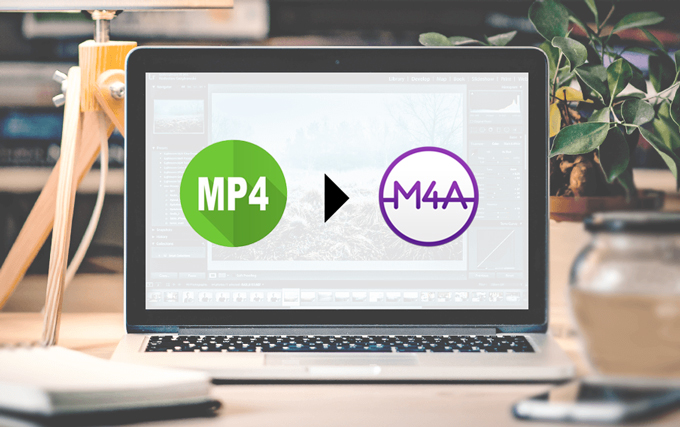 MP4 is a multimedia format for storing audio and video files, which is also being widely used over the cyber transmission. However, some apple users are wondering whether they can just listen the audio track of the MP4 file. If you also would like to extract audio part from MP4, it is highly recommended that you convert MP4 to M4A. M4A format, which is developed by Apple Inc., is popular among the users because of its lossless sound quality and low consumption of storage. Thus, in the event that you want to turn an MP4 file into an audio file for future listening on your Apple devices.
Guide on how to convert MP4 to M4A
In order to convert MP4 files easily, here are some converters and methods of great use.
1: Change the file extension easily
2: Use a free online application
3: Utilize a professional desktop converter
1
Rename the filename extension
Renaming the filename extension is quite easy for you to operate. All you need to do is to change the MP4 file extension into M4A. Is it a little confusing? Here is how it works.
Select MP4 files, right click on it and then choose "Rename".
Now change the file extension MP4 into M4A. MP4 is placed after the dot in the file name. Note that you need to type M4A in lower case.
Lastly, press "Enter" and confirm that you really want to change the format of the file. A new window will pop out asking you about this. Just simply click "Yes" for confirmation.
Transfer the new file to your Apple devices or play it directly on your Mac.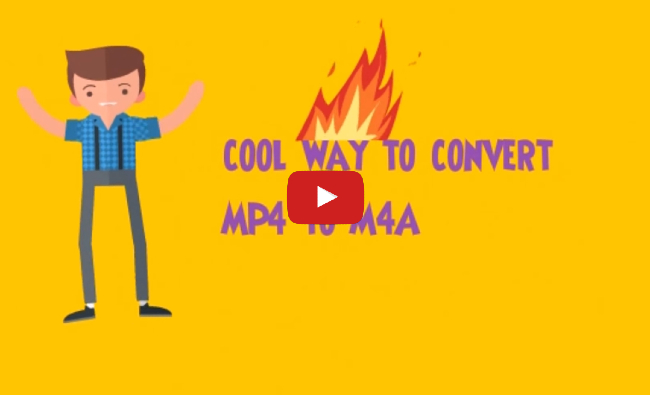 Without the help of any tools, it also does a MP4 to M4A conversion. If you PC does not reveal the file extension, just search Google for a resolution. However, once you convert the file, the original file will be lost and there might be changes in the overall quality of the file. If the file quality is not satisfactory, you might also want to try the next two converters.
2
Use a Free Online Video Converter
One great free converter for you to use is the web-based application called Apowersoft Free Online Video Converter. This is a tool that requires a network connection so as to convert normally. It not just serves as a MP4 to M4A converter but also support conversion of any other formats. Without registration or file limits, you can have nice experience during the conversion process. If you are a newbie for conversion, go to Apowersoft webpage and just follow the steps below, then you will make it easily.
Click on the "Browse" button to upload the file from the computer.
Choose "M4A" as the output format and you can adjust the parameter settings shown in the page.
Click the "Convert" button to start with the conversion and the new file will be found in the folder where the original MP4 file stays.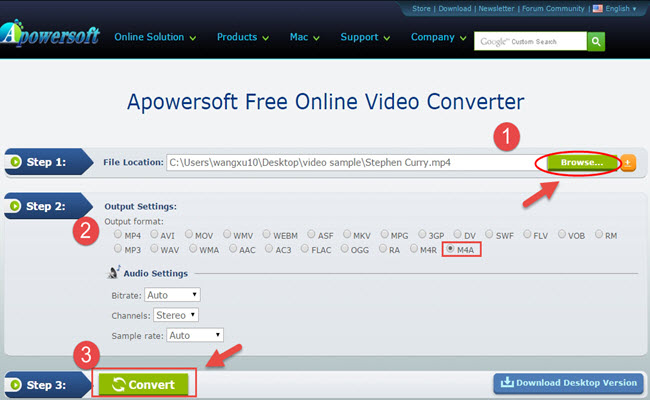 By the way, it supports batch conversion. That being said, you can add more than one file to convert at one time. Probably the only insufficient thing is that conversion speed can be affected easily by cyber status as well as file size.
3
Utilize a Desktop Video Converter Studio
Apowersoft Video Converter Studio is absolutely the best converter to use. It is a desktop program made for converting any file format including MP4 to M4A. This tool produces high quality output formats or user can decide which one to choose according to the kinds of different portable devices. Moreover you can actually preset the quality parameters of the output file. Just simply click the "Settings" button and a new window will pop out. Moreover, converting multiple files can be easily done at a fast speed for it has nothing to do with cyber connection. Just simply insert all the files and then convert them at once. Here come the steps of how to convert MP4 to M4A.
Download the program and launch it.
Click on the "Add Files" button to choose the MP4 file from the computer.
Drop down the "Profile" list, click "Audio" and then choose "M4A" as output format.
Press the "Convert" button to start converting. The file will be saved in your computer.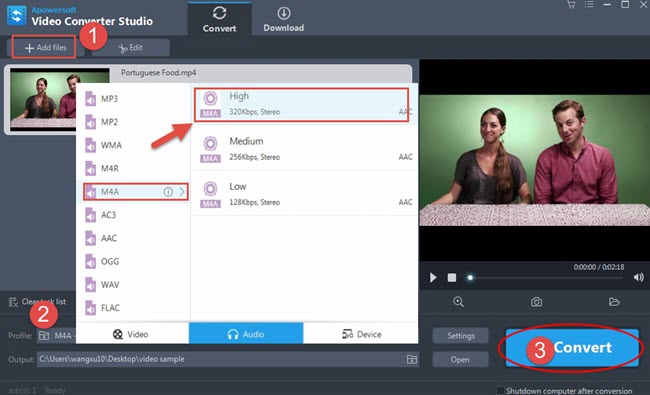 Besides that, this tool can also help you in editing videos. Simply click on the "Edit" button and you'll see an editing window. You can trim the audio by clicking "Add Trim Marker" button and drag the sliders to select the part you need.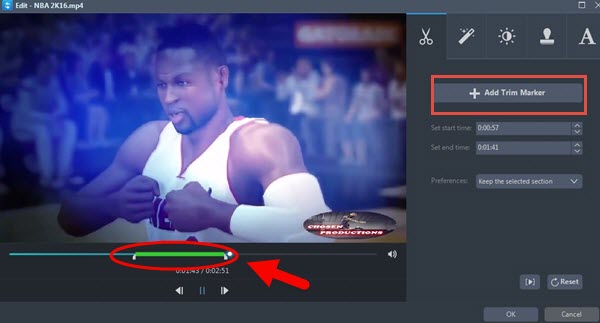 Summary
All that mentioned above are cool ways to convert MP4 to M4A. If you don't pay much attention to the quality of files, you can try to rename the file readily. If you don't want to install anything on your PC, then Free Online Converter is worth a try absolutely. For better experience of conversion process and enjoy more functions, you can utilize Video Converter Studio. Anyway, just find one way that suits you best.