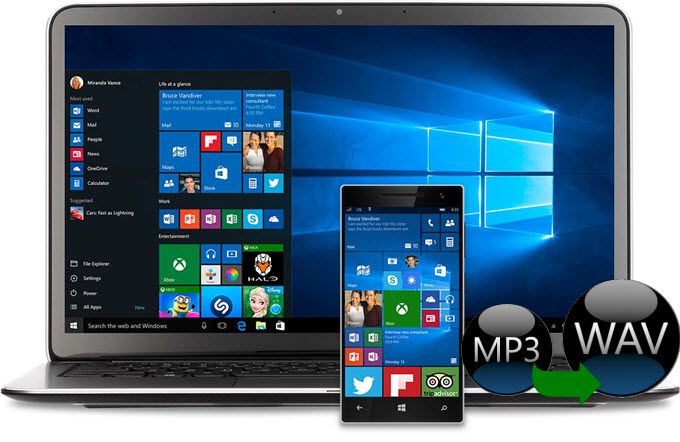 MP3 is a very common audio format. Most songs we downloaded from the Internet are in the MP3 format. Despite the fact that almost all players and devices support to play files in this format, sometimes we still want to convert it to WAV format, for example, to set the computer startup music which only accept files in WAV format. There are various methods and tools out there that can be used to convert MP3 to WAV format in the Google. We have picked three most efficient solutions to help you do the conversion job. See which one would work best for you.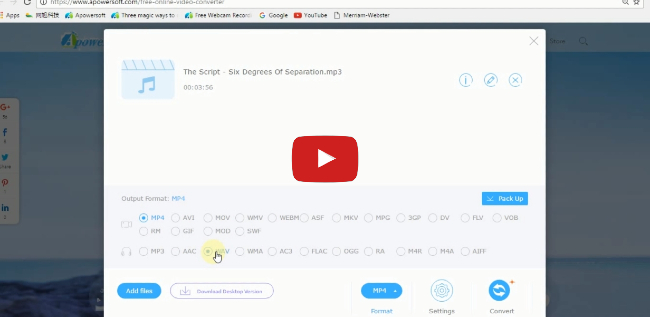 Three Ways to Convert MP3 to WAV Simply
Method One. Convert with free online tool
A free app called Free Online Video Converter would let you convert video and audio files to other formats online. Nothing would be asked for apart from the Java applet since it is a Java-based online application. With its intuitive user interface, people who would easily understand the quick and easy conversion for the first time. The whole conversion can be done in three simple steps.
i
Click the "Browse" button and select the file that you wish to convert.
ii
In the "Output Settings" section, tick "WAV". You can also change the bitrate, channels and sample rate under "Audio Settings" or leave them in default settings if you're not sure which one to choose.
iii
Click the "Convert" button to start converting MP3 to WAV.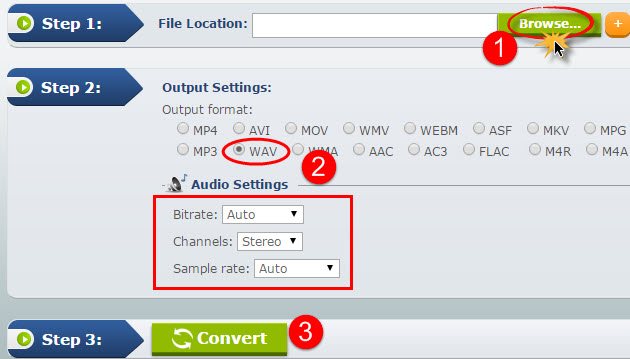 Aside from converting audio files, it also supports many video formats. However, since it is a web based tool, you need internet connection to access it, or else, it won't work. Even though this tool is able to convert batch files, but the conversion speed depends on the Network status.
Method Two. Convert with third-party program
Video Converter Studio is a professional tool that enables us to convert MP3 to WAV offline at a high conversion speed. It supports the latest Windows 10 platform. Compared to the free tool above, it let users choose their preferred quality (high, medium, low) for the resulted file and the format and devices it supports are numerous. Plus, it also allows bulk file conversions, which is a great time saver if you have a great number of files to convert. Download the program to your computer and then refer to the below guide to use it:
i
Launch the tool, click "Add files" under the convert tab to choose the file that you wish to convert. You can directly drag them in for converting.
ii
Click the drop down arrow next to "profile", select "audio", choose "WAV > lossless".
iii
Click the "convert" button and wait for the file being converted.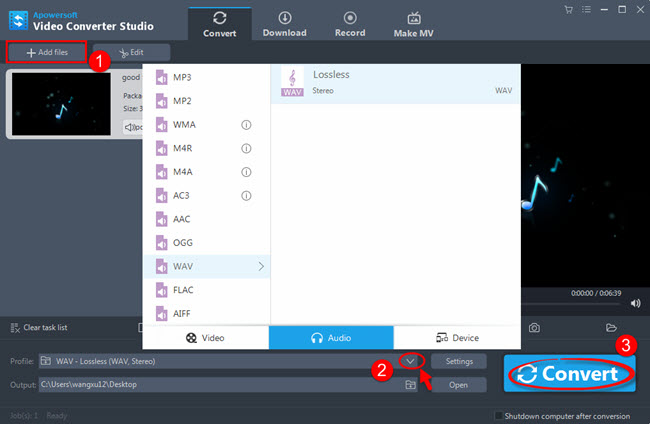 The folder the output files are in will pop up automatically. Check them to see they are well converted.
Aside from its converter feature, it also comes with other useful functions. The built-in video editor lets you enhance and personalize videos. You can add watermark/subtitle, apply effects, trim, crop or join clips. Its downloader feature allows you to conveniently download videos from the Internet by simply pasting video URLs. You can also use it to create a beautiful photo slideshow with transitions and background music as there is a good MV maker. Besides, a video recorder now is available on this software.
If you would not like to download any more programs and happen to install iTunes on your Windows or Mac OS including the latest Mac OS X El Capitan, it can also be used as an MP3 to WAV converter.
Method Three. Convert MP3 to WAV with iTunes
To use it convert audio files, go to "preferences" by clicking on "edit". Select "general" and click "import settings". Click the drop down next to "import using" and select "WAV encoder". Select the songs that you wish to convert, click "file", choose "create new version" and select "Create WAV version". Since it is not mainly developed for file conversion, it has limits when it comes to transcode audio files. Only a few file formats are supported and the conversion steps are complicated for common users.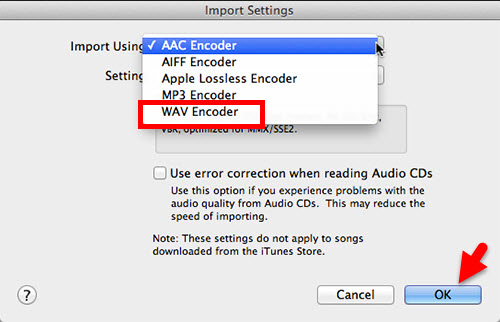 Conclusion
Those are whole solutions for converting MP3 to WAV. The best tool to use is Video Converter Studio as it incorporates multiple functions into one meanwhile works great in converting media files.