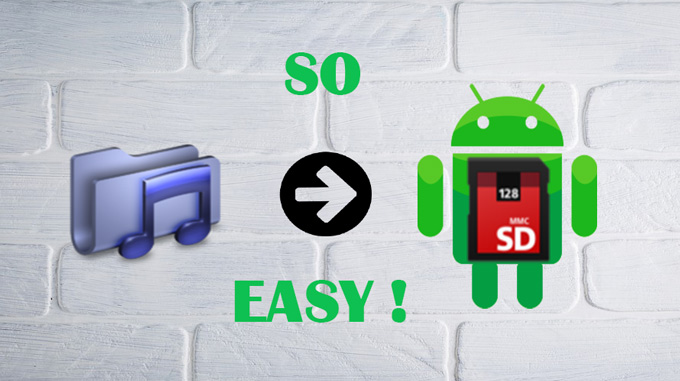 No matter how huge our phone storage capacity is, we always feel that the phone is running out of memory since we keep downloading all kind of media files. Especially for people like us who enjoy the music's accompany every day and never stop to look for awesome tracks. Well, this is where when SD card comes in handy since it can absolutely help us to free up the usage of phone memory merely by moving the music files to its own card storage. And it simplifies the process for us when transferring the old phone's music to the new one. Now, the most important part is how to move music to SD card. Let's check out the two easy ways we prepared for you!
How to Move Music to SD Card
Move Music to SD Card Manually
For certain Android users who has a default file manager app which lists out all your data on the phone, simply open this app and find the music tab. Then, select the songs you want to move and choose "Move to SD Card". However, for users who cannot find this app on your phone, please try the following steps:
Tap "Setting" button and click "Storage" under "PHONE" or "DEVICE" tab.
Click "Make more space" which is under the size shown all your data (such as apps, music, photos & videos, downloads, etc.)
Once the phone storage is scanned, you will see a list of items including apps, gallery, browser, music, and miscellaneous. Now, choose "Music".
All of your songs are under "Music", select the songs you want to transfer and then click "MOVE TO SD".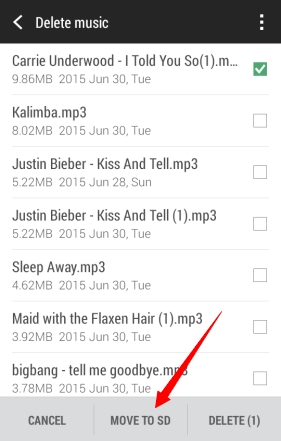 In this way, you will be able to solve the problem of how to transfer music from phone to SD card. Although certain steps shown above may differ from phone to phone since there are various kinds of Android phone brands and system versions, the general process is basically alike.
Mobile Transfer – ApowerManager
ApowerManager is a management tool exclusively for mobile device. This phone manager supports iOS, Android, Windows and Mac. Also, the file categories it covers are comprehensive, such as music, pictures, videos, notes, contacts, messages, apps, books and so forth. So, how to copy music to SD card by using this powerful app? Let's take a look at the below guidance:
Download and install ApowerManager.
Launch the software and connect it to your phone through USB or Wi-Fi network.
Once connected, click "Manage".

Then, click "Music".

Select the songs you want to move and click "Export".

Choose "SD card" under the "Files" category.

Click "Import". Here you can choose to import the music folder or the music file itself.

Select the song you just exported and click "Open".

Now, the song is in your SD card.
As a matter of fact, not only you can move music to SD card, but also you can use the above methods in moving photos to SD card as well as in transferring any media files you want to. How cool is that? Now is the time for you to put the approaches into practice!