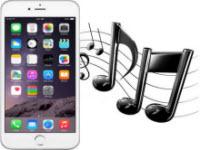 The iPhone is known for being notoriously difficult to personalize. With Apple's smartphone, you can do so much when it comes to customization, but sadly, making M4R ringtone for iPhone is a lot trickier when compared to the lenience of Android. But why customize your iPhone ringtone when you already have a set of tunes to choose from?
There are many reasons why one needs to change or customize their iPhone ringtone. First and foremost, the pre-selected tunes of iPhone are indeed boring as well as lackluster. Also, hearing your favorite music every time your phone receives a call or text message produces a blissful moment that puts a smile on your face. Additionally, selecting a particular ringtone for a specific contact makes it easier to determine whose calling without the need to peek on your phone. With all these advantages the next big question would be, is it possible to set ringtone for your iPhone? Luckily the answer is yes, check out these solutions below.
PC Software to make iPhone Ringtone
When making ringtone for iPhone, you generally have two steps. The first step is to convert audio file to the iPhone default ringtone file M4R, while the other step is to set M4R as your ringtone. You can make use of Apowersoft Video Converter Studio and Apowersoft Phone Manager to realize the whole process. Using these two efficient tools is deemed to be much easier and more convenient. Follow steps below to learn how to customize your ringtones.
Download and install the Apowersoft Video Converter Studio on PC.
After entering the interface, click "Add files" on the upper left corner to add music.
Find "Profile", choose "to Audio" in the pull-down menu and then locate "M4R".
Click "M4R" and "Converter", you can convert any music types into iPhone ringtone formats.

After successful converting, you can utilize Apowersoft Phone Manager to transfer your ringtone to iPhone 6s. In addition to its ringtone function, the program is also filled with other amazing features you would truly enjoy such as the ability to transfer all files from your iPhone to PC and PC to phone, management of multimedia contents, ability to backup and restore mobile data, take screenshots directly on PC, and display iPhone screen to PC in real time. See the below steps to transfer ringtone:

Download and install the Apowersoft Phone Manager on PC.
Connect your iPhone to PC by using USB cable.
On the main interface, click the "Music" icon to see all the songs stored on your phone.
Click "Ringtone" button on the left hand and then tap on "Import" to transfer your M4R music to your iPhone.

Simply refresh and open up your iPhone device, click on "Settings" > "Sounds" > "Ringtone", customize the one that you need.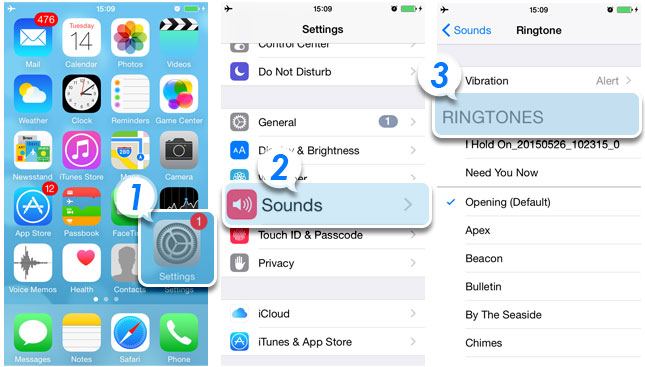 Restart your iPhone to make the ringtone work.
Tips: Actually this is just one of the many ways to customize your personalized ringtone. If you want to set MP3 or M4A directly as your iPhone ringtone, you do not need to process the conversion task beforehand since Apowersoft Phone Manager can directly let you set MP3 as iPhone ringtone or set other iPhone compatible audio formats. All you need to do is to transfer MP3 or other sounds to your digital device and then manually sync ringtone on your iPhone.
Other alternative Ways to create iPhone Ringtone
The iTunes Way
If you want to make ringtone for iPhone 6s/6s Plus or to other versions of iPhone, you should first download the latest version of iTunes which is the iTunes 12.1. But even if you've got iTunes installed on your PC and the list of songs waiting to be turned as tunes, better be warned that this process don't come easy. Tons of transferring and syncing are required but nonetheless, the iTunes way is pretty effective. Check out the steps right after the jump.
Launch iTunes on your PC. Make sure that the song you want to turn into a ringtone is listed on your library, if not, simply transfer the file first on your iTunes library. Right click the selected song and choose "Get info". On the new window, select "options" then tick the "start time" and "stop time" checkboxes. Specify the time in which you want the ringtone to start and stop, make sure that the total length is within 30 seconds. When everything is set, click the "Ok" button and right click the track again.

This time, click "Create AAC version". The song would reappear on the list as a duplicate, then click the "Options" tab again and "Get info". Alternatively you should untick the "Start" and "Stop" checkboxes.

Right click the track once again and select "Show in Windows Explorer". Rename the file and change the extension from .m4a to .m4r.

Double click the file and add it on your iTunes library under "Tones". Connect your iPhone to PC and click the "Tones" button. Tick "sync tones" and click "Apply". After which, on your iPhone open "Settings", "Sounds", then "Ringtone". The newly created ringtone should be listed under "Custom tones".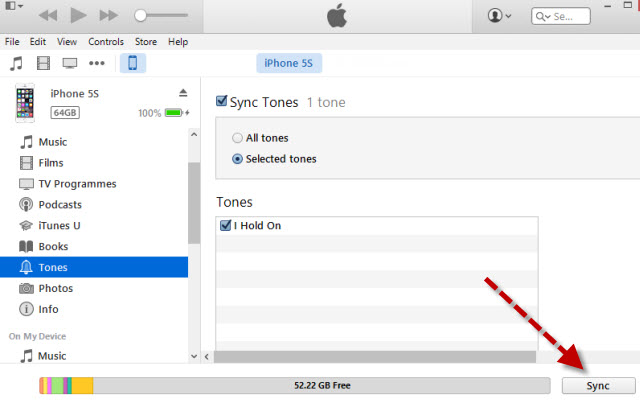 Use of Third Party Application
Clearly, the above method on how to make ringtone for iPhone is not for everyone. The steps are lengthy and there are tons to do before you can actually create your very own ringtone. Gladly, there are third party applications you can use to make this process a whole lot easier. If you want a free but ad-supported iPhone ringtone maker, you can go ahead and use Ringtone Designer. Yet if you have a dollar to spend, you can go ahead and purchase the Ringtone Designer Pro which costs $0.99.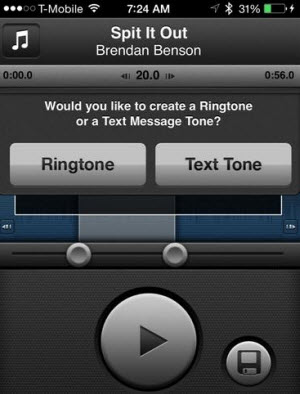 Download and install your chosen app on your iPhone. Run the application and select the track you wish to turn into a ringtone.
An audio waveform of the song will appear and specify the part you want to capture by sliding the selectors. Simply tap the "Play" icon to confirm your selection.
When done, tap the diskette "Save" icon on the right. Open up iTunes and add the created tune on your library by using the "File sharing feature".
Connect your iPhone to iTunes and sync your smartphone to acquire the new tone.