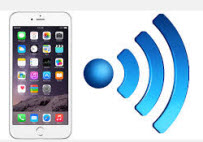 The world of internet has truly evolved. If from before we can only connect to the World Wide Web using wired connections, nowadays surfing the internet has never been easier through wireless network connections or Wi-Fi. But the technology of today is indeed ever changing that wireless advancements are being created from time to time, to one of which are the use of personal hotspots.
Hotspot is a device or physical location that offers internet access through wireless local area network. They can be from portable internet gadgets to innovative smartphones such as the iPhone. Yes, you've heard it just right! You can create an iPhone hotspot using your very own smartphone. With this, you can always be connected with the internet wherever you go.
If you make iPhone a wifi hotspot, you'll get to enjoy these amazing benefits:
Ability to tether or share your mobile connection on your iPad, Mac, iPod and other devices.
Gain internet access even when there's no public connection available.
Power to create your own 3G/4G LTE network which is way faster than ordinary connections.
Convenience to transfer big files from your iPhone to Mac or laptop.
Literally carry internet connection inside your pocket.
Truly, turning your iPhone into a wireless personal hotspot is deemed to be exciting. But the next big question would be, how to make iPhone a hotspot? And no, we are not talking about complicated set-ups or special gadgets here. Making your iPhone as a personal hotspot is easy, check it below.
Ways to create an iPhone Hotspot
This amazing smartphone from Apple is equipped with a specialized hardware that can emit Wi-Fi signal to which your laptop, media device, desktop PC and other internet-enabled gadgets can connect to. The iPhone uses its 3G/4G cellular data provided by the network to gain internet connection. Enabling this neat feature from iPhone is easy, just:
On your iPhone, tap "Settings", then "Mobile".
Tap "Personal hotspot" and set the button "On".

Go back to settings, then turn your "Wi-Fi" as well as "Bluetooth" on.
Tap the Wi-Fi password and create one.

Go back to the list of available networks and check your own hotspot name.
This can be set as "iPhone (model name)" but can be easily changed on the settings menu.
That's it! After you make iPhone a hotspot, the next thing you should do is to check its accessibility. This is equally important to confirm if the set-up you've just created is successful. Note that when checking your iPhone hotspot, you can use any internet-enabled devices such as iPad, Mac or other devices. For example, if you have a mac readily available on hand, all you need to do is:
1. Click the "Airport" button on the menu bar of your Mac.
2. A list of available networks will appear and choose the Wi-Fi hotspot you've just created.
3. When the password dialog box appears, enter the password you've made for the hotspot.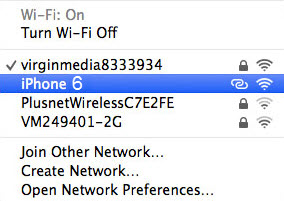 After which, you can now browse the internet as long as you want and wherever you go. The same principle goes when connecting other devices to the hotspot.
Warnings and Special Notices to Consider
Albeit the fact that how to make iPhone a hotspot is considered to be easy, there are special warnings as well as notices you need to consider. Before you click that "Connect" button, always keep these precautions in mind.
Tethering or sharing the internet connection of your iPhone is a feature only available on iPhone 4 and above, 3rd generation iPads, and iOS gadgets running 4.2.5 or later.
Extra fees may apply depending on the network provider.
Some networks don't offer Wi-Fi Hotspot.
Additional data add-on packages might be needed to activate tethering.
Carrier-specific iPhones may deny the built-in hotspot feature of the handset.
Running IPV4 network requires a more advanced setup.
Users need to be wary of their data limit to avoid skyrocketing bills.
It is undeniably easy as well as possible to make iPhone 6 a hotspot that you can use to share internet connection with your friends or other devices. But then looking at the above disadvantages, one might find it somewhat risky as well as unwarrantable. Especially for users who only need to transfer huge data files between devices, using a reliable iPhone management tool is much more recommended.
One particular phone management software that you can opt to use is the Apowersoft Phone Manager. This tool can transfer all files from phone to PC and vice versa, it can manage all forms of multimedia content, it can create data backup that can later be restored when needed, it can project mobile screen to PC in real time, and it can take phone screenshots with just one click on your PC.
The Apowersoft Phone Manager has a whole lot of things to offer when it comes to data transferring. While using wireless connections are cool, using a specific iPhone software meant for mobile data transferring will not only give you tons of convenience but it will also keep your pockets from burning deep.