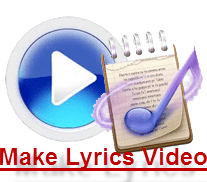 Video sharing is one of the hottest activities that many of us are up to. This trend started as soon as the Internet reached its popularity. There are various types of video clips that are being shared in multiple video sharing sites. Most of them are MTV videos and those music videos that have lyrics. Since many individuals do not only love to listen to music but to sing song as well, music video that has lyrics earns the most number of views. This is also why the demand for this kind of video is increasing and it is the reason why many video uploaders make a lyrics video more often than before.
Creating a lyrics video
You might see a lot of ways on how to make a lyrics video, however, some of them can just add confusion especially for first time users. That is why as I go on with this post, I will show you the best method of making your own customized video with lyrics.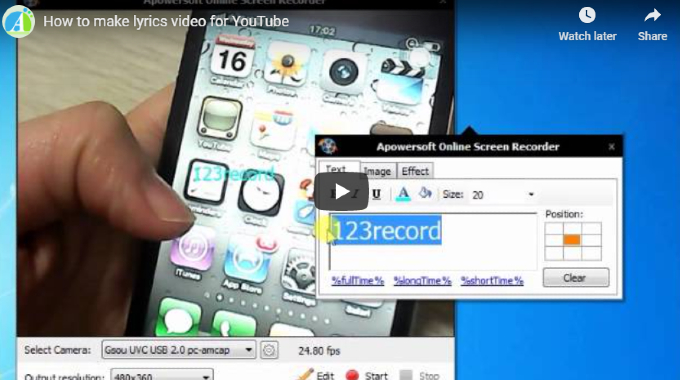 Method 1: Apowersoft Free Online Screen Recorder + Windows Live Movie Maker
By using this method you are given the privilege of selecting a particular video or part of it as a background of your project, which you can add lyrics later on. Once you have a song that you want to make a video with, think of the concept that you want for your video. Then use Apowersoft Free Online Screen Recorder to grab every video that you want, be sure that you have a working system microphone for a better audio output.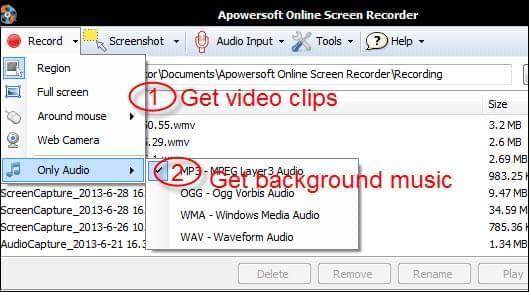 Now that you have the music video all you need to do is to search for the lyrics which will be added into it. This time we will be utilizing Windows Live Movie Maker. To begin, import the video that you will use for the project, next is to hit on the Caption button which is shown on the upper part of the tool. After that, just copy and the lyrics of the song per sentence and paste it on the video and its orientation will appear on a small screen on the left portion. You can place the lyrics according to your own preference.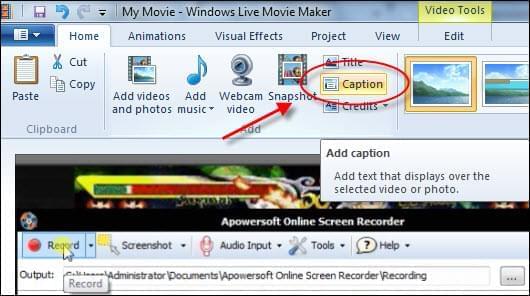 Tips:
When placing lyrics be sure that it syncs well with the background music, for lyrics will be nonsense if it does not fit the song well.
Moreover, if you record a video without the background song yet, just import the song on Windows Movie Maker and add it on the video and don't forget to save it when you're done.
Method 2: Apowersoft Free Online Screen Recorder + YouTube Video Editor
On the other hand, the second method to make a video with lyrics is quite similar with the first method; the only difference this time is that we will use Apowersoft Free Online Screen Recorder and YouTube Video Editor. Once you had recorded a background with music, you need to upload them on your YouTube account and make it private. Now open YouTube Video Editor, upon reaching its interface your uploaded videos are shown, choose the video that you will be using for the project and drag it below where a video camera icon is located. To add the lyrics, click the a icon which represents text along with the other tab. Just set your preferred placement of your text and start to copy and paste the lyrics per sentence. When you are done you can publish it right away.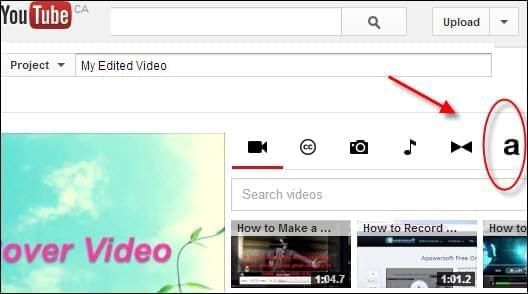 To make lyrics videos will require some time and effort especially you want your video to excel above the other. You can do this by putting up a unique background video instead of a dull single color background. Using multiple images will also do the trick, but using a video as a background is much preferable.