Apowersoft released two great MAC OS Apps in May 2013, which are MAC Audio Recorder and MAC Screen Recorder. These apps were released at a point in time when we felt that we'd reached a level of stability and completeness, which could work extremely well on MAC. Lets take a closer look at their key features, now.
Key and Shining Features of Mac Audio Recorder
Mac Audio Recorder is a sound recording program that works on all MAC OS systems. It allows you to record sound directly from a variety of audio sources, which includes the Microphone, web pages (Grooveshark, VEVO, MySpace, Pandora, etc.), media players (QuickTime, Real Player, iTunes, VLC, etc.), and line-in devices. This program contains no spyware or adware, which makes it absolutely safe to install and run on any MAC.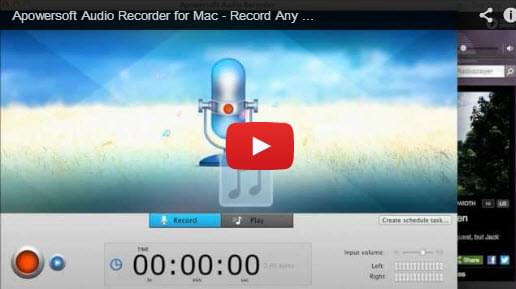 Schedule a Task with Ease
With the built-in schedule function, you can schedule a task list in order to record audio on your MAC at any specific time. This is a considerate design that will bring users a great deal of convenience when recording. Scheduled tasks will start and stop recording whenever its trigger is fired. Once a scheduled task is created, it will automatically record the sound from the system sound or the microphone, the same as a monitor would. As you surely notice, this function is extremely powerful and it can be configured to do much more.
Recognize Music Track Info Smartly
Its remarkable ID3 tag identification tool can identify music track details automatically, which provides you with more information about music, such as the file size, genre, artist, album, track title and series, season number, and episode number. If you have a large collection of audio files in your library, the Search tab will help you to find the recorded items quickly. It can also update the tags instantly and accurately. To properly sort them, editing the ID3 tags are essential. Ideally, you are allowed to edit them manually.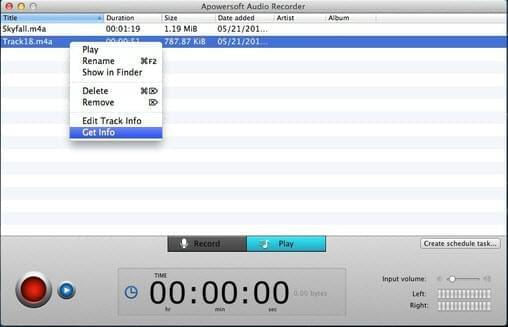 Split Recordings into Separate Audio Tracks
Apowersoft MAC Audio Recorder gives you a hand and offers the fantastic ability to separate music tracks into multiple files, automatically. When you record audio on your MAC that begins to pause midway, this program will detect the pause immediately and stop recording accordingly. Every time this happens a new audio file will be created. If the audio has any ad interference, it's important to preset a specified duration amount in order to allow the software to filter it intelligently. If you want to separate a large track during a recording, preset it the same as you would with specified duration amounts. Then, the audio will be split into separate tracks as you wish.
What are the Outstanding Features of Mac Screen Recorder?
Apowersoft Mac Screen Recorder is a powerful, yet simple, video recorder for MAC OS. This program has an intuitive interface that allows you to capture screen activities and create voice over demo videos without difficulty, even if you are a novice. It was born with different more flexible recording modes, so you can use it to record by region, full screen, or web camera.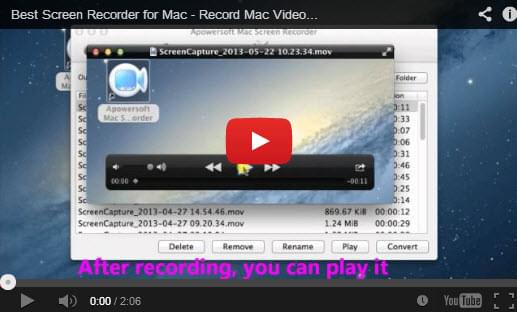 Record Screen with Audio on Mac
With MAC Screen Recorder, creating professional videos become simple. You can even record video along with audio that is from various sources, which includes microphone, line-in devices, computer systems, and so on. This screen recorder that is specialized for MAC also offers the great ability of keeping videos synchronized with audio. In order to get better quality, you can manually customize the audio codecs, frame rate, bitrate, or resolution before recording.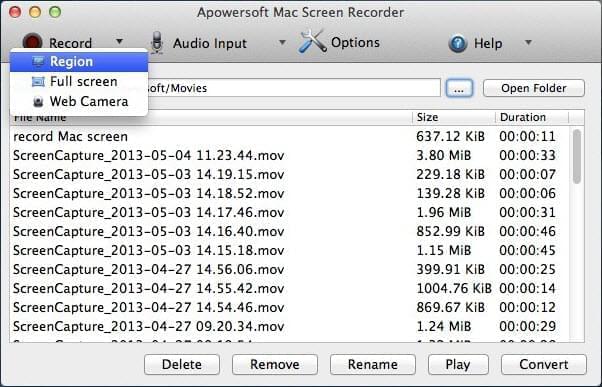 Record Mac Webcam Video
The MAC Screen Recorder is highly recommended if you have ever thought of recording webcam and creating vivid picture-in-picture videos. Choose Region, which is under the Record tab, and click the camera icon on the floating control panel while recording, in order to create a stunning voice over with your face in the video. Strikingly, it is resizeable to different resolutions. In this case, you have the right to choose the proper resolution for your MAC webcam recording, once you choose Web Camera to record.
Convert Videos at High Speed
The MAC Screen Recorder supports the creation of high quality demo videos, tutorials, game videos, and presentations that are saved as default MOV files. If necessary, its built-in video converter can make it accessible to a wide range of formats, such as MP4, AVI, MKV, FLV, SWF, 3GP, MPEG, and many other popular formats. Once you hit the Convert button, it will convert your target video, or videos, with zero quality loss at high speed.