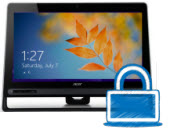 With its fresh, innovative, lively and beautiful looking new interface, Windows 8 had quickly gained popularity among Windows users. Concentrating more on touch-based design with interactive panels as well as buttons, Windows 8 indeed displays true elegance and modern magnificence. Lock screen in Windows 8 is a regular activity, it is very much important because it keeps your computer secure and protected all the time. It makes your files, system, documents, photos and videos more private only to your eyes. Moreover, it prevents unwanted sign-ins from unknown users. Aside from its privacy features, the lock screen additionally displays quick information such as network, battery status, date, time, notifications and all others right in front of your computer.
However, this operation on new system has become more confusing rather than convenient. Many users complained that it is not so easy to lock the computer. Fortunately, there are easy ways on how to do it.
Part 1: Lock screen with Windows 8 native settings
Part 2: Auto lock Windows 8 with free utility
Efficient Steps to Lock Screen for Windows 8
The easiest way to lock your computer screen is to use Windows 8 native securing feature. Unlike other versions of Windows, the lock option in Windows 8 cannot be found directly. Somehow it is hidden within the system and you need to input several keyboard shortcuts or clicks to make it appear right on top. Here's how:
Click your user name found on the upper right part of the home screen.
A submenu option will appear and click "Lock" to lock your PC.
You could also use the keyboard combination "Ctrl+Alt+Delete" and choose "Lock Screen" option.
Pressing "Windows button + L" on the other hand automatically lock Windows 8.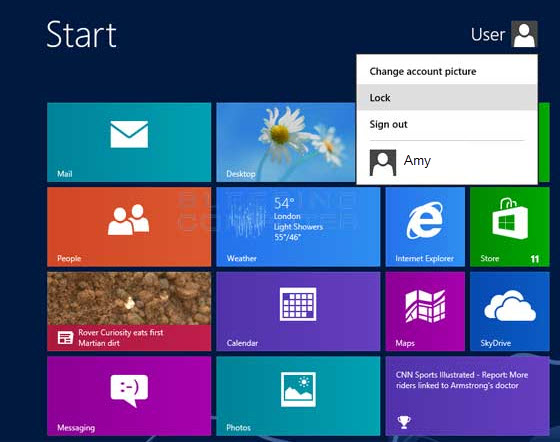 To login, simply tap "Enter" on your keyboard and it will prompt you to enter your password. You could equally left-click on the screen or swipe it up with your finger if you are using a touch-based PC.
When you lock Windows 8 screen, you can select which picture to display, permit applications to run on the background, create shortcuts such as camera or mail, point-in file directory and all other customizations based on your needs.
Easy Way to Enable Windows 8 Lock Screen Automatically
If you don't have the time, knowledge and patience to do the above shortcuts just to lock Windows 8, you can use third party applications such as Windows Shutdown Assistant. Don't be confused about the name of this software because aside from shutdown options, it could also restart, hibernate, log off and lock your computer automatically.
Windows Shutdown Assistant is compatible to all Windows Operating Systems from the old Vista to the new Windows 8. How to set lock screen on Windows 8 is very easy with this software, simply:
Download and install the software on your PC.
In "Trigger", specify the time in which you want to lock your computer.
On the "Select action" drop down menu, choose "Lock Computer".
At the same time, you can add additional tasks including "Empty Recycle Bin", "Clear IE History", and "Delete Temporary Files".
Then, hit "Add to Action List" and "Start" buttons to set the action.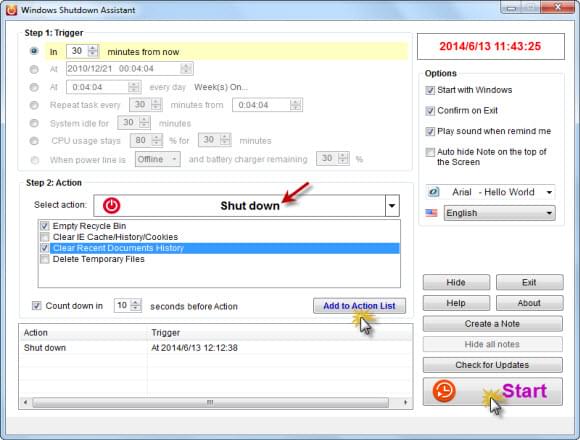 Note that before executing the task, a countdown box will appear and you have an option to delete or execute it right now. Aside from the ability to lock screen in Windows 8, the tool equally functions as a visual reminder. You can use it to create scheduled notes or reminders such as lunch break, doing errands, meetings, appointments, break time, etc. Personalize the text, change fonts, text colors, add images, insert sounds, everything is possible with Windows Shutdown Assistant.
The below video guides the concrete operations: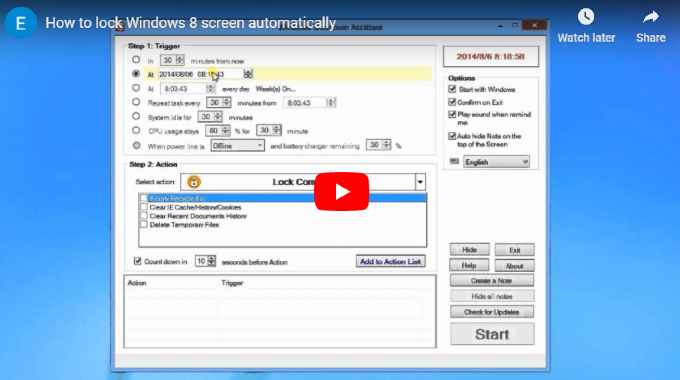 There are many ways to let Windows 8 lock screen. You can utilize the above mentioned keyboard shortcuts, explore it through system setting, or use third party applications for automatic as well as effortless way of locking your computer. For always on-the-go individuals and computers filled with very sensitive data, it is best to use an automatic Windows 8 locking software like Windows Shutdown Assistant.