With its advance, fast processing power, bigger screen, sharp display, monstrous memory and high quality camera, there is no doubt that Samsung's newest flagship device which is the Galaxy S5 is making big waves on the industry. Together with Android's tolerant customization as well as freedom to explore things, solid fans of iPhone are now switching over S5. However, shifting from iPhone to S5 isn't as easy as picking up the new phone – there are tons of things you need to consider.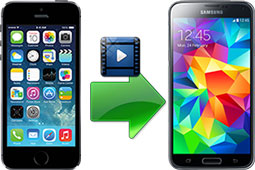 Bear in mind that you need to move all your saved contacts, photos, call logs, messages, documents, files and other mobile contents on your new phone. Along with this, you need to transfer video from iPhone to Samsung S5 to enjoy media on a larger screen with better resolution. However, iOS and Android are two different platforms. You cannot simply copy iOS videos to Android hoping it would work. This is where third party programs come to the rescue, know more about them below.
Two Ways of Transferring videos from iPhone to Galaxy S5
Way 1: Use Phone Transfer
For a painless way of transferring mobile videos, you can use the software Phone Transfer. This tool is specially designed to make moving of files such as documents, music, call logs, photos, SMS, contacts and all others easy as well as efficient. Phone Transfer comes fully compatible to all mobile phones running Android, Symbian, iOS and Blackberry platforms. Additionally, thousands of models are supported from Apple, Samsung, LG, Motorola, Nokia, HTC and more.
This iPhone to Samsung video transfer software is very easy to use, even beginners wouldn't find it hard to move contents from one phone to another. All you need to do is:
Download and install Phone Transfer on your computer.
Connect your old iPhone and new S5 to PC using USB cable. The software will automatically recognize both devices.
The source phone should be iPhone with Galaxy S5 being the destination.
On the middle pane tick "videos" box and click "start copy".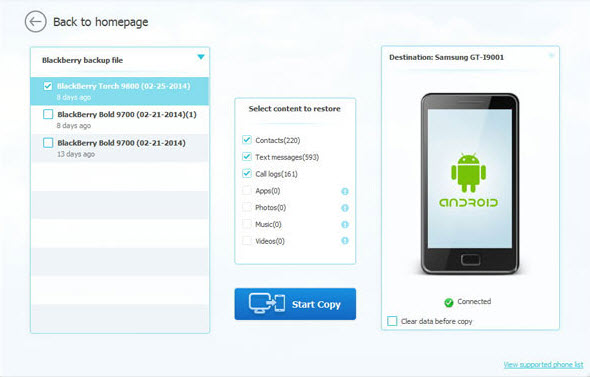 Really that easy you can transfer mobile contents without any hassle. Aside from copying videos, you can at the same time move other files all at once. Furthermore, you can use Phone Transfer to back up your device, making sure every bit and pieces of data are saved all throughout. In case of data loss, Phone Transfer allows easy recovery of files.
Way 2: Via Samsung Smart Switch
To aid the need of many iOS users, Samsung created an app called Samsung Smart Switch. With this tool, how to transfer videos from iPhone to Samsung Galaxy S5 comes as simple as counting 1-2-3. Samsung Smart Switch moreover supports moving photos, music, messages, notes, calendar, documents, files, and more straight to your Galaxy smartphone. Copying of mobile videos can be accomplished in this way:
Connect your iPhone to PC using USB cable.
Backup your iPhone using iTunes.
Download and install the desktop version of "Smart Switch" on your PC.
Open the program and select your device.
Connect S5 to PC with USB cable.
Tick "videos" from the list and click "start transfer".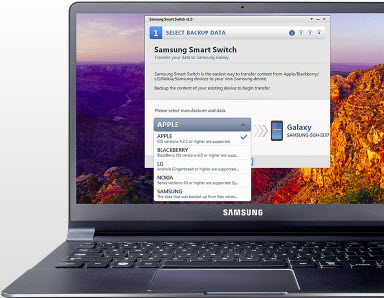 While Smart Switch can help you transfer iPhone video to Galaxy S5, many users complain that Samsung Smart Switch not working well. Definitely, Smart Switch is not for newbie, non-technical and very busy users. You still need to make iTunes backup, install this app on both computer and mobile, they may not cost a short while. It is a great attempt for the manufacturer to lessen the burden of transferring video between phones but extra leg work is nonetheless needed.
Compare to using professional mobile transferring programs such as Phone Transfer, this software doesn't require you to create backups or grab data from the cloud. Everything is done within few scroll and click. You just need to connect, tap and select – it's that easy to move videos from iOS to Android. Aside from transferring videos from iPhone to S5, Phone Transfer can also backup phone contents to computer, erase all your personal data stored in mobile device safely and permanently. All in all, Phone Manager is an all-in-one tool for transferring, backing up, recovering, erasing mobile data.