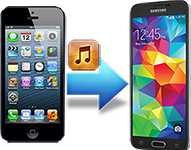 Apple and Samsung are two big giants in the smartphone industry. They have their own share of diehard fanatics, willing to battle it out on who's the best and the greatest. Both modern smartphones can work as music player and they can store thousands of songs depending on the memory capacity installed. But with the improving hardware and technologies of features of Samsung smartphones, a big number of users are slowly shifting from iOS to Android.
Letting go of the obsolete iPhone models in exchange with the most recent Samsung Galaxy S5 is not a strange scenario. Yet for those making a big leap coming from iPhone to Galaxy S5, learning the new operating system isn't the only problem. Transferring music from iPhone to S5 is nonetheless another challenge for many consumers. Moving saved audios from your old phone to the new one might look very confusing and complicated but this article will put forward the best solutions for turning it to an easy task.
3 Ways to Transfer iPhone Music to Samsung Galaxy S5
Way 1: Use Phone Transfer
Designed to support all major mobile platforms including the latest versions of iOS, Android, Blackberry and Symbian operating systems, Phone Transfer is an application which is dedicated to providing easy and efficient data transferring between phones. You can use this tool to transfer music to Samsung S5 from iPhone, it also supports other files such as photos, call logs, videos, SMS and more. Aside from the essential transfer functions, Phone Transfer can also backup and restore mobile contents with zero loss of quality.
Using Phone Transfer to move all your audio files from iPhone to S5 is very easy, see below:
Open Phone Transfer on your computer and select "Phone to Phone Transfer".
Connect both your iPhone and new S5 using the supplied USB cables.
Wait until both devices are automatically recognized.
On the middle pane tick music box to move all your audio files.
Hit the "Start Copy" icon and click "Ok" when the process completes.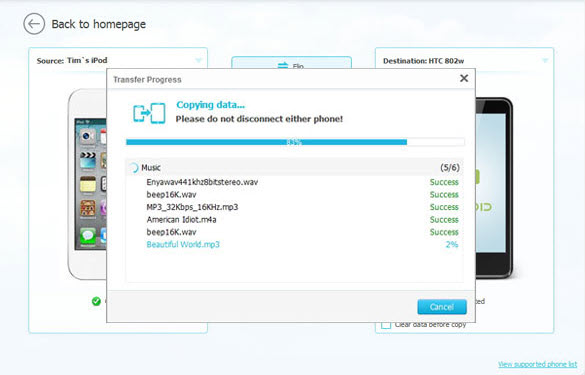 Transferring songs from iPhone to Galaxy S5 efficiently isn't the only thing that Phone Transfer can do, it can also backup various data files from phone to computer and let you restore them effectively.
Way 2: With Easy Phone Sync
Another way to transfer iPhone music to Samsung Galaxy S5 is by using of Easy Phone Sync. This method requires two separate applications, one on your mobile phone and the other on your computer.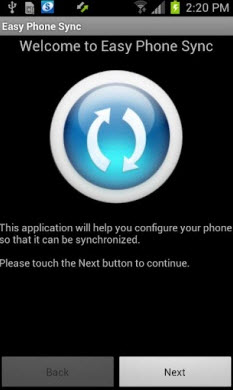 Download and install Easy Phone Sync on your new S5. This product requires you to install both mobile and PC versions to sync data.
Visit Easy Phone Sync's website and install the computer application on your PC.
Run the mobile application on your S5 and connect your phone to PC using USB cable.
Start the software on your PC and it should automatically open iTunes on the background.
Select the music files you want to transfer and click "next" to finish the process.
You can equally move contacts, SMS and more with Easy Phone Sync. Note that these applications are freely available on Google Playstore and the developer's website.
Way 3: Via Dropbox
With the next method, transferring music from iPhone to S5 requires a third-party freeware called Dropbox. You should have a Dropbox account and the program installed on your computer.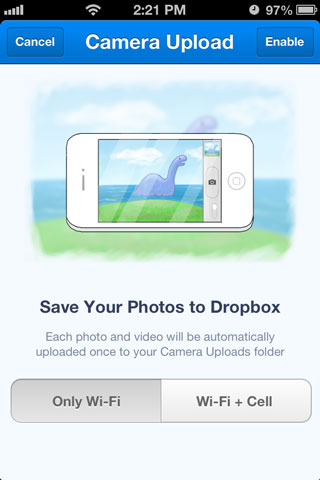 Head on to Google Playstore and download the Dropbox application on your new S5.
Log in to your Dropbox account on computer, and then simply dragging and dropping.
Open Dropbox on your S5 and log-in to your account.
You can now transfer music to Samsung S5 from iPhone by copying the files.
If direct copying of audio files isn't permissible, you can use file explorers.
Bear in mind that your S5 and PC should both be connected on the same Wi-Fi network to perform a successful transfer.
How to transfer music from iPhone to Galaxy S5 is easy with the above tools and applications. However, they do have their own advantages and disadvantages. Using the Easy Phone Sync requires you to install two separate applications, one for your S5 and the other on your PC. On the other hand, transferring music through Dropbox requires some technical skills which is not advisable for novice users. Besides, the process is a bit complicated and sometimes unsuccessful.
But with the Phone Transfer, you can finish the task in an easy and efficient method. Additionally, moving all your songs may it be hundreds or even thousands can be accomplished within few clicks.