After many sleepless nights to read countless articles comparing iOS and Android, I've finally decided to switch my iPhone 4 to the new Samsung Galaxy S5. I like it but the problem is that I have hundreds of contacts, can somebody tell me how to transfer contacts from iPhone to S5 blazing fast? Thank you. – Jeniff
Apple's iPhones and Samsung's Galaxy series of smartphones are in a big worldwide battle. They have their own share of loyal fanatics as well as devoted followers in all parts of the world. Although, a number of loyal iPhone users are slowly shifting to the more feature-filled and diverse Samsung Galaxy S5. We cannot deny the fact that both phones are indeed technologically advanced – it's just a matter of personal preference.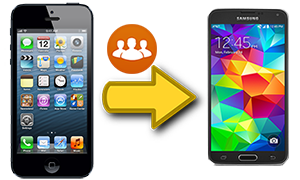 If you're one of those users shifting from iPhone to Galaxy S5, one thing that might annoy you is that transferring contacts from iPhone to galaxy S5 requires a bit of a challenge, especially for those with hundreds or even thousands of numbers saved on their phonebook. Luckily, there are easy ways on how you can transfer iOS contacts to Android, see them all after the jump.
Two Ways to Transfer iPhone Contact to Samsung S5
Way 1: With Phone Transfer
Phone Transfer can handle multiple transferring of files from almost all types of handsets. It supports Android, Symbian, iOS, and Blackberry mobile operating systems. You can use it to move or copy not just contacts but also music, photos, call logs, videos, SMS, audios and all others. It comes fully compatible with iPhone, Samsung, HTC, Motorola, Acer, Huawei, Sony Ericsson, LG, and thousands of different phones.
How to transfer contacts from iPhone to Galaxy S5
Using this software is very easy, thanks to its user-friendly interface that even novice users wouldn't find it hard to move files. For your perusal, see the guided instruction below:
Download and install Phone Transfer on your computer.
Connect your new Galaxy S5 and old iPhone to your PC using USB cables.
Wait until the program recognizes both your device.
The source phone should be "iPhone" while the destination should be "S5".
Tick the "Contacts" box in the middle and click "Start Copy" to move contacts from iPhone to Galaxy S5.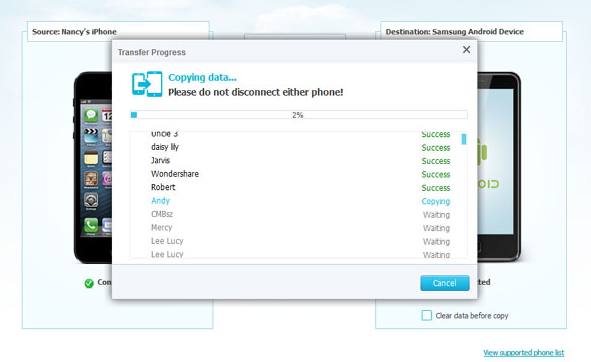 You can also move text messages, apps, photos and other files at once by simply ticking the corresponding boxes. Additionally, there is an option to clear the data on your destination phone if you want to upload new files. Aside from using this tool to efficiently transfer contacts from iPhone to S5, you can also use it to backup the files on your device to PC and retrieve data on other devices as you like.
Way 2: Using Google Contacts and Gmail
Part 1: Sync contacts on your iPhone by using Google contacts
You also can use your iTunes and Google Contacts to move phonebook contents. But make sure to have at least iTunes 11 running on your PC for successfully going through these steps.
Turn off your iCloud contacts on your iPhone.
A prompt window will appear and tap "Keep on My iPhone".

Connect your iPhone to PC and open iTunes.
Click the iPhone icon on the right corner and hit "Info" tab.
Tick "Sync Contacts with" and select "Google Contacts".
When you're prompted with notification click "Switch".
Hit "Configure" and enter your Google account info.
Tap "Apply" to start the transferring process.
Log in to your "Google Contacts" and check if your contacts are moved.
Part 2: Use the Google Gmail account to sign in Samsung Galaxy S5
If you are the first time to use the new Galaxy S, you can follow the steps of initial setup. Here you will know how to sign in your Gmail account. On the other hand, if you have signed in the Gmail ID after the initial setup, you should see the contacts on your Samsung phone once it starts syncing.
If you have not bundled your new device with a Gmail account yet, follow the steps below.
On your S5, locate "Settings" then "Account".
Hit the "Add account" button and select "Google".

Tap "Existing" and sign-in using your Gmail account.
Continue with the on-screen set-up process.
Once complete, check if your contacts are copied.
With the above methods to transfer iPhone contacts to Samsung Galaxy S5, it is very clear that the iTunes/Google Contacts/Gmail methods are not for novice users. You need technical skills and high level of patience for these procedures to work out. Also, the Gmail method requires you to have all your current iPhone phonebook entries saved on your account for the process to be successful. On the other hand, using the Phone Transfer software gives a breezy experience. Just connect, select, and tap; then you're done.