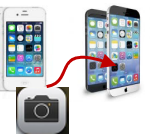 Apple iPhones always catches users' eyes for its great convenience endowed with its latest technology specification. When iPhone 6 came out, most users were deeply impressed by its 8MP iSight camera with Focus Pixel, which may be the best camera on a mobile phone. The photos taken are amazing beyond words. However, while you are greatly satisfied with the magic iPhone 6, you will be wondering how to transfer your previous photos to your new phone. Today I am going to show you how to transfer photos from iPhone 4s to iPhone 6 by adopting the methods below.
Two Ways to Transfer iPhone Photos
1. Using Apowersoft Phone Manager
2. Using iTransfer
Solution 1: ApowerManager
Apowersoft Phone Manager is unique for its powerful file management. Users will be surprised to find such an app could fulfill all requirements of phone management. This user-friendly tool can be used to backup, delete and manage all the data on the device, which can undoubtedly free users from trouble and inconvenience. Despite its multiple functions, it is still easy to use it. Please look at the steps below:
Transfer iPhone 4s photos to computer
In order to succeed transferring pictures from iPhone 4s to iPhone 6, users have to use computer as an intermediary. Don't worry about connecting issue, for this app has designed with easy connecting ways and "auto-recognize" function.
Download this application and then launch it.
Connect your iPhone 4s to PC through USB cable and click "Trust".
Enter main interface and hit "Pictures" button.
Choose photos and tap on "Export" to save them on the computer.
Transfer iPhone 4s photos to iPhone 6 from computer
After pictures are saved on PC, you need to link your iPhone 6 with the computer for transferring pictures to iPhone 6. Please follow the next steps:
Enter "Pictures" button to decide where you will store the imported pictures.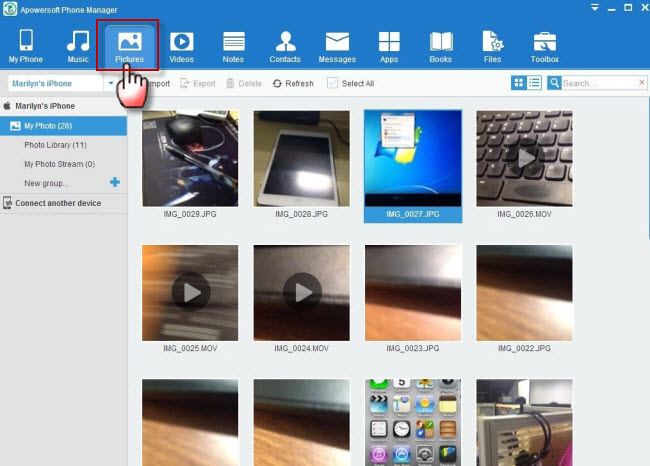 Choose those photos already saved and click "Import" icon.
Press "Refresh" and see if pictures have fully transferred.
For easy operation, please watch the demo.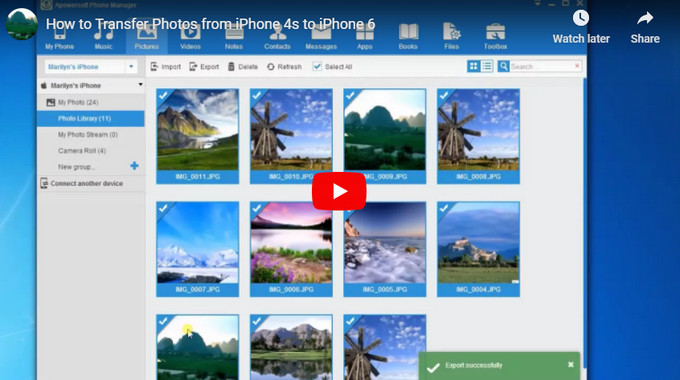 After the above operations are correctly completed, you have already managed to save your past precious memory on your iPhone 6 at a very quick speed. If you only use this app to export photos from iPhone 4s to iPhone 6, you have not made full use of it. In fact, this tool also works efficiently when transferring videos from iPhone 4s to iPhone 6. With it, you can delete useless photos online, backup all important photos on computer and choose a certain pictures as phone wallpaper. This tool also categorizes photos into different folders for your easy management.
Solution 2: iTransfer
iTransfer is another iPad/iPod/iPhone transfer application available on the market, which is designed for the data transfers among iOS devices, iTunes and PCs. There is no need to worry about synchronization of iTunes while you are transferring the data of the iOS devices. This software could be regarded as an iTunes alternative. To transfer your iPhone 4s pictures to iPhone 6, please read on steps below for easy operation:
Connect iPhone 4 to computer and left click the "Photos".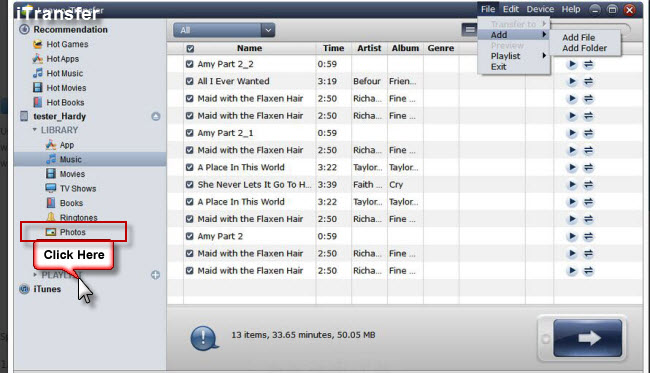 Right click the chosen photos and tap on "Transfer to my computer".
Connect your iPhone 6 to computer and also press the "Photos" button.
Hit "Files" and choose "Add folder" to import photos to the device.
Cons: As a green hand, it usually takes some time and energy to transfer photos from your iPhone 4 to iPhone 6 by using this tool. Besides, this app is a little expensive. Although it offers Free Trail, such an edition has many limitations. Currently, this tool is still under its way to perfection. For example, this tool is still not able to support SMS on iOS 8.
If you are looking for an efficient and safe transfer device, Apowersoft Phone Manager could be the top choice. Except for its strong ability to deal with photos, this phone manager is able to manage, view and restore all other files including message, notes, music, contacts, messages, books etc. What deserves to mention is that this tool is compatible with both Android and iOS operating systems, which is very rare on the market.