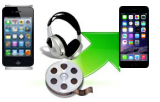 Apple Inc has now released its new iPhone models – iPhone 6 and iPhone 6 Plus. Many people waited for the release of the phones to come as they are really expecting a lot from these new models. Some Apple fans have replaced their old iPhone 4s with the newest iPhone handsets, but finding it hard to sync or get videos from their old iPhone to the new one. And now, below are some ways on how to transfer video from iPhone 4s to iPhone 6. Transferring of videos or some other files is not actually that difficult. All you need is just a great tool and a little understanding of it.
Easy ways to transfer iPhone 4s video to iPhone 6
1. Robust yet comprehensive application
2. iCloud manual way (Easy but limited)
3. Conventional way
Way 1: Transfer video using Apowersoft Phone Manager
The first way to sync video from iPhone 4s to iPhone 6 or iPhone 6 plus is to make use of a third party tool called Apowersoft Phone Manager. This tools is specially made so that people will be able to manage all their phone's files (regardless if it is Android or iOS) easily using a computer. In transferring a video file, there is no need for users to back up all files in order to do so. A simple export and import process can transfer video files from iPhone 4s to your new iPhone 6 or 6 plus.
Follow the steps below to see how easy to use this tool.
1
Download and install this Phone Manager in your computer, connect your iPhone with USB cable and then then tab "Trust" to establish connection.
2
On the interface, you'll see different tabs on the upper part. Click on "Videos" and all the videos stored in the iPhone 4s will appear. Click all the videos you need to transfer and then click on "Export" and save them in the computer.
3
Disconnect the iPhone 4s when done and connect the new iPhone 6. Again, click on the "Videos" tab and click "Import" to choose the video files from the computer and wait for them to be finished. Disconnect iPhone 6/plus.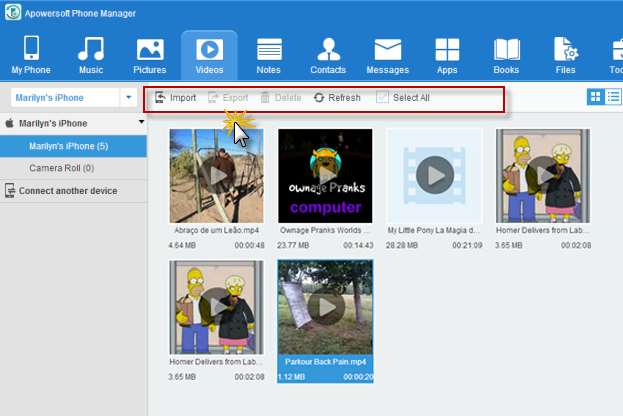 Aside from that, users can also transfer and manage music, photos, and some other files using this tool. Editing and adding of contacts can as well be done. Additionally, users can receive, send and create text messages while being connected in this app.
Way 2: Transfer video using iCloud
Using iCloud is actually the easiest way as it does not require users to make use of Mac or any other computer. However, users need to set up an iCloud account in the original device. Although it is considered as the easiest way, this method actually cannot transfer selected files. Instead, all files from the old phone including contacts, messages, images, music and videos will be transferred. So if a user only needs the videos, he/she will be obliged to just delete the unwanted files in his or her new iPhone.
To know how to transfer iPhone 4s video to iPhone 6 Plus or iPhone 6 using iCloud, see the steps below:
Back up the old iPhone with iCloud. To do so, go to Settings > iCloud > Storage&Back up >Back up Now.
Boot the new iPhone and follow the set up instructions provided by the phone. Wait until you ask to "Restore form iCloud Backup".

Wait for the iPhone 6 to restore the files. Restoring may take some time depending on the size of the backup and the internet connection. Once finished, all files including videos will then be restored in the new iPhone.
Way 3: Transfer video using iTunes
Using iTunes can be more specific in transferring files. From here, users can only transfer videos if they only need videos. This method is not as fast as the first one because the phones need to be connected in the computer and an iTunes account. Furthermore, the videos from iPhone 4s should first be backed up in iTunes order to sync them in the new iPhone 6 or iPhone 6 plus.
Below are the steps on how you can use iTunes in transferring videos.
Step 1: Create an iTunes account and back up your old phone's video files by connecting it to your computer. To back up, go to File > Devices > Back up.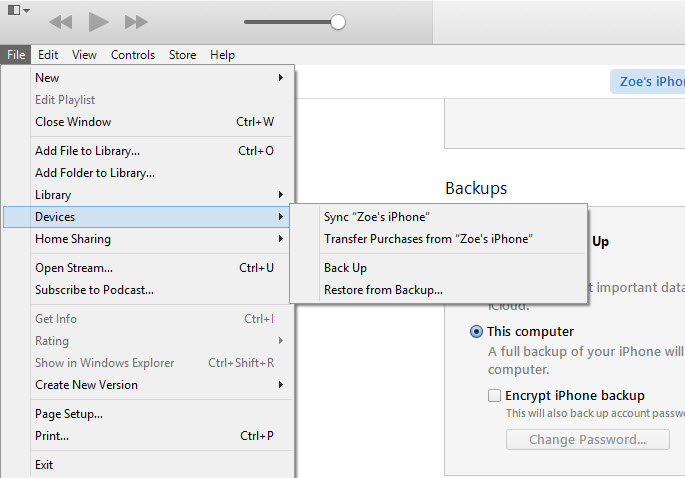 Step 2: After backup, open "Preferences" and choose the "Devices" tab. You can see the name of the device along with time that iTunes created the backup.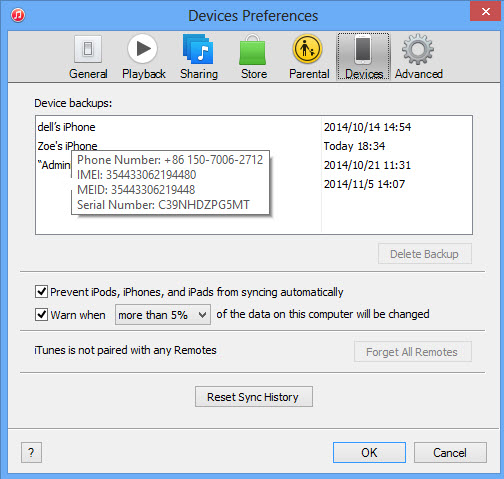 Step 3: And then connect iPhone 6 or iPhone 6 plus to computer. Choose File > Devices > Restore from Back up. After that, please check your wanted video files.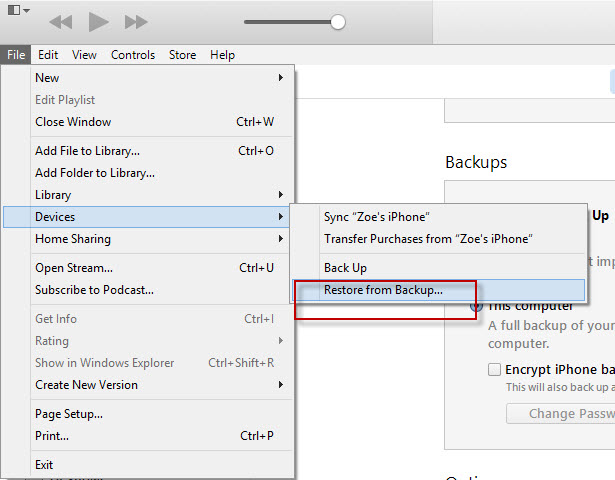 All these methods about how to transfer iPhone 4s video to iPhone 6 or iPhone 6 plus are very helpful to users. However, it is recommended to make use of an application which is easier to use and gives more benefit to you. Apowersoft Phone Manager is I think a good choice because it anyhow makes the transferring of videos easier as compared with the other methods. Additionally, users can also manage their other files and some phone settings (changing of ringtone, alarm tone, wallpaper) easily.