With two giant smartphone manufacturers battling it out on who's the greatest, the number of consumers shifting from Apple to Samsung is increasing everyday. If you are a current owner of iPhone and decide to purchase the newest as well as more advanced Galaxy S5, getting used to Android OS isn't the only thing you need to master. You also need to transfer tons of your stuffs such as contacts, SMS, call logs, videos, and of course hundreds of photos.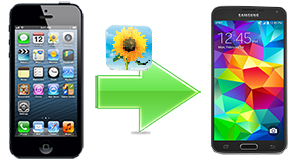 So what are the best ways to transfer pictures off iPhone to S5? Are there tools and programs available that can really help you out? What are the steps on transferring photos from Apple smartphone to Galaxy S5? Discover the answers after the jump.
Three Ways to Transfer Photo From iPhone to Samsung S5
Method 1: Use Phone Transfer
With this special PC application, you can now move phone contents from one mobile platform to the other with ease and comfort. The Phone Transfer supports Android, Symbian, iOS and Blackberry operating systems. Moreover, this application supports the latest versions of the above mentioned platforms. With Phone Transfer, move not just photos but full contact information, messages, call logs, applications, music, videos and more.
To transfer iPhone photos to Samsung Galaxy S5, simply follow these steps:
Open the app on your computer and select "Phone to Phone Transfer" on the main interface.
Connect both your iPhone and S5 to your PC using the supplied USB cable.
iPhone should be recognized as "Source" and while the other one will be displayed as "Destination".
On the middle box tick "Photos" and click "Start copy".
Once the process completes, hit the "Ok" button to safely disconnect both devices.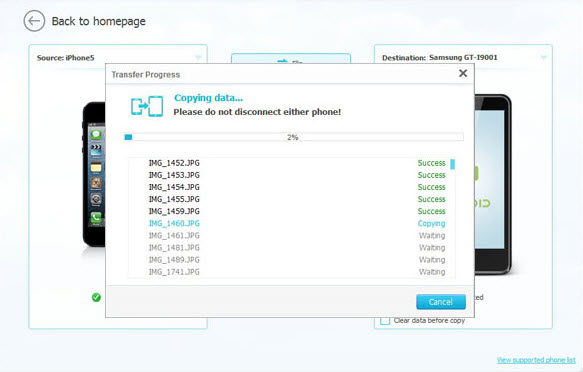 Method 2: With Easy Phone Sync
Freely available on Google Playstore, the Easy Phone Sync allows you to conveniently transfer phone contents from iPhone to Samsung Galaxy devices. It is primarily made and developed by Samsung Mobile but on Playstore you will see it marketed under the name of Media Mushroom. Aside from the ability to transfer pictures from iPhone to Galaxy S5, you can equally use it to sync contacts, messages, videos, purchases, playlists, music and all others within few clicks.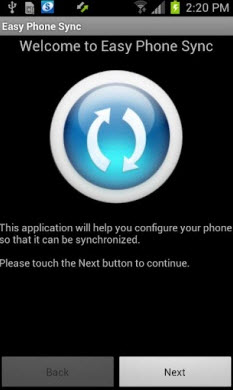 How to transfer photos from iPhone to S5 with Easy Phone Sync is easy, just follow the steps:
Install the Easy Phone Sync Application on your Galaxy device.
Download the Easy Phone Sync "PC App" on your computer.
Connect your Galaxy S5 and run both applications.
Open the Easy Phone Sync App running on your PC and head on to "Settings" to select the device you want to use.
Select the files (iTunes backup) you want to transfer.
Hit "Finish" and wait until process completes.
Method 3: Use Free Mobile Helper
Founded by Macrobile in 2012, the Free Mobile Helper is an all-in-one data synchronization tool meant for iOS and Android devices. You can use this open-source application to transfer pictures off iPhone to S5. It comes with additional features such as mobile manager, convenient helper, download center, wallpaper selector, and phone application issue center makes it a complete solution for all Android smartphones.
Using the Free Mobile Helper to transfer iPhone photos to Samsung Galaxy S5 is easy, check this out:
Install the application on your PC.
Run Free Mobile Helper.
Connect both your iPhone and S5 using USB cable or with the same Wi-Fi network.
On the main interface click "Data or images" icon and select the pictures you want to transfer.
Hit the "Sync" button on top and you're done.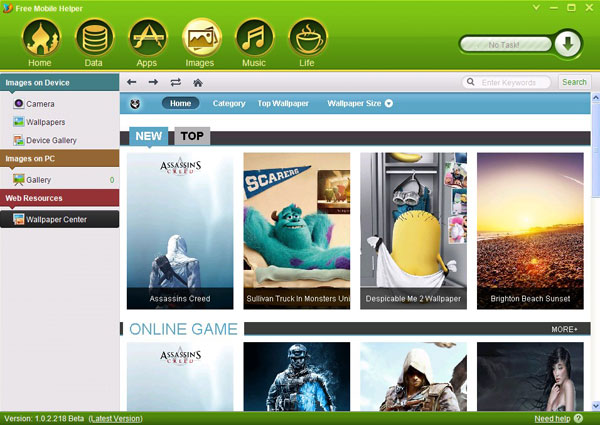 There are many ways on how you could easily transfer pictures from iPhone to Galaxy S5. Using the Easy Phone Sync Method is indeed easy but you need to have the correct Samsung drivers installed on your PC for the application to run smoothly. Moreover, the app availability is geographically limited, not to mention installing it both on your device and to your PC. On the other hand, the Free Mobile Helper seems to be a true all-in-one solution but using it is very confusing together with its overriding features.
Yet with the Phone Transfer, everything is very simple and nonetheless straight forward. Detailed instructional usage is likewise available on the developer's website. Best of all, aside from the ability to efficiently transfer photo from iPhone to Samsung S5, you can also use the Phone Transfer to create backups.