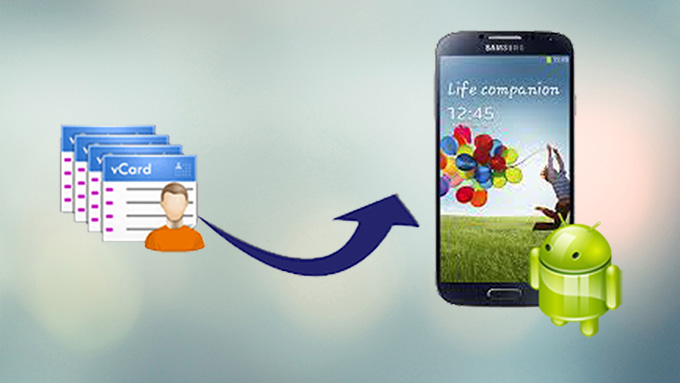 A vCard is an electronic business card that contains various information about the owner including his name, e-mail address, contact number, company, etc. This is similar to the traditional printed business cards. But it can be viewed, saved and used on computers, tablets and mobile devices including Android. Android uses VCF as an extension for the vCard files on it. If you have got a vCard, you may want to import VCF to Android so you can conveniently access the information on your phonebook along with your other contacts. With this, you can call, chat or send text messages with the owner of the vCard by simply going through your contacts.
The ways of how to import VCF to Android phone or tablet PC
There are various methods on how to transfer VCF files to Android. In this article, I will show you two ways on how to do this. One is by using a program that you can install on your computer and the other one is by using an Android app that you can use on your Android device.
1. The shareware to import VCF to Android (fast and easy)
2. Free Android Import vCard App (free app)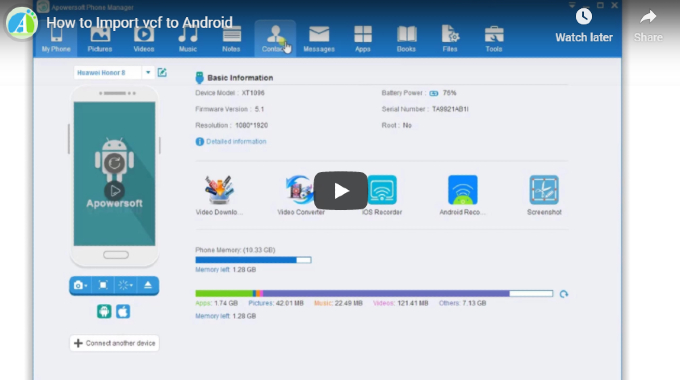 It lets you easily and quickly import contacts from vCard to Android with its user friendly interface. You can download this software by clicking the following button.
It supports batch transfer, which is a time saver. There's no need to wait for one VCF file to be successfully transferred before you can import another one. Aside from transferring VCF files, it also lets you manage your other Android files including your videos, photos, music and apps. Moreover, you can use it to send SMS from computer.
Once you have the program installed on your computer, you may follow the steps below. You will need your USB cable for this process as you will use it to connect your device to your computer. Don't worry if you've never done this before as these steps are easy to follow.
Connect your Android device to your PC using the USB cable.
Open Apowersoft Phone Manager.
Click "Contacts" on the menu bar. And your contacts list will show up with various options on top.
Click the "Import" option. Then choose the files you wish to transfer and click "Open".
Wait for the transfer process to finish, which shouldn't take so long.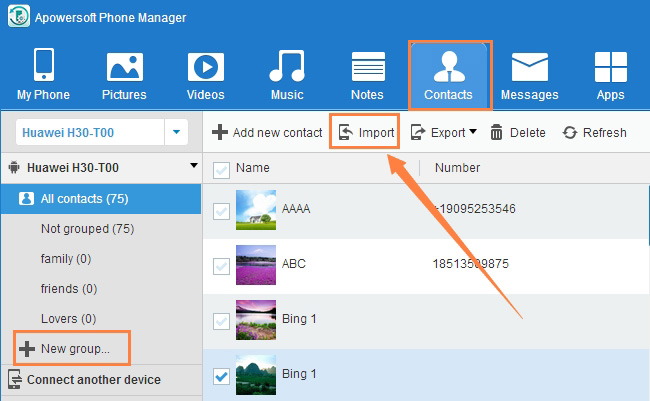 Method 2: Free Android Import vCard App
The next application that we will tackle for transferring vCards to Android device is called Contacts VCF. You can download this from the Google Play Store and install it on your Android phone. The app lets you browse, edit VCF files on your Android device directly. It also has the option to import VCF file to Android phone by choosing the "add in Android" option.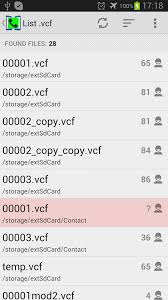 However, it does not support multiple transfers so you need to do this one by one. This could be time consuming, especially if you wish to import several vCards. Using this app, you can call the contacts saved in your vCard without actually saving them to your phone.
The two programs that we have discussed are both helpful. If you want an app to import vCard file to Android while on the go, Contacts VCF is your best option. However, if you want a program that you can use on your computer so you can navigate on a bigger screen or you prefer something that offers more features, go for Apowersoft Phone Manager. Aside from the essential feature of simultaneous VCF transfers, it also lets you import, export and delete various files.