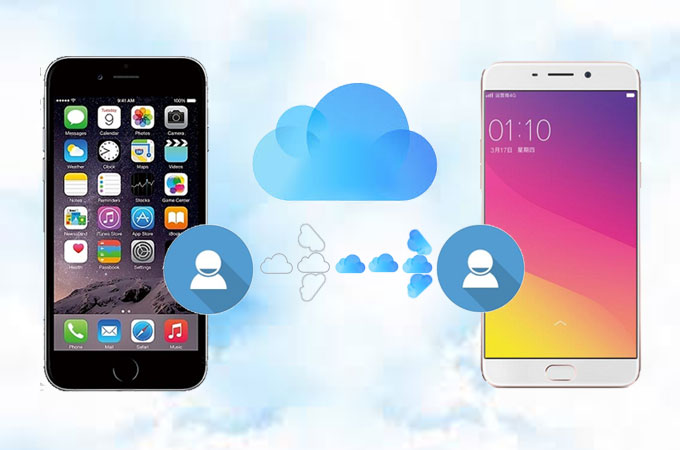 In case the event happens that you have bought a new Android to replace your old iPhone,the first thing you potentially do is to transfer your information onto your new phone. However, files on the old iPhone are so many. Among them, contacts seem to be the prior ones to be transferred. So, the question arises regarding how to transfer iCloud contacts to Android? Luckily, we picked out three practical ways elaborately for you to choose:
Three Easiest Ways to Sync iCloud Contacts to Android
ApowerManager
ApowerManager supports transferring files between iOS/Android and computer. As a phone manager app, this tool helps you classify all your files including photos, music, videos, contacts, messages, books, and other files. Like contacts, sometimes photos in iCloud are also important, for example in case you maybe would like to know about various methods to transfer iCloud photos to Android. To continue, here are the steps about how to sync iCloud contacts to Android:
Log into your account firstly in iCloud.com, click "Select All", in order for all your contacts to be selected. Then, click "Export vCard", so your contacts will be exported to a destination folder. You could move it to the desktop for the next step of the operation.

Download ApowerManager to your desktop, and connect your Android phone with PC via USB cable following instructions on screen. The app would send a mobile version installation package to your phone. Phone files would be synced to PC in connected condition.
Enter the contacts management interface, click "Import" and a box would be popped up, select the destination files, and click "Open". You could check the importing process by clicking transmission icon.
If you want to delete certain contacts, you could also delete them directly on this app and transfer the useful ones excluding the useless contacts to your Android. For fast learning, you could refer the video below.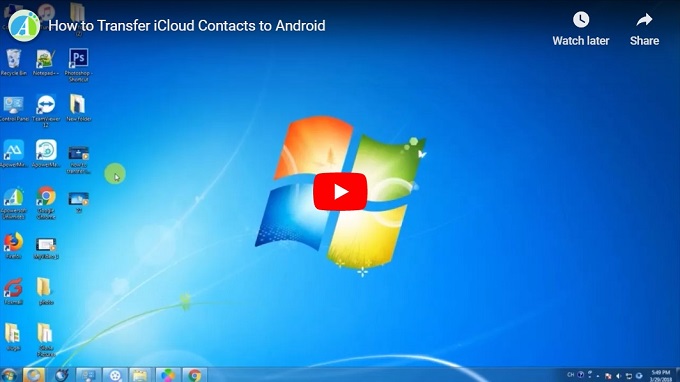 Wondershare MobileTrans
Wondershare MobileTrans is an application which supports the transferring of your files from phone to phone, as well as giving the option of restoring backups to new devices, backing up your phones and erasing old phones. You could also export iCloud contacts to Android with this app. Here are some steps:
At the first step, go to "Settings" on your phone and enter your profile, click "iCloud", then switch on "Contacts" and tap "Merge" firstly. At that time, all your contacts would be completed on your local contacts list.

Download Wondershare MobileTrans on your PC desktop and connect both your phones to PC with USB cables. For iPhone, you need to tap "Trust" this app. For Android, you should open the USB debugging mode manually. Click "Start" to transfer from phone to phone.

Make sure that iPhone is the source phone and Android is the destination phone. If it is not possible, you can click "Flip" to switch between them. Check "Contacts" and click "Start Transfer", then your iCloud contacts would be exported to Android.

Then it comes to the interface of transmission process.
ApowerTrans
ApowerTrans owns a user-friendly interface of direct preview of phone files. It also supports syncing photos, videos, music, contacts and other files from one phone to another seamlessly. It supports wide range types of phones to transfer. As for how to sync iCloud contacts to Android, here are the steps to follow:
Similar to the second way, to use ApowerTrans, you also need to turn on "Contacts" under iCloud beforehand.

Download ApowerTrans onto both your iPhone as well as Android devices.

Click the connection icon, it goes to "Radar" mode and "Scan"(iPhone)/"QR code"(Android) mode. Both of the two ways are available for connection. In "Radar" mode, you should make sure both of your two devices share the same network. Click the target phone image, then the connection would take effect.

In "Scan"(iPhone) or "QR code"(Android) mode, you could click "My QR code" to show the code of one of your phone and use the other one to scan the QR code. Then your phones would be connected.

Go to "Contacts" on your iPhone. Select certain contacts or click "All", and tap "Send" to export contacts to Android. You could tap transmission icon to view progress.
Conclusion
All the three applications mentioned before could transfer iCloud contacts to Android easily. Among them, ApowerManager is not only able to transfer data but also help you to manage files. Meanwhile, WonderShare MobileTrans and ApowerTrans provide immediate ways to transfer the files of your choice. If you want to download an app for one-time use, you could choose WonderShare MobileTrans and ApowerTrans. If you need an app for longer use, you could choose ApowerManager which has various functions supporting your need. After transferring important iCloud contacts, you may want to read more about how to transfer data from an old phone to a new phone.