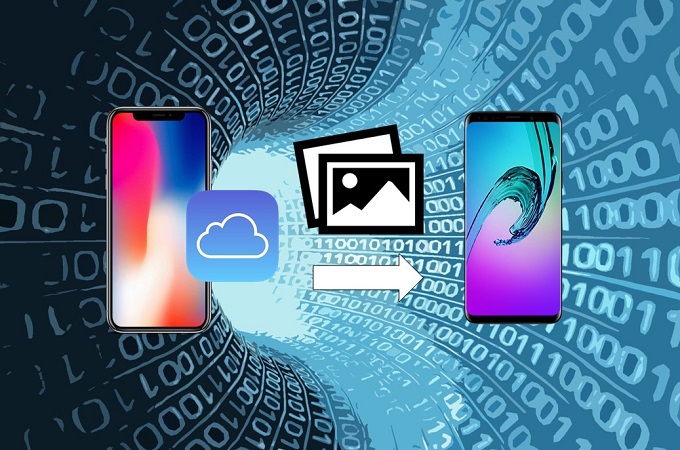 iCloud is an impressive application developed by Apple, which allows saving of different files such as photos, videos, and notes over the web. This is the reason why iOS users stick to this program when they need to backup or sync pictures between different devices. As this tool is only available for iPhone/iPad, Android phones won't be able to download from this cloud storage. So, if you have some stuff to share, you're probably looking for an easy way. Luckily, this article lists a selection of the best methods to transfer iCloud photos to Android without hassle. Just read out the guides below and choose among the apps suggested.
Three ways to access iCloud photos from Android
ApowerManager
One of the most effective way to access iCloud is by utilizing ApowerManager. This tool is a desktop software designed to manage Android or iOS devices. By using this solution, you can view your mobile contents such as photos, videos, music, documents, and contacts. Furthermore, it has an excellent function which enables you to export and import between smartphones and computer. As a positive side, the tool does not require internet connection or jailbreaking/rooting of devices in order to connect. All you need is a working cable and you're good to go. Without further ado, here are the steps you need to know to sync photos from iCloud to Android.
First, go to icloud.com and sign in using your iCloud account. From this page, download all the photos to your computer.
After the downloading is done, download and install ApowerManager on your computer and Android device. Connect your phone using a USB cable.Download
On the main interface of the program, click on "Photos" or go to "Manage" tab and choose "Photos" from the side menu.
Hit the "Import" button and select the destination folder where you saved your iCloud photos. Wait until the transferring process finished. You may also drag and drop your files to the tool so that they it will be stored on your phone.
There are other features included within the app that is very useful. For instance, you can display Android screen to PC using the reflector function.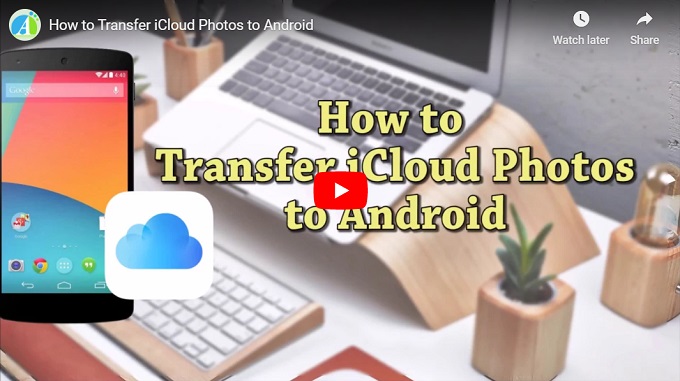 AirMore
Another feasible means to do this transfer is through AirMore. It is a file sharing application for Android and iOS that you can get for free. You may download this tool onto iPhone and various Android devices such as Samsung, Huawei, LG, HTC, etc. This supports transferring of photos, music, videos, documents, and even contacts. Check the guide below to access iCloud photos from Android.
Before you begin, export your pictures from your iCloud to iPhone. To do this, go to "Settings" > "iCloud" > "Photos" on your iPhone. Select "Download and Keep Originals" to save your files.
Download AirMore on your iPhone and Android, and then run the app on both devices.

Note: Make sure to connect both devices to the same Wi-Fi network.

Tap the "More" menu on both devices, then under "Other tools", tap "Phone Transfer", and it will automatically search for available devices.
On your iPhone, tap the avatar of the Android once detected to successfully connect.
Under the "Albums" tab, select your iCloud photos you wish to transfer, and then tap "Send" to successfully transfer them to your Android.
ShareIt
Last but not the least on this list is ShareIt. Similar to ApowerTrans, this tool is capable of moving files from Android to iOS and vice versa. Furthermore, it lets you process media files of any size and kind. As a matter of fact, you can send as well as receive pictures, videos, music, and even games from connected devices anytime you want. The app itself offers other features like the vault which has an encryption that protects your files from possible hacking. In order to share your iCloud photos, simply move all your pictures to your iDevice. Once you're done with this, follow the instructions below to view iCloud photos on Android.
To start, install ShareIt from the Google Play Store and App Store.
On your Android, enable hotspot connection then go back to ShareIt. Press the "Receive" button and click "Connect to iOS".
Consequently, connect your iPhone to the hotspot and proceed to ShareIt. Launch the application and hit "Send". From here, select the photos that you want then click "Ok".
Finally, choose your receiver from the detected devices and hit "Send".
Conclusion
These three applications can help you transport pictures saved on iCloud to Android with great ease. In case you want a more convenient and effortless procedure, ApowerManager is the right choice for you definitely. Apart from its undemanding connection process, you can still use your device, make a call or text someone, while you're sharing files. Moreover, it doesn't require you to get any app on your iPhone and export anything which makes it advantageous to those with low capacity memory devices.