I have been a satisfied user of HTC phone for 3 years. Though, I needed an upgrade and decided to choose the most recent smartphone of Samsung which is the Galaxy S5. The S5 rocks, but I have a very big problem that is how to transfer contacts from HTC to Samsung S5. There's no way I could manually enter phonebook entries one by one, for I have hundreds of them.
Transferring contacts from your old phone to the new one has always been a major concern for most smartphone owners. If you have one hundred more or less contacts, it would be easy to manually copy them one by one. However for users with hundreds or sometimes even thousands of contacts, this is indeed a tedious task to carry out.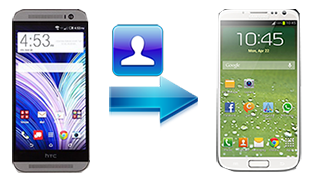 HTC and Samsung are both giants when it comes to the mobile phone industry. But with the recent release of Samsung's flagship phone – Galaxy S5, a number of HTC users are migrating from being "quietly brilliant" to "everyone's invited". If you are having problems or difficulties when it comes to transferring HTC phone contacts to S5, read on to this article and discover practical solutions.
Two Ways to Transfer Contacts HTC to Samsung Galaxy S5
Method 1: Use Phone Transfer
If you want a hassle-free way to transfer phonebook contents into your old phone to the new one, it is advised to use a transfer tool such as the Phone Transfer of Apowersoft. It can not only transfer phonebook contents but also work for other files such as music, photos, call logs, videos, SMS, audios and all others. What's great about Phone Transfer is that it supports a wide variety of mobile devices like Samsung, HTC, Nokia, Apple, LG, Acer and Blackberry with compatibility to more than 2000 phone models. Aside from the ability to easily transfer phone contents, Phone Transfer equally serves as mobile backup software.
Phone Transfer offers two methods. See below the guided instructions on how to move phonebook entries: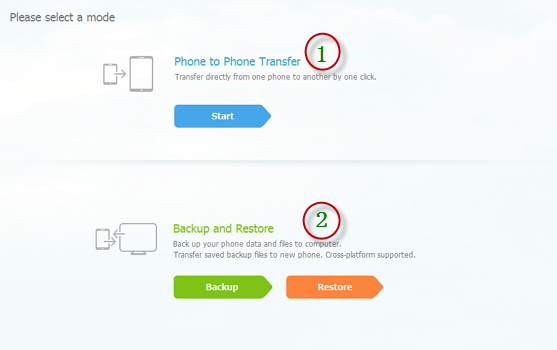 Mode 1: Phone to Phone Transfer
Install and run the Phone Transfer program on your PC.
From the main interface, select "Phone to Phone Transfer" and click "Start".
Connect both your HTC phone and S5 on your PC using the USB cables.
Wait for the program to recognize. You should see your HTC phone as the "source" on the left pane while S5 being the "destination" on the right pane automatically.
Tick the "contacts" box in the middle list.
You can likewise move photos, audios, videos, and other transferrable files.
Simply click "Start Copy" to transfer contact from HTC to Galaxy S5 and when it's done, simply click "Ok".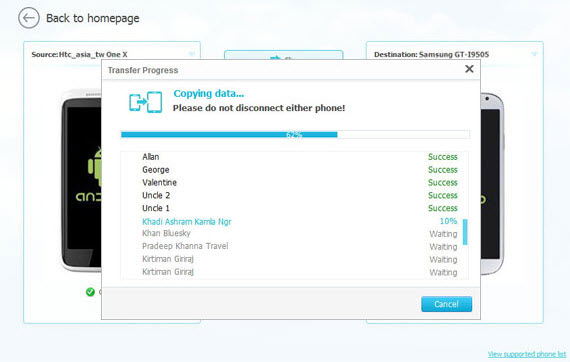 Mode 2: Backup and Restore
Choose "Backup and Restore" on the main interface and select "Backup" mode.
Connect your HTC device to your PC with the USB cable.
Tick the "Contacts" box or other files you wish to backup.
Hit the "Start Copy" button.
Connect your Galaxy S5 with the USB cable.
Click the "Back to homepage" on the top corner and this time choose "Restore" mode from the interface.
When the device has been recognized, select "HTC backed up files" on the left and tick "Contacts" in the middle pane.
Click "Start Copy" and wait until transfer completes.
Method 2: Transfer contacts from HTC to Galaxy S5 via Bluetooth
You can also transfer HTC one contacts to Samsung S5 by using Bluetooth technology. This method is free and you don't need to install additional programs on your PC. Here's how:
On your HTC phone turn on your Bluetooth and make your phone searchable.
Do this for your new Galaxy S5 as well.
Search for your Samsung device using Bluetooth on HTC mobile.
Create a 4-digit passcode and enter it on both phones.
Select all the contacts on your HTC phone and hit "send via Bluetooth".
Accept the request on your Galaxy S5 and wait until the process completes.
It is easy with the above tips and tricks to move contacts between phones. However, bear in mind that sometimes transferring contacts via Bluetooth only allows 10 phonebook entries at a time. If you can manage to finish the transfer, you may also encounter problems such as names not displayed properly, email addresses missed, and other contact information not included.
But with the Phone Transfer, all information on every phonebook entry could be transferred properly. Furthermore, not only can you easily transfer contacts HTC to Samsung Galaxy S5 but also you can move other files such as pictures and videos all at once.