The iOS 8 update is the biggest release for iOS devices. It comes with enhanced, new features and apps that you would love. However, it also requires ample space or you will not be able to perform the update. If doing the update via iTunes, you would need at least 2GB of free storage. It requires even more space if you are to update directly from your device – a minimum of 6GB free space. If you don't have adequate space, learn how to free up enough space to install iOS 8 in this article.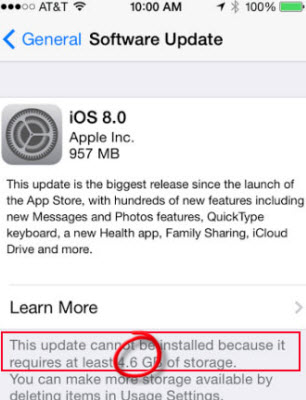 Solution 1: Delete Unused Apps on Your iOS Device Manually
Our first tips is the easiest to do. You are advised to look through unwanted apps and clean them on your device. We liked to go for new applications but without realizing it, accumulated loads of them on our device. Eliminating these unused apps would help free up space on your device. This can be done by pressing on the app's icon until the screen wiggles. When it does, you would see a small "x" button appear on its left side, you can then tap the "x" to delete it. You will get a notification window asking if you wish to continue with the deletion or cancel. In the notification window, tap "Delete" to confirm removing it. And clean another apps that you wish to remove in the same way.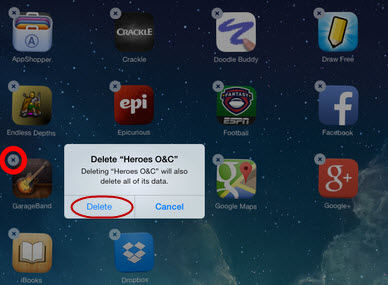 Solution 2: Free up space completely Using Apowersoft Phone Manager
Moving on to our second option, this requires you to download and install Apowersoft Phone Manager on your computer. You can backup or export some files not willing to remove by the moment to your PC, then spare the space for performing the update. Managing files turns out to be dramatically easy on your PC screen. Whatever you need can be transferred back afterwards.
Mode 1: Backup contacts, messages, apps
You may export the contacts, messages and apps one by one by clicking on the appropriate button on the upper part of the Apowersoft Phone Manager window. Launch the application and connect your device on the computer. You will receive a notification on your device asking if you want to trust the computer that's trying to access your files. Tap "Trust" and the program will detect your phone. Click "My Phone" on the upper left of the window and click the "Backup" icon, which is located at the phone image that looks like a box with an arrow pointing down. Choose a directory to place your backup and click the box next to contacts, messages and apps, then hit "Backup Now".
Mode 2: Move files from mobile to PC
This app can also be used to export or save media files, such as music, videos and photos to your PC. Click "Music" and select the songs that you wish to save on your computer, and then click "Export" once done. After your songs were successfully exported, click "Delete" to remove them from your device. Do the same for your photos, videos and other files by clicking on the appropriate menu.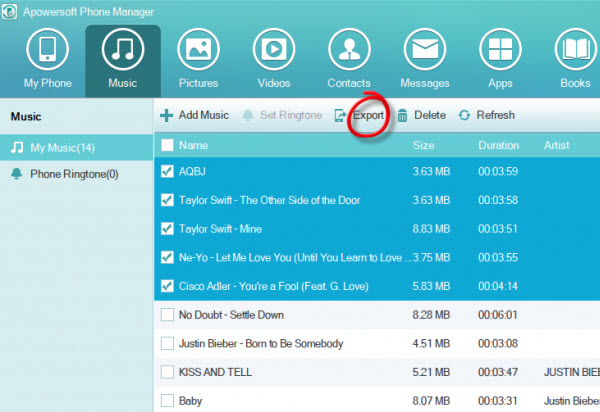 Solution 3: Delete All Your Unwanted Files Permanently
And for our last solution, you may use another tool called the iPhone Data Cleaner. Like the phone manager, it also needs to be downloaded and installed on your computer. Use this if you wish to permanently delete all your unwanted files from your device. It's like returning your phone to its original state, except that there's no need to reinstall your OS as it will not be affected.
Launch the application and connect your device to the computer. The tool will automatically detect your phone so you just need to click "Erase All Data on Device". Select "High" for the security level and click "Erase Now". Wait for the wiping process to complete and click "Done" once it's finish.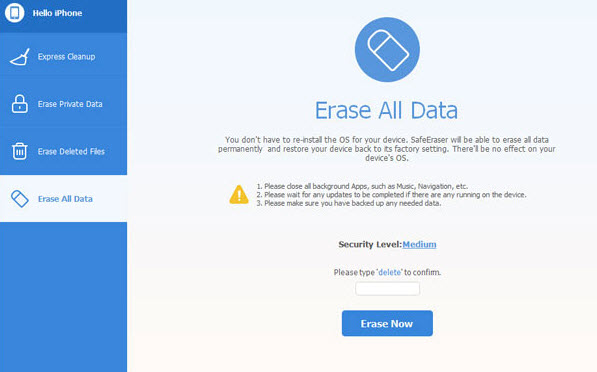 Conclusion
That sums up the different methods on how to free up space for iOS 8 update. Files like movies, music and apps usually consume lots of space while most of them are not in need incessantly, so you can manually remove them from mobile. If you wish to free up some space temparalily and restore them after update, then use the Apowersoft Phone Manager. However, if you wish to easily erase everything on your device, the most convenient way is to use iPhone Data Cleaner.