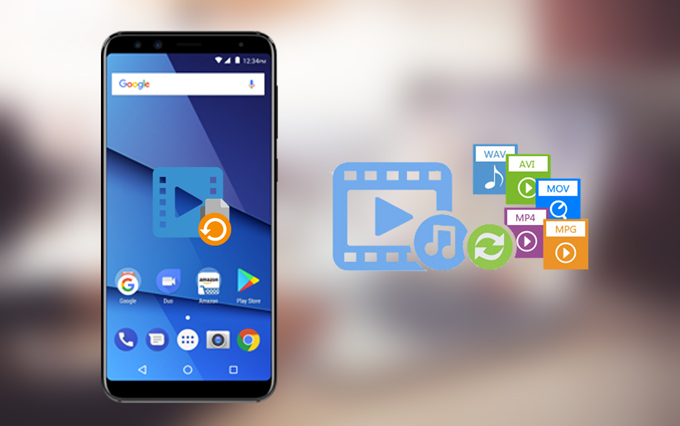 Android is clearly making a huge wave on the smartphone industry. The market was only dominated by iOS before, but this OS platform has quickly become a great rival after the release. From Samsung to Ericsson, LG, Huawei, Nexus and other mobile phone companies continuously release smartphones equipped with Android OS.
However, not everything with Android is enormously amazing. This mobile operating system has its own share of disadvantages while one of which is the inability to support all video formats. Surely you can use it to watch movies, clips, downloaded videos and all others but not every format is accepted by the system. Incompatible videos should be converted first making sure that the file format is supported by the device. With this, you will need a reliable, fast and efficient video converter for Android.
Tons of video converters made specifically for Android can be found on the Google Play. But for your convenience, we have collated some of the best and known free apps available on the market. Check them out below.
Five Free Video Converter for Android Phones
1. Video Converter Android
With over 5 million installs, Video Converter Android is one of the handiest tools you could ever download if you are a big fan of enjoying videos from various resources. Rated at 3.8 stars by majority of users in Google Play, this application is indeed lightweight at 837k. Furthermore, it supports older versions of Android specifically 2.0 and up. The upgraded version Video Converter Android 2 improves its user interface and adds support to convert image files.
This Android video converter app can recognize almost all video formats such as WEBM, WMV, MPG, FLV, AVI, DIVX, MOV, DAV and many more. Use the Video Converter Android app if you want to convert video to another format, extract audio from videos, reduce video file size. And it also lets you convert files while keeping original quality and adjust video settings according to your desires. What's said about it is the output formats for your choices are very limited unless you purchase its Pro version, or else 3GP is the only available option.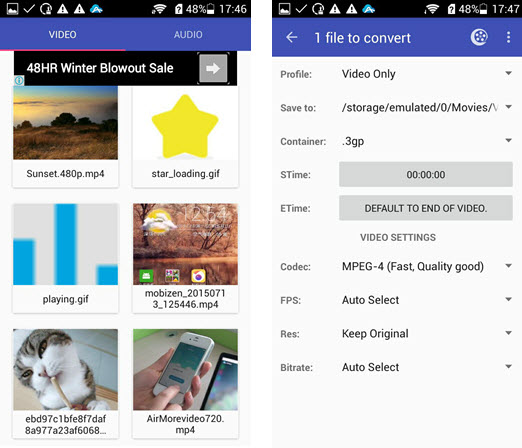 2. VidConvert – Video Converter
Developed by Acro Media Studio, VidConvert is a beautiful application featured a polished and clean-looking interface. It is very easy to use and supports different video formats namely MP4, FLV, MOV, MKV, AVI, WMV, RMVB, etc. It enables you to convert videos to popular formats, extract audio from videos, edit videos, supports background task mode and is equipped with easy one-click share button.
Being free, this Android mobile video converting app is ad supported. It's worth to take a place on your gadget. It takes only a decent file size of 9.1MB and is compatible with Android phones running 2.2 version and up.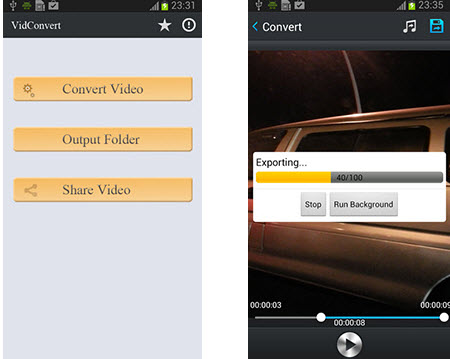 3. Video Converter Free
Video Converter Free, also called MediaExtractorFree, might not be that popular since it focuses on extracting jobs like extract audios as MP3, trim clips from movies and rip per frame video image as pictures but this application can do basic video conversion as well. It supports popular formats such as 3GP and MP4. The free Android video converting application is rated at 3.7 stars and comes fully compatible to mobile phones running Android 2.3.3 version and up.
It might not be the best Android video converter since it offers very basic file modification, but nonetheless, novice users would find its easy-to-use interface good for average tasks.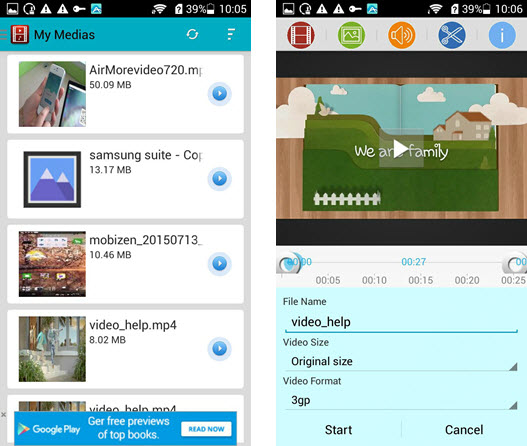 4. Any Video Converter
If you look at the number of people installing Any Video Converter on their devices, you'll be astonished to find it has 100,000 downloads. According to the developers, this tool can both download and convert videos into different formats. Currently it supports a wide variety of formats including MP4, MPEG4, 3GP, AVI, VOB, DAT, MOV, MJPEG, MP3, AC3, WAV, etc.
This free video converter for Android phones features a nice looking interface. The combination of purple and grey color makes it a bit unique when compared with others. Buttons are also large enough to press and using it is pretty simple. The only drawback is there are a lot of ad pop-ups which seems to be a bit annoyed.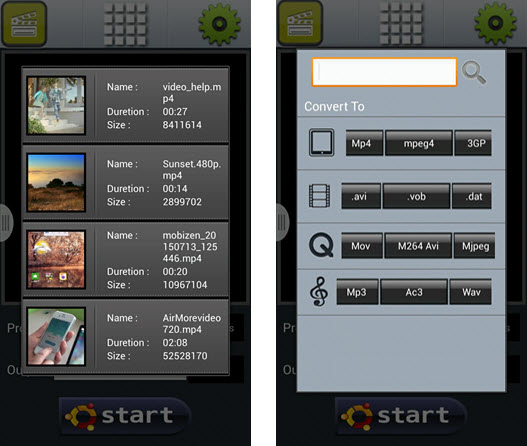 5. Video Converter
The Video Converter for Android mobile is offered by World Globle Apps with 5,000+ downloads and 3.4 stars from Google Play. The grade seems to be lower than the above introduced apps, but it is a very nice app to try for its simple interface and fast conversion speed. Some android video converter would replace the original file with new converted videos but this app will save files separately, keeping the original video unchanged. Users are allowed to access the converted files within the app itself, which would be very time-saving for people to use.
Though the introduction says it supports all video formats, the tested result shows it is available for MP4, MKV, MOV, MPEG, AVI, FLV and WMV. Other than that, this software doesn't have grandiose features or modern video modification functions. Because this app is targeted for basic conversion of files, you can use this tool if you have an older smartphone or tablet with fairly obsolete specs.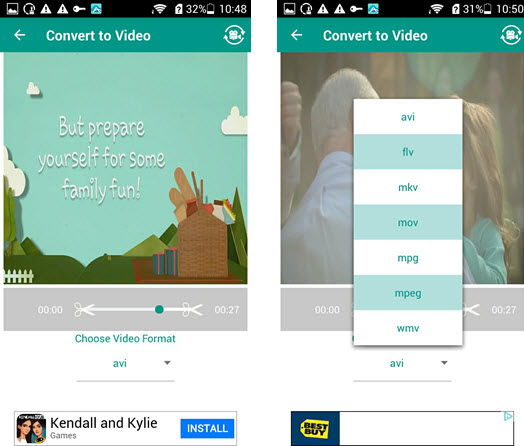 If your mobile phone doesn't support the format of the video you want to play, you could always use the above Android video converter apps as suggested to make it 100% compatible. As you would notice, most if not all tools recommended on this post comes with added functionalities aside from basic video file conversion.
Then again, some of the apps come with ads while others are completely clean. This is very understandable given the fact that these apps are freeware. Depending on your needs, your options are limitless when you need to watch a video which is not supported by Android.