I am an on-the-go businessman and I usually store all my documents and office files on iCloud. This gives me much convenience because it only needs an internet connection to fetch files I want. Also, this saves a lot of space on my personal device. However, I notice that my account is almost full forcing me to delete files from iCloud. I am not technically adept and I don't know how to do this. Are there easy methods of deleting files from iCloud?

Yes, there are many ways on how to delete documents and other data from iCloud. Depending on what you want and the gadget you have at hand, generally these methods are simple to follow. iCloud files provide users a convenient way to access files even without saving it on the device. However, due to Apple's limited iCloud storage space, things can pile up pretty quickly.
Aside from removing expired "unneeded" documents on your iCloud thus providing space for newer files that needs to be saved, it is imperative to free up some precious space on their account, most people want to delete data from iCloud backup to prevent others from accessing it. Deleting files on iCloud is easy, check out these methods below.
Solution 1: Delete Unused Documents on iCloud using iOS Device
If you happen to have an iPad or iPhone readily available at hand, you can use these Apple gadgets to remove documents from iCloud. This method doesn't require third party apps or special cables – all you need is your iOS device and good internet connection.
On your home screen tap the "Settings" icon.
Look for "iCloud" and tap it.
Scroll down the bottom and tap "Storage & Backup" then "Manage Storage".

On the "Documents & Data" section, select the associated app you wish to delete files with.
Tap the "Edit" button located on the upper right corner.
Simply hit "Delete" to remove unnecessary files.
Solution 2: Remove iCloud Files using Mac
How to delete data from iCloud using your Mac is easier than working on your iPhone's minute screen. At least with this method, you are able to see small document details more clearly and accurately before deciding to remove them. To do this just:
Open "iCloud preferences" by clicking the "Apple menu" then "System preferences".
Click "iCloud" and hit "Manage".
Select the appropriate application on the left pane.
Choose the documents you wish to remove on the right.
Hit "Delete" to erase files.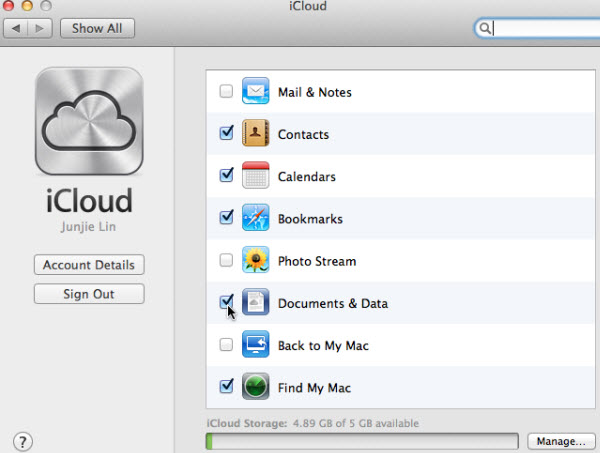 Solution 3: Delete iCloud Documents on Windows PC
If you want to delete unused data in iCloud but don't own a Mac, no need to worry because you can also do it on windows. To delete files on iCloud using Windows PC, open your "iCloud Control Panel" by:
Hit "Start menu" then from "All programs" click the "iCloud folder".
Tap the "iCloud" icon and click "Manage".
Select the appropriate application on the left and on the right side are the documents associated with it.
Choose the files you wish to erase.
Click "Delete" to remove documents from iCloud.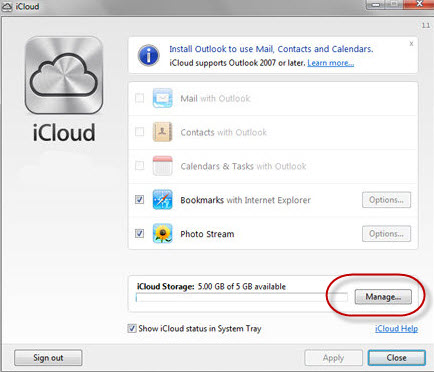 Solution 4: Delete Data from iCloud Storage using Shareware
Admittedly, the above methods on how to delete data from iCloud are not convenient for everyone. To this end, users looking for a more efficient and simple way of deleting data on iCloud could use third party applications such as the iPhone Data Cleaner.
The program can remove not just iCloud documents but other mobile files as well. Also, it offers a more personalized way of deleting iPhone data. Users can choose from four erasing modes based on three data erasing levels. As a result, there will be no trace left behind after deletion. Furthermore, it comes fully compatible to all iOS gadgets including iPhone, iPod and iPad. In the light of these facts, using the iPhone Data Cleaner to delete files from iCloud is easy. See below:
Download and install the tool on your computer.
Open the program and connect your iOS device to PC with USB cable.
After automatic device recognition, you can select the appropriate data erasing mode and erasing level (High, Medium and Low) on the main window.
Click the "Erase Now" button and wait until process completes.
Once done, you can safely disconnect your device from the computer.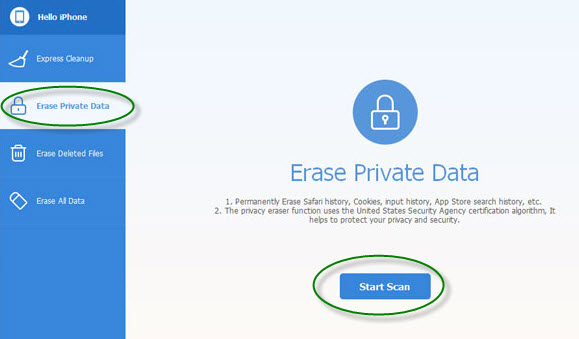 What's great about the iPhone Data Cleaner is that it features zero possibility of recovering deleted files. This only means that if you delete data from iCloud backup, there's no way it could ever be retrieved.
If you want to delete unused data in iCloud, private files or just to free up some space, the above methods will surely help you most. You can use manual methods to delete data on iCloud whereas shareware application lets you do it more conveniently while giving extra protection to your personal privacy.