Although digital music has enjoyed great popularity in recent years, people's enthusiasm on CD is clearly undiminished. Music lovers surely like to enjoy origin sound tracks on CD for better audio quality, but there may also come a time that you are in need of extracting MP3 from CD in order to play it on their portable devices. Thus the following steps on how to burn and rip CD would help you out.
Burn Audio Files to CD on Computer
Before doing the job, you need a blank CD. The CD-R only can be used to burn CD once, then it won't let you write it again. On the contrary, CD-RW allows you to burn and rip CD repeatedly.
Download and launch Streaming Audio Recorder.
Insert a blank CD into your computer CD player.
Select "CD Burner" from the drop-down list of "Tools" in this audio recorder.

Click on "Add" button to add the music files you want to burn and then select your preferred CD burning mode.

Generally, this audio recorder supports to burn two kinds of CDs, which are Audio CD and Data CD.

Audio CD: Audio CD can be widely used for playing in any standard CD player, such as CD player in your computer, your home or even car CD players that play CD-R and CD-RW discs.

Data CD: Data CD is also called media CD, its memory threshold can reach to approximately 700 megabytes (MB) of music or video files. It's pretty useful for backing up your data files. While, unlike Audio CD, Data CD can be read on either Windows or Mac computer.

Hit "Start" to start burning, and then you can see the burning progress.

Once your CD burning is done, a new window will pop up to remind you that your CD has burned successfully.
Then you can insert the CD to the computer, then your system will pop-up an AutoPlay window, just click "Play audio CD" to playback it. Or you can insert it to any CD player or DVD Player for sharing it with your family members or friends.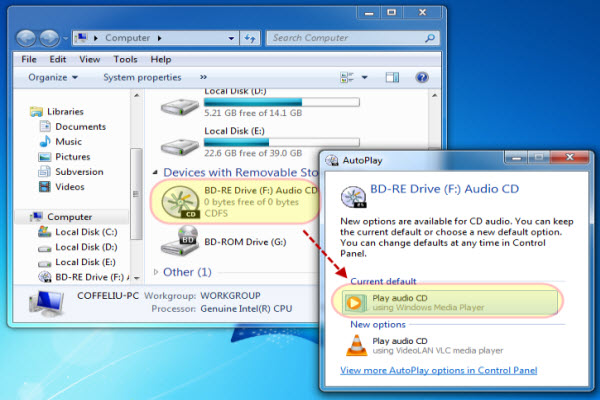 Rip MP3 Files from CD Efficiently
Also, extract your favorite songs from CD is also convenient.
Insert the CD you want to rip into your computer CD player.
Launch Streaming Audio Recorder and select "CD Ripper" from the drop-down list of "Tools".

Select the tracks you want to rip and click "Start" button.

After that, you will get the files you want and transfer them to your phone or other portable devices.
Hope the methods will work for you. Give it a whirl.