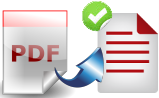 PDF is the ideal choice of file format for managing electronic documents today. With this format, you can easily send and receive files across different platforms. Sometimes, you may encounter PDFs with large sizes and numerous pages, and you may only need several important pages from the file. If you want to make a new file that contains only certain pages from a huge file, you can do so by extracting the pages.
Follow the tips and techniques listed below to extract page from PDF easily.
VeryPDF allows you to split your PDF file to multiple documents online. It's a free application with simple features. It can extract or delete pages from local disk or from a URL.
The major disadvantage, however, is the PDF size limitation of 10 MB. This means that you can't upload PDFs exceeding this size.
Follow these steps to extract pages from PDF online:
Step 1: Upload your PDF file from local disk, or you may enter a URL address.
Step 2: Pick your options. You may select "Split" mode or "Delete" mode, and set a page range.
Step 3: Click "Upload and Convert".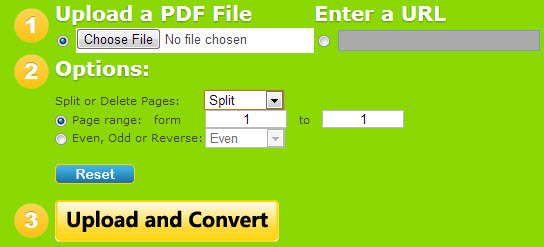 Extract pages from PDF document with Adobe Acrobat
You can use Adobe Acrobat Professional to extract a page from a PDF. Here's how:
Step 1: Launch the software, and open your PDF file.
Step 2: Click the "Pages" tab which you can find on the left side of the screen. The Pages pane displays the thumbnail of your document's content.
Step 3: Drag the thumbnails that you want to extract. Arrange them in a consecutive order.
Step 4: Click "Document > Pages > Extract".
Step 5: Adjust the page range and other settings.
Step 6: Click "OK". Acrobat will then extract the specific pages into a new PDF file. Make sure to save the document afterwards.

It is a first-rate, professional PDF page extractor that offers an extensive selection of features and functions. With this exceptional tool, you can edit your PDF in any way you want, and you can easily manage your PDF files.
Its advanced editing functions allow you to extract, delete, split, merge and crop pages. The program utilizes OCR technology so you can also edit scanned images. Adding watermarks and annotating PDFs is a breeze with this handy editor. The interface is easy to understand, and the process of editing PDFs only takes a few clicks.
Here are the steps to extract page from PDF using Apowersoft PDF Editor:
Step 1: Launch the software, and open your PDF document.
Step 2: Click "Pages > Extract Page". Select the pages you want to extract, and adjust the settings.
Step 3: Save your new PDF file.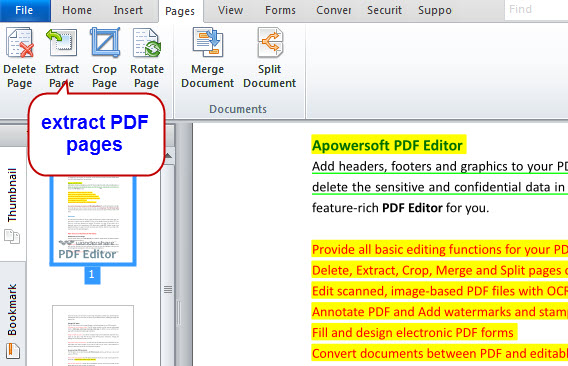 Comparing the Three Solutions to extract pages from PDF file
VeryPDF is an online solution that you can use to free extract PDF pages. Its main purpose is extracting and deleting pages. However, the primary downside is the file size limitation.
Adobe Acrobat has a more complex process that can be confusing to understand for beginner users. You'll have to navigate around the complicated menu to extract PDF pages. It's not really recommendable for first-time users.
On the other hand, Apowersoft Editor is a feature-rich solution that's great for beginners as well as advanced users. A great thing about Apowersoft PDF Editor is that there's no limitation to the file sizes that you can upload unlike web-based applications. Whether you need to extract a page from PDF, edit files, or convert documents to various formats, this tool has everything you need to manage PDFs.