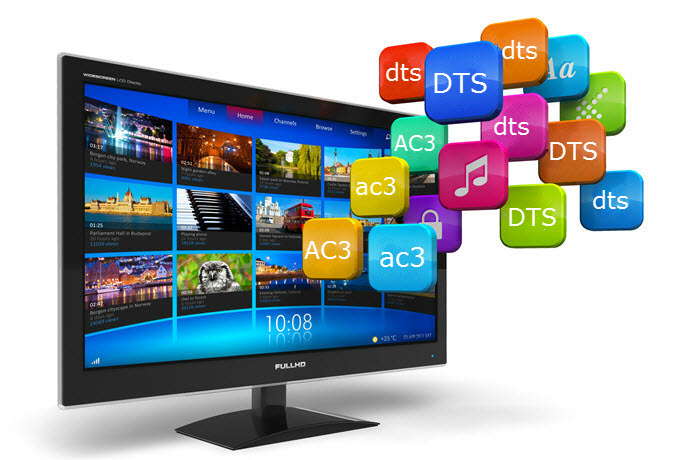 Ask
I have a collection of x264/MKV, some discs have both DTS and AC3 audio track. I understand DTS is supposed to be better, but since my Samsung smart TV doesn't let DTS pass through so I would like to convert it to AC3. Is there any suggestion to re-encode DTS to AC3 and is that conversion going to cause more harm than good to the audio quality?
Answer
You're correct, DTS is supposedly better than AC3 since it has a higher bitrate than AC3 does. But many DVD players cannot decode DTS at all though it perceives a higher quality. For greatest compatibility with players and devices, you have to use AC3 as it is a codec that all DVD players sold in the world must be capable of decoding and playing within the player itself. You mentioned the quality. I'd say DTS and AC3 are lossy both.
Here is our ultimate guide to converting DTS to AC3 on multiple platforms.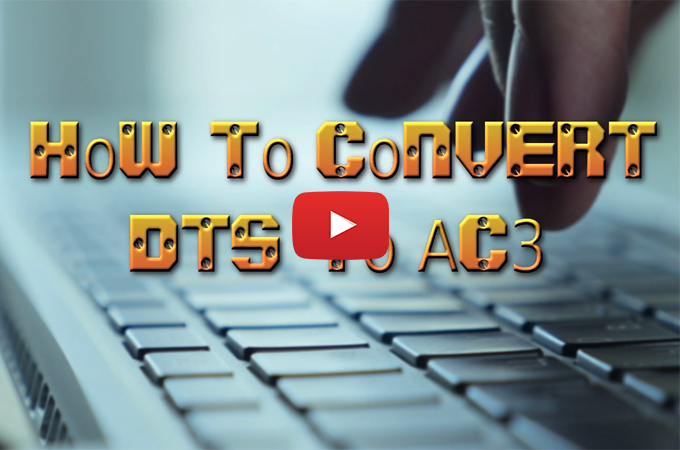 Awful Apps that can convert DTS to AC3
i
Handbrake (Free)
Suitable for: converting files to MKV or MP4 format on multi-platforms, doesn't work with mobile OS.
Drawback(s): Output formats are very limited.
Handbrake is one of the most commonly used converters people will consider using when it comes to file recompression/conversion. It is free and open-source running on Windows, Mac, Ubuntu platforms from its official and many other systems from other sources. Most people will find solutions within Handbrake if he or she is in search of approaches to encoding their files. Recoding DTS to AC3 in Handbrake is quite easy to acquire.
When you click on "Source", the "Source Selection" will show you two options: choose a single video file or a folder with one or more files, which is a very considerate and user-friendly setting. After the file is fully loaded, go to "Output Settings", keep "MKV" to encode the video. Under "Audio" tab > "Codec", select "AC3" from the listing. Go back to "Destination" section, hit "Browse" and give a name in the pop-up window for the output file. Finally, press "Start". Handbrake will begin to convert the file.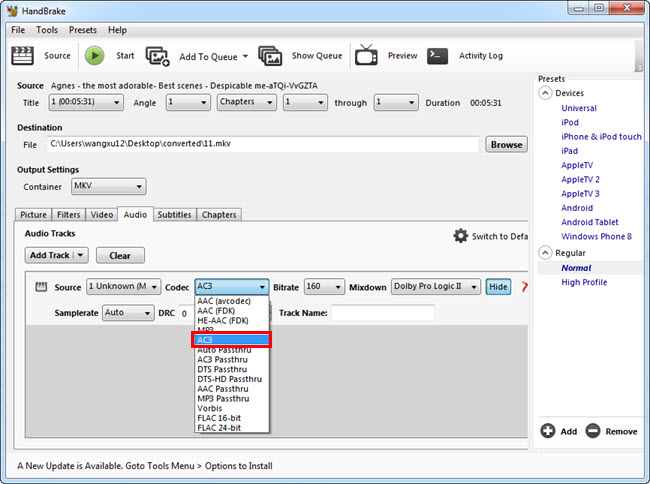 ii
Video Converter Studio (Paid with trial version)
Suitable for: Converting files locally on Windows platform only, doesn't work with non-Windows operating systems.
Drawback(s): Charge money if you want to fully use its all functions.
As the name might suggest, Video Converter Studio is a program able to convert audio/video files in a super-fast and easy way. When it works as a DTS to AC3 converter, it lets users quickly change the audio codec, keeping your video data untouched. It's also possible to change audio to more commonly-used MP3 and AAC beside AC3. Look at the procedure followed by to know how we can convert MKV files with DTS audio to a stream with AC3 audio. Before you proceed to below steps, you have to download and install it to your computer firstly.
Drag and drop the MKV files into the software or you can click "Add files" button on the interface to add files.
When files are fully loaded into the panel, forward to "Profile" > "Video" > "MKV" > "Same as source" for exporting the file.
Go to "Preset editor" window by a hit on "Settings" and in the "Audio" section drop down audio codec to choose "AC3" for encoding the audio.
Press "Convert" and you just need to await the new file to be created.
I should say this software is far more than a DTS to AC3 transcoder. You can also use its other integrated functions: video editor, screen recorder, video downloader and MV creator.
About DTS
Before we discuss the DTS file format, we need to look further into 5.1 channels. 5.1 is the most common format for surround sound in home theater system. It includes six channels: usually 5 full bandwidth channels and one low-frequency effects subwoofer channel. With these channels, sound can be placed very precisely with improved clarity, imaging, spaciousness and realism. DTS uses 5.1 channels to build surround sound effect. But it produces sound slightly more accurate since it uses a higher bitrate and less compression method.