Christmas is coming and everyone seems to be busy in preparing their things for the special holiday. People from different countries celebrate Christmas in different ways as based on their own traditions and beliefs. Some just simply go to church to attend the mass, some celebrate it with families, friends, and their loved ones. Additionally, playing and singing Christmas songs is one of the traditional ways which people do every year. They either use them in Christmas parties, in making e-cards, or simply playing them in the house often as Christmas day gets near.
In this modern time, people just download Christmas songs on the Internet instead of buying expensive DVDs or CDs. However, there are people who are having a hard time in downloading music. They spent a lot of time in searching the entire Internet for good resources, and do not know any tool which supports to download Christmas carols.
Two Sites to Get Free Christmas Songs
Below are two recommended sites which you can easily get songs for Christmas for free.
1. Apowersoft Free Online Audio Recorder
This is a free online tool which allows users to record any audio from computer soundcard, Mic or both. It can actually be used to conduct Christmas songs free download by means of recording the played songs on PC. It's like listening to the song and recording at the same time. To know more, see the following steps below:
Visit Apowersoft Free Online Audio Recorder page and look for the "Start Recording" button. Once found, click it.
After clicking, the tool will be initialized and loaded in several seconds.
On the pop-up interface, make sure that you have your "Audio Input" set as "System Sound".
Click on "Record" and play the desired Christmas song.
Click on "Stop" once finished and the file will then be saved in target folder.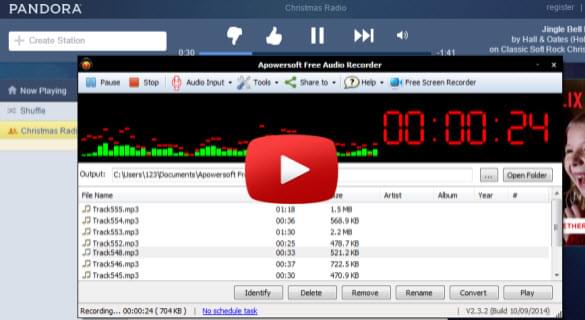 In addition, in case you are away or doing some other tasks, you are allowed to schedule a task in which you can preset the time, date, and duration for the audio recording.
2. Apowersoft Free Video to MP3
Free Video to MP3 is another free site which can be used to download free Christmas songs. It is also an online tool which enables users to download songs in very simple ways. A copy and paste process can let you download any Christmas song. This just means that you can actually save time in downloading as much as Christmas song you want. Follow the steps below to know how to use the tool.
Copy the video URL of the page where the Christmas song is located.
Go to Free Video to MP3 and paste the URL in the blank box.
Click on "Convert" button and run Java, then you will be required to make settings like formats, bitrate, channel and etc. Select a destination folder on PC and download the song immediately.

Also, you can enter the song name in given box and search it on Free Video to MP3. It is free to play the song online or save it as MP3 with ease.
Decent Method for Downloading Christmas Songs
Streaming Audio Recorder is a desktop tool which specialized in recording high quality audio. Furthermore, this program has more advanced features as compared with the previous methods. It lets users to download high quality music and edit ID3 tag, it also allows them to do the downloading in batch. So, if users wish to have a long list of Christmas songs, this is indeed the best tool to use.
Download, install the audio recorder, and launch it on the computer.
Once the tool appears, enter the keyword related to the song you like in the search box and then click "Search Music". A good key word example is "Jingle Bell".
All the related music will then show up, you can look for the exact music you want. On the right part of the song title, click the downward icon and wait for the songs to be downloaded.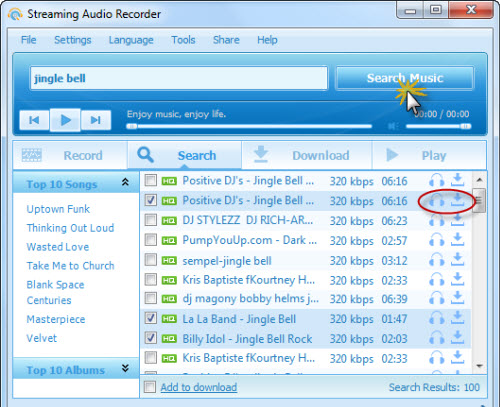 In addition to this, this amazing tool also can help users to burn downloaded songs to CD. Just click on "Tools" – "CD Burner", a window will pop up. Insert the CD, then add songs, adjust the order and hit "Start" to burn CD successfully.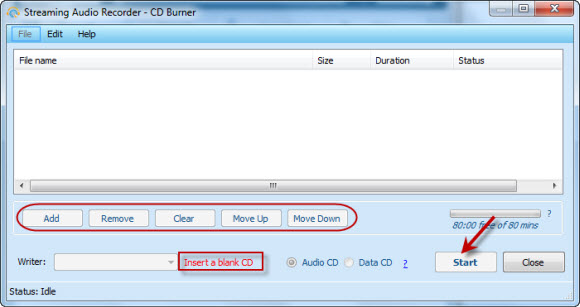 Wonderful Sites to Explore Christmas Songs
To help you out in exploring the best Christmas songs this year, check the sites recommended below.
1. Songza
Songza is a site that offers specific genres and playlist, and it shows updates right on its homepage. Since Christmas time is coming, Christmas songs recommended by the sites can be easily found. Just choose their latest update event and it will lead you to the pages where suggested songs are placed.
2. SoundCloud
SoundCloud is where you can find any songs you like by just typing the title and searching. Users will be able to choose different versions of the songs from different singers (popular or not). This is because even ordinary people can upload music with their own version of the song on the site.
3. Jango
Just like SoundCloud, this site has a huge music library and permits users to search any song without hassle. Top charts are shown on the homepage so it will be easy to find Christmas songs.
That is how easy to download Christmas songs nowadays. You don't need to spend much money and effort in getting the songs. All you need to have is a reliable tool or website in order to get your favorite Christmas songs. Have a try and make your decent choice. Wish you a Merry Christmas!