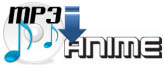 Except the stories and characters, music is another element which makes a good anime. When watching anime, viewers will also be attracted by the soundtracks and they all want to save them. However, the means of downloading anime soundtracks become the main issue. To download anime MP3 can be quite annoying or frustrating if you do not know the right ways. In order to clear up your puzzle, here we will discussed and explained various methods for you.
Best Option to Download Anime MP3
The best way is using a quite interesting software as it involves recording any audio from your computers sound card and microphone. Streaming Audio Recorder is the tool for this as it enables you to record audio from the anime you're watching. And it also supports to record from any other stuff you might be streaming maybe YouTube, Yahoo music, and radio live streams among others. Below is the specific guide to use it:
Get the software by clicking the "Download" button, then run it immediately.
Navigate to the "Settings", specify the audio input source as "System Sound".
Play the anime or skip to the song that you like quickly.
Click the "Record" button and when done click on the same button to stop recording.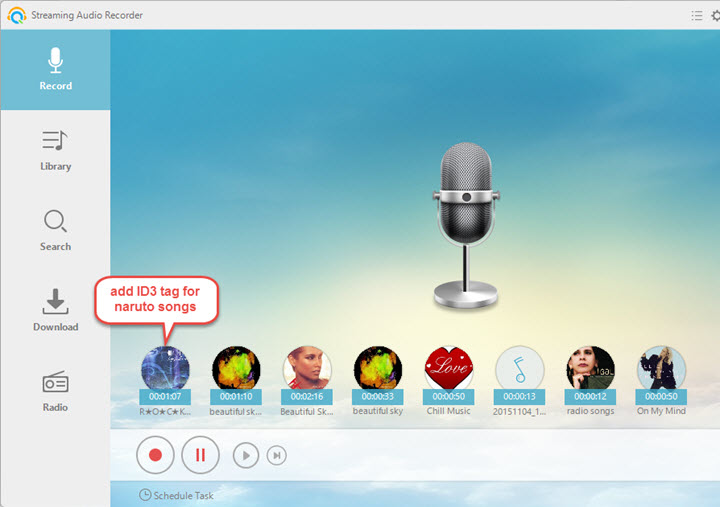 This method to proceed anime MP3 music download is especially useful when you don't know the name of a song. It can be difficult to find an unknown music, but recording saves you from troublesome and time consuming searches.
In addition, Streaming Audio Recorder also lets you search and download MP3 from the web. Again, all you need to do is to navigate to "Search" panel, enter the relevant keywords into the search tab, hit "Search" icon. The application displays all the relevant MP3 information based on your search. Then, please choose your preferred one to download.
The recording and downloading capabilities make this application very useful and worth every bit. The user interface is also quite nice and easy to navigate.
How to Free Download MP3 from Anime
Getting anime songs requires certain software or browser-based applications. Most of the methods are free, but you may feel the need to upgrade to a premium membership to get more from the software. Here are some key ways for free anime MP3 music download.
1. Apowersoft Free Video to MP3
This is a web application that enables users to listen to MP3 or even download the MP3 for offline use. It is available for mobile and PC so you can use it conveniently.
Open the online anime MP3 downloader.
Input any keywords or the name of the MP3 into the designated box and click "Search" button.
View search results and hit "Download" icon. You will be asked to choose a target format. After that, choose a folder for placing the song on your computer.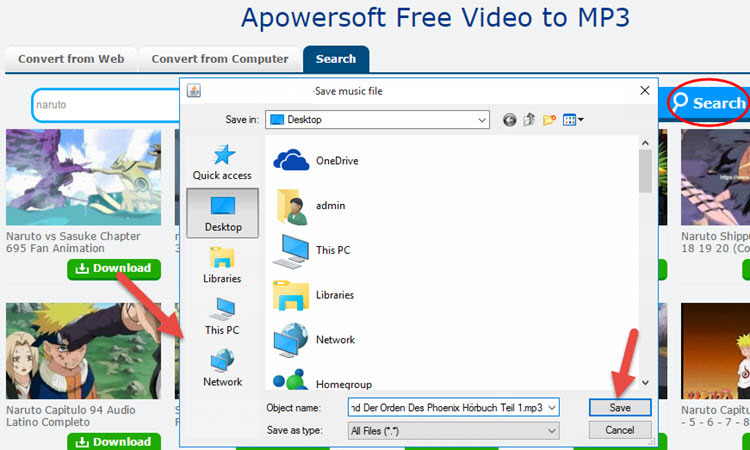 Repeat the procedures and you are allowed to download as many anime MP3 songs as you want. Songs downloaded in this way can be transferred to the mobile via the USB cable. For iPhone users, you need to have iTunes on your computer. Just add audio files into iTunes, then connect your phone for syncing the music library.
2. Anime-MP3
Anime-MP3 is one of the top anime MP3 download sites. The site contains lists of various top anime MP3 which include the newly released ones and classical works. All you need to do is browse through the categories and search for your preferred download. MP3 from an anime are all put together to make the search easier.
Enter the anime page which contains MP3 you wish to download. You can get detailed information about that MP3 like its size, quality and release date.
Copy the verification code or memorize it (copying is better) you may require it to download the MP3.
Click on the preferred download option. Follow the given instructions to get you to the download site and proceed to get your download.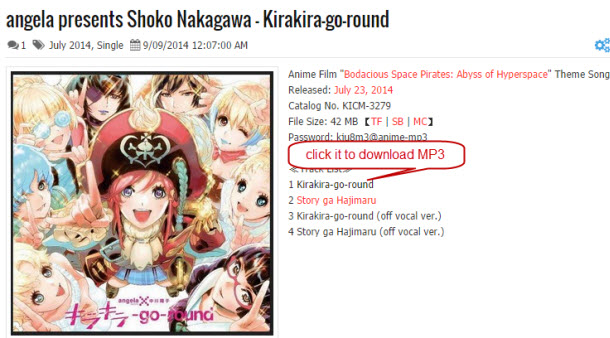 This is an easy way to download music from anime, but you have to tolerate the numerous ads or upgrade to premium members from the site.
The three methods to download anime MP3 songs are quite great and they are must known tips for any anime music fans. Using them, you can record and download anime music into any audio format you wish for whatever use such as making ringtones or burning to discs.