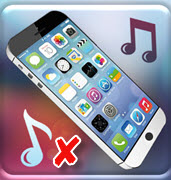 Besides iPhone's built-in ringtones, users can add a list of third-party ringtones from iTunes or other sources. Once added, you will find the ringtone that can be displayed on your iPhone. However, iPhone does not have an option to delete your added ringtone. So if you need to get rid of your unwanted ringtone, you have to seek professional phone management software. No worries, you may delete ringtones from iPhone by means of the methods given below.
Tips: The ringtones that came preloaded on your iPhone cannot be viewable in iTunes and also can't be removed. The only ringtones that can be removed from your iPhone are the ones that you added to it.
Two methods to delete ringtones from iPhone
Delete ringtone with iTunes
iTunes is the primary tool that is being used by Apple users whenever they want to manage the files of their Apple device. This tool can help you in deleting a ringtone in your iPhone. Here is how iTunes can help you.
Launch iTunes and connect the iPhone to the computer. Your iPhone will be automatically connected with iTunes.
Click the bell icon and the ringtones that you could see on iTunes. Right click the ringtone that you want to erase. Choose "Delete".
Confirm the files you want to delete by clicking "Delete Ringtone" on the prompt that will appear.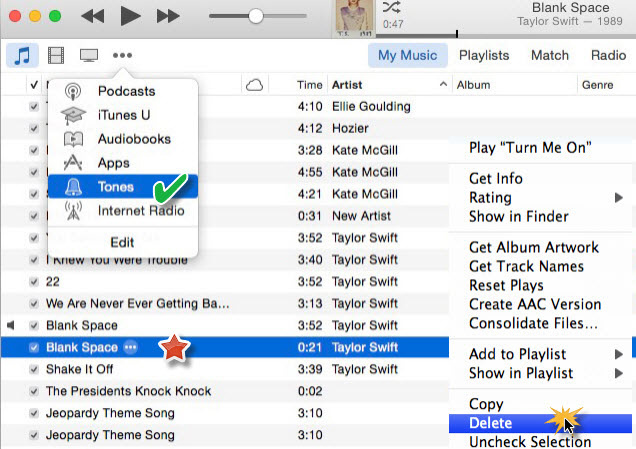 Cons: After going through the given steps, you will be able to delete iPhone ringtone. However, when using this method, both ringtones from iTunes and PC will be deleted. You cannot retain a copy at either side. If you just need to remove the ringtone on mobile to save up the space or prefer a more flexible way, try a more professional tool as below:
Delete ringtone from iPhone without iTunes
Another great utility that you can use in deleting an iPhone ringtone is Apowersoft Phone Manager. This tool is made to help Apple users manage their devices' files in a very easy way. When deleting ringtone, all you need to do is to check and delete the file. This is as easy as 1,2,3 that even newbie can easily master it. It also lets you delete all the ringtones that you want to delete at once. This video demo is how to delete ringtones from iPhone when you use this tool.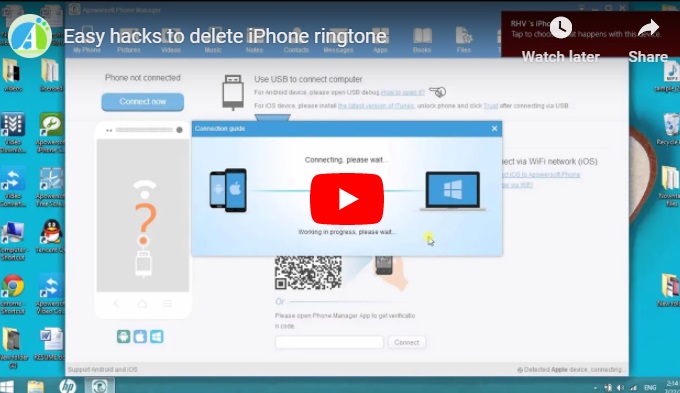 1
Download and launch the application.
The first thing that you need to do is to download the application by clicking the button below. After that, launch the application.
2
Connect the iPhone to PC.
Once launched, connect the iPhone to the PC with the USB cable. Note that the tool will automatically detect and connect the iPhone. Once connected, you'll find the basic information displayed on the main interface.
3
Delete the ringtone.
Click on the "Music" tab, and on the left part of the menu, you'll see "Ringtones". Click it to reveal all the ringtones of your iPhone. Check all or part of the ringtones that you want to remove and then click "Delete" button.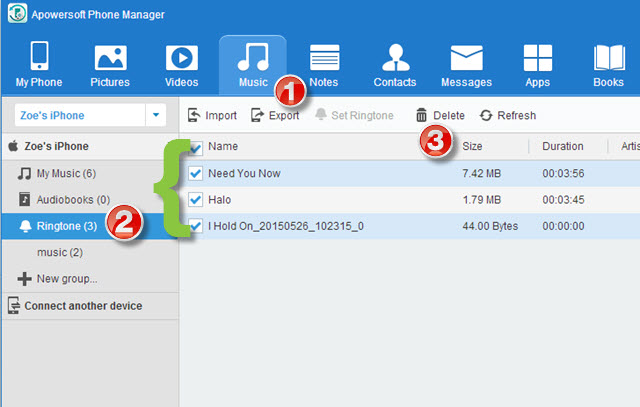 Aside removing the ringtones, you can directly load and export ringtones within this tool. Just simply click the "Import" or "Export" button to do so. In addition, you may also manage all your other files such as pictures, videos, applications, messages and even contacts. All these can be done by navigating among the tabs.
Those are the simple methods on how to remove ringtones from iPhone. Both are very useful and will give you the same result. However, if you want something that is professional, new and easier to handle, it is recommended to make use of Apowersoft Phone Manager for it allows you to delete unwanted ringtones at will. It might be just another desktop tool but is not the ordinary type that runs in your mind. You may decide on trying it to see and experience what other loyal users are experiencing in using the tool.