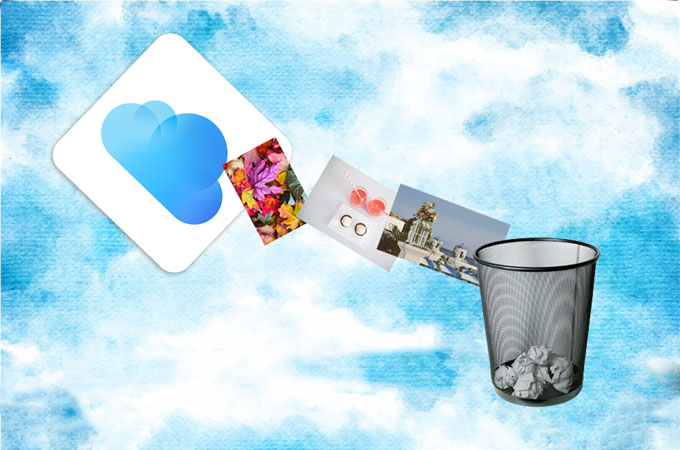 I've seen the news about numerous Hollywood stars getting their private pictures exposed because of hacked iCloud account. This news is everywhere and I am starting to worry because I myself have private photos stored on my iCloud. I really want to delete photos from iCloud photo stream but I don't know how to do it. Is there a way to delete these pictures both from my device and the cloud? Please help thanks.
iPhone is so portable and handy that we can use it to take snapshots of anything everywhere. Moreover, iPhone now is capable of capturing high quality pictures, which easily take up storage space. Thus, when photos taken on iPhone can be automatically backed up online for easy access from the devices, some people regard this feature as a big advantage. However, this is also the main culprit of Hollywood photo scandal. Due to this, you might want to delete photos from iCloud backup. Check out these iCloud photo deletion methods below and start erasing those files now.
How to Delete Photos from iCloud
Solution 1: Erase Images Automatically
Actually, there is no direct automatic iCloud photo deletion method. You cannot just simply click a single button to let all files go in seconds. But if you've enabled "My Photo Stream" on your iPhone, here is what you need to know: To save the storage space, the photos in uploaded Photo Stream will only stay 30 days in iCloud Server and it only keeps the latest 1000 images.
For iOS 10.3 or above, you can go to "Settings" on your iPhone and navigate to iCloud. Tap on "iCloud" and then "STORAGE". Under "Manage Storage", go to "iCloud Photo Library" and use "Disable and Delete" button to disable iCloud Photo Library. And they will automatically disappear in 30 days.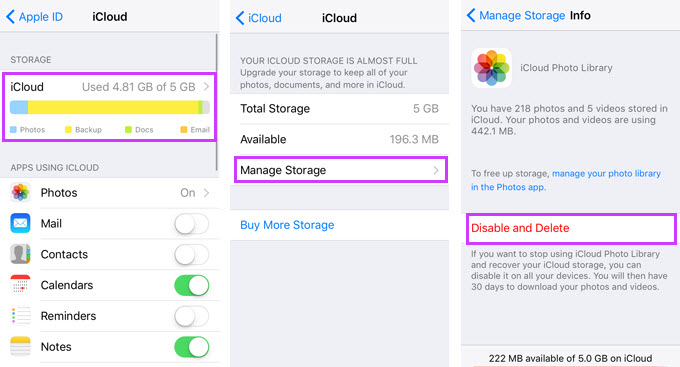 Solution 2: Remove Photos individually
Also, you can delete photos from iCloud backup by manually deleting each file. To do this you need to:
Browse iCloud.com and log in with your Apple ID on Mac or Windows PC.
Click "Photos" icon, choose the photo.
Click the delete button on the upper right corner to erase the photo.
However, this way might be tiresome if you store too many images on iCloud. And you cannot select all items to remove on the website.
Delete Pictures Permanently
If you're not familiar with how iOS works and having some difficulties deleting stored photos on iCloud, you can use third party applications to make the process a whole lot easier. The iPhone Data Cleaner is a robust program meant for easily removing files from iPhone, iPad and iPod. It provides four data erasing modes with three data erasing levels. This application can remove other data from iCloud to keep it safe, too.
The beauty of using iPhone Data Cleaner is that once files are removed, they are forever erased from your device with leaving no chance of recovery. With the updated version of iPhone Data Cleaner, four more features are included namely the express cleanup, erase private data, erase deleted files and erase all data. How to delete photos from iCloud and into your device using this software is easy, just:
Download and install the program on your computer.
Open the application and connect your iPhone to PC with USB cable.
Wait until the device is recognized then select the appropriate mode of data deletion on the main interface.

Depending on the chosen mode, you can select the files you wish to delete as well as the suitable data erasing level.
Wait until wiping process completes then after which you can safely disconnect your device.
There are many ways on how to delete photos from iCloud. Whether you want to manually delete selected photos, erase all files or thoroughly clean your device with the help of third party apps, you always make sure that your private files remain "Private". But make sure to transfer the essential photos to PC before deleting them.