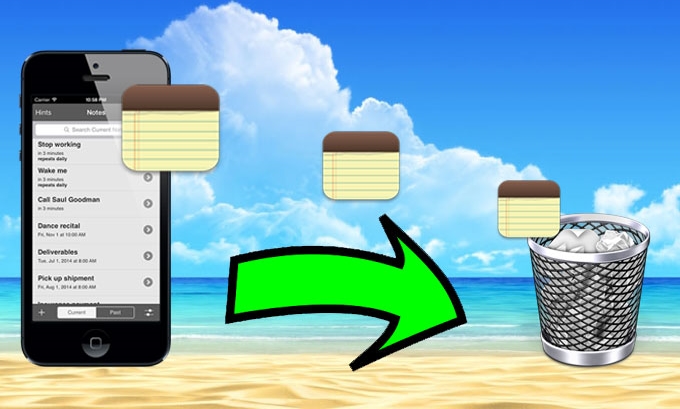 The Notes app of iPhone is very easy to use, simple to edit and convenient to delete, if you only have a few apps on your iPhone, Notes should take a place there. The Notes application of Apple is truly indispensable. It allows you to easily jot down notes from your to-do things, grocery lists, telephone numbers, birthdays, memos, addresses, annotations, web links, and many others.
In order to release more space for iPhone or protect the privacy, how to mass delete notes on iPhone is a painstaking moment for heavy users. With iOS Notes app there is no multi-select option – you need to manually erase each entry one by one. This is indeed time-consuming, tiresome and nonetheless impractical. Deleting hundreds of notes on your iPhone is not an enjoyable experience. Luckily, there are several solutions on how to easily delete all notes on iPhone. Know more about them after the jump.
Solution 1: Delete a Note in the Notes App Directly
Again if you have a handful of notes to delete, it is very easy to remove them on your iPhone. This method doesn't require third party applications or external add-ons. All you need is your phone and some extra effort. To erase a note on iPhone, simply:
Tap the "Notes" icon on your homepage.
Tap the exact note you want to delete.
At the bottom of the screen hit the "Trash" icon.
Select "Delete Note" when it's prompted.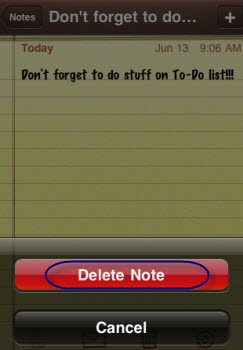 Use this trick if you only need to remove less than 20 notes stored on your smartphone. But if you have tons of items to delete in order to hand over or re-sell your iPhone to another person, this method will only give you headaches as it requires you to repeat the whole process over and over again. Instead, we can opt to the second method which lets you delete multiple notes on iPhone in just one click.
Solution 2: Batch Delete Notes on iPhone by Using MultiNoteDelete
MultiNoteDelete is a tweak that makes the Notes App of iPhone more convenient and efficient to use. It can be freely installed from the BigBoss repo and works with iOS versions 4.0 and above. This small utility installs no extra icon or additional programs on your iPhone; it uses the native app instead and adds a multi-select option.
Before installing it, make sure that your device is jailbroken. Bear in mind that MultiNoteDelete is a utility tool created for Cydia, therefore it is not an official modification made by Apple. If your iPhone is jailbroken, open Cydia and search for "MultiNoteDelete". Click the first result and install it on your device. After which you can now mass delete notes on iPhone by:
Open your "Notes" application.
You will notice that "Edit" button is now available on top.
Tap the "Edit" button and round check boxes will appear on each note.
Select the notes you wish to delete.
Hit the "Trash" icon next to the "Edit" button.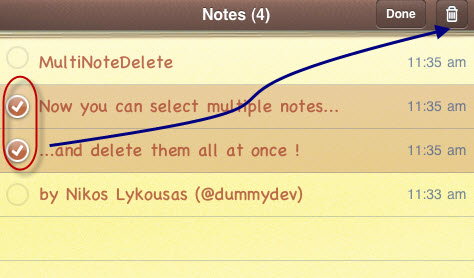 MultiNoteDelete is easy to use and does the job efficiently. However, it requires you to have a jailbroken device which on this date is still a debatable issue. If you want to delete notes on non-jailbroken iPhone, there's still an option left to remove notes permanently and leave zero possibility of recovering them.
Solution 3: Use A Professional Tool to Permanently Delete Notes from iPhone
There are many ways to remove a note on iPhone. However, not all of them can be removed completely which means others may retrieve them with a third-party tool. Some of which can be retrieved or recovered jeopardizing not just your privacy but moreover your security. If you want to permanently and safely remove all your notes on iPhone, the software called iPhone Data Cleaner is what you need.
This software can delete not just notes from iPhone but also pictures, videos, call logs, MMS, emails, memos, bookmarks, saved IDs, account info and all others. This tool offers two erasing modes based on three levels, low for fast file deletion, medium to overwrite existing as well as deleted data and high for erasing account info, IDs, financial transactions and saved passwords.
The steps of how to delete notes from iPhone:
Install, launch the tool and connect your iPhone to computer.
Choose "Erase deleted files" on the main interface of this application.

Select the appropriate data erasing level.
Hit the "Start" button and wait until process completes.
For those who want to delete data-sensitive notes on iPhone such as bank details, financial information, top secrets and all others, it is advised to use the iPhone Data Cleaner. It offers zero possibility of recovery meaning there's no way to retrieve the deleted notes.
No matter you need to give out your iPhone to another person or just want to clean some data on it, you should pick up an appropriate method that can guarantee the safety. At the end of the day, making sure that those deleted notes are erased forever will give you a thorough peace of mind.