Most Android users forget to delete messages which are already read or messages that are not so important. To delete text messages Android is important because it allows them to save more phone storage space. Additionally, deleting old or unimportant messages will allow them to easily find the important ones from the rest. On the other hand, most Android users are having a hard time in deleting these messages. It's either they do not know how to do or their device cannot delete multiple messages at once. If the device cannot delete messages at one time, users will need to spend a lot of time in getting rid of them one by one.
Since what is said above, below are the best ways that Android users can do in order to delete threads or messages easily.
Method 1: With Apowersoft Phone Manager
Apowersoft Phone Manager is designed for users to manage their phone's data on the computer. This tool lets users easily delete multiple messages on Android from the oldest version to 5.0 and above. Aside from deleting, users can also reply, forward and send messages to their contacts using the application. Just make sure that the phone has a SIM card inserted on it.
To fully understand how this tool deletes messages in an Android phone, please refer to the guide:
Step 1: Click the "Download" button below to get the tool. After finishing downloading, launch it on your computer.
Step 2: Once installed, launch the application and connect the Android phone in the computer.
Note that users can connect to the application in 2 ways:
a) Use USB cable – open USB debugging mode on your phone, connect the device using the cable and the tool will automatically detect it.
b) Use WiFi network connection – through a WiFi connection, users can connect to the tool by installing and running the app in their Android device first. After that, enter the verification code in the box or scan the QR code on PC.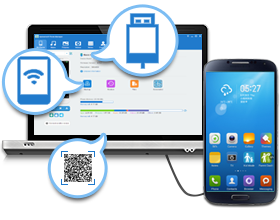 Step 3: Once connected, choose "Messages" found on the top of the tool. From there, you can choose to create new message, export or delete a message.
Step 4: Click the threads/messages you want to delete. However, if you want to delete them all, simply click "Contacts" to select all of them.
Step 5: After selecting, click "Delete" and then click "OK" to delete selected threads.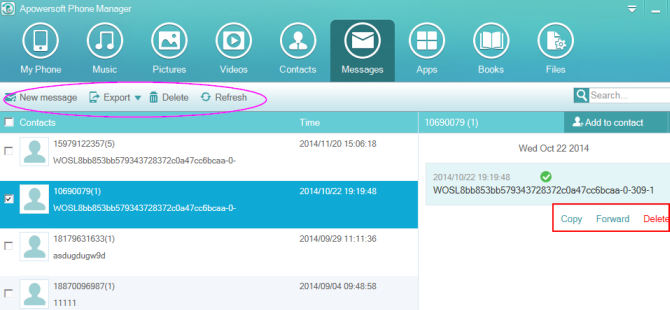 Note that aside from that, the tool also lets users import and export files such as music, photos, videos and more from phone to computer and vice versa. Changing alarms, notifications, ringtones, and wallpaper can also be done. Additionally, this tool can also backup all the files of Android device and restore them on computer.
Method 2: Using the Default Way
You can still delete individual or multiple messages using your phone's default way. However, not all Android phones can make the work easy for you.
a. Delete individual message on Android
Simply go to "Messages" or "Messaging", tap the thread you want to delete, tap and hold the exact message and then tap "Delete" or a trash can icon. Lastly, click "OK" to finish the process.
b. Delete multiple messages from device
Go into the messaging app and press the menu button it will allow you to select multiple threads to delete. Select all the messages and then click "Delete" or the trash can icon. Press "OK" to finish.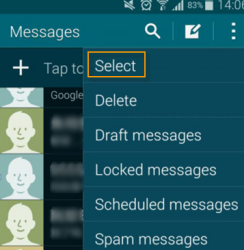 c. Tips to delete old messages automatically
In case you are using Hangout, you can easily delete your SMS by going to "Settings", choose "SMS" and then choose "Advanced" and check "Delete Old Messages".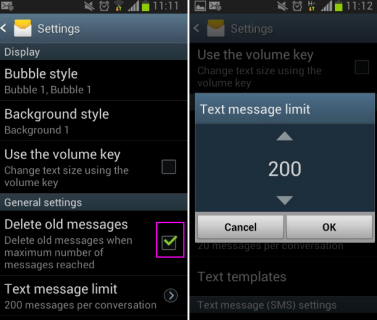 Method 3: Use Android Message App
Another method to do is to use an Android message app just like Delete All Messages app. This tool allows users to delete messages over a specific age from the device. Even if your messages have years of history, it can also delete them. However, this tool only works on the default SMS app of the phone and it can not delete messages in Android 4.4.2 Kitkat.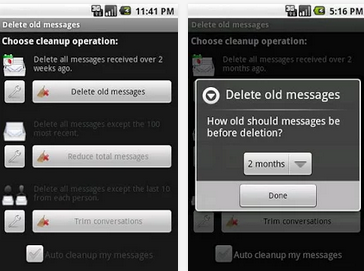 Those are all the methods which can be used on how to delete messages on Android. All of them will surely help users do the job easier. However, it is highly advised to use Apowersoft Phone Manager because aside from deleting messages, it is jump-packed with helpful features such as managing, messages, music, pictures, etc and screenshot mobile devices.