Ask
It's been a while since Twitter was released and became a popular social media site. Though I just started to use it from last month, I was quite impressed that I had also installed it on my iPhone. I want to release more space and want to know how to delete tweet from iPhone Twitter. Can anyone help me with this?
Answer
In these days, having a Twitter app on an iPhone is a must since Twitter is one of the hottest social media sharing site today. Installing Twitter allows you to post messages at anytime on the road. But many iPhone users don't find it that much significant and wish to delete it, while others have concern on how to delete a Twitter post on iPhone? This task may be confusing for some users, that's why we have given efficient tricks in this article. To answer all of these concerns, here is a list of the most reliable methods that you can utilize after the jump.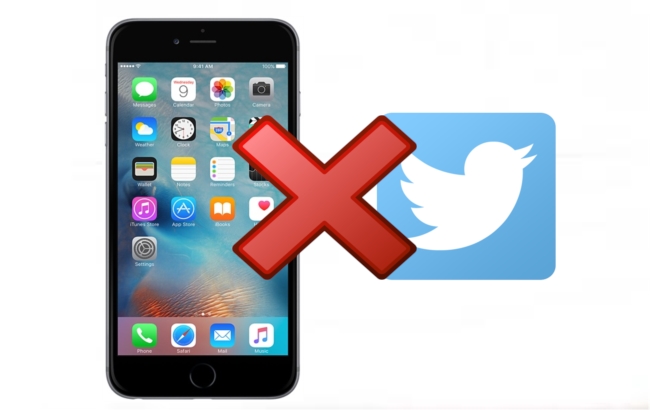 Solution 1: Delete Twitter Direct Messages, Posts and Accounts from iPhone Manually
Part 1: Delete Direct Messages (DM) on Twitter app from iPhone
Deleting DM (Direct Message) on iPhone's Twitter seems to be impossible since it will sync back as soon as you connect to your computer. But that was the story before, by following the steps as instructed here, you can now easily delete Twitter Direct Messages on iPhone without worrying of them to be synced back.
Unlock your iPhone and go directly into your Twitter app.
Tap the conversation or messages that you need to erase.
Tap "Delete" or "Delete Conversation" once an option shows up.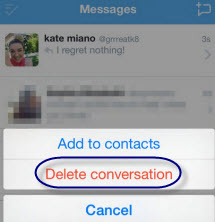 Part 2: Delete a Tweet in Twitter app on iPhone
There could be times where in your post something on your Twitter, then suddenly realize that there's no need for it to be posted. In fact, it just needs some few clicks from your Twitter page for the post to be erased on your timeline. To do this trick, here are the steps to do:
Go to your Twitter app and sign into your account.
Visit your user profile and look for the Tweet post that you wish to delete.
Move your mouse over the post or message, then hit "Delete".
Your post will now be deleted.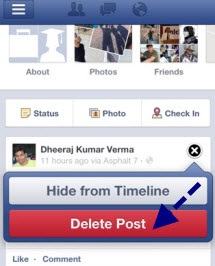 Part 3: Delete a Twitter account on your iPhone
If you want to take a break from all Twitter posts and shares or to start with a fresh account, then this is the best way for you. However, Twitter does not allow users to completely delete your Twitter account on your iPhone. And for you to successfully delete Twitter account on iPhone, here are the steps.
Unlock your iPhone and open the "Settings" app.
Now navigate down till you see your settings options for Twitter and tap "Twitter".
Select the user account by tapping the user name.
Choose "Delete Account" which can be found on the bottom portion.
When a window prompted, tap the "Delete Account" to confirm the process.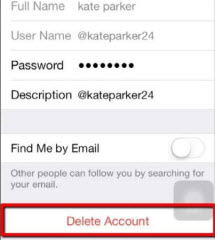 Furthermore, if you wish to permanently get rid of your Twitter post or DM on iPhone for any reasons, then you should try the next solution.
Solution 2: Permanently delete Twitter from iPhone with software
For a more extensive way to delete Twitter from iPhone, or to erase the app permanently, then this is the best solution that you should use. This method will require a robust application that is called iPhone Data Cleaner.
Unlike other file cleaner, this program performs a thorough clean which leaves zero trace behind. Aside from erasing Twitter, it can also handle various files, such as bookmarks, videos, contacts, apps, user IDs, system setting, memos, SMS, passwords, and account info. To begin with the extensive cleaning, here are the steps to follow:
Install and open this data erasing tool on your computer.
Connect your iPhone into your computer via USB data wire.
You will be notified with a pop up window when the device has been recognized by the software.
Next is to choose "Erase Deleted Files" which is in the left column.

Hit the "Start Scan" button to begin scanning the files in your iPhone.
Once the scan is completed, pick the Twitter direct messages, posts or account that you need to delete.
Click "Erase Now" button and type the word "delete" to remove all your unwanted Twitter information.
Aside from "Erase Deleted Files", you can also take advantage of its other features that include: "Express Cleanup", "Erase Private Data", and "Erase All Data".
As you can see, the best way to get rid of a Twitter post, account, or the program itself from an iPhone is by using a powerful program such as iPhone Data Cleaner. This is because of the program magnificent way of cleaning that cannot be found with other method or programs. A certain Tweet can reach the mainstream in just a matter of second, so to avoid your unwanted Tweet to be spread across the net then start deleting them permanently with iPhone Data Cleaner.