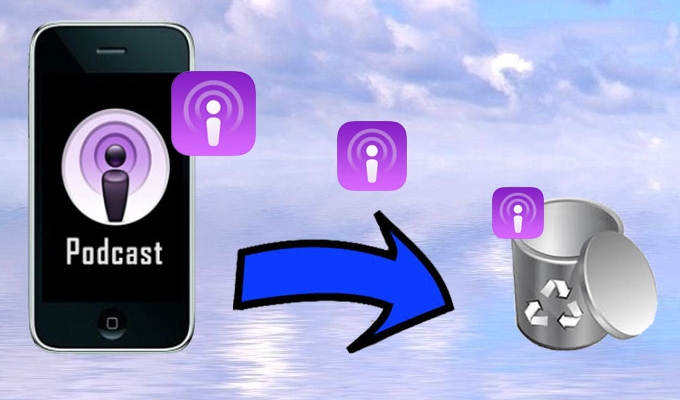 I am a big fan on podcasts. I use them to keep me on track and always update when it comes to the latest fashion, lifestyle, movies and celebrity news. However, I notice that my iPhone's memory is getting low and most of the space occupied came from podcasts. I want to remove those that I am no longer listening to but I don't know how. Can you teach me how to delete podcasts from iPhone in efficient way?
Podcasts are audio programs usually downloaded via web syndication for computer or smartphone playback. Podcasts are gaining much popularity right now due to their convenient, practical and easy approach over entertainment. Today, most iPhone podcasts consist of series of episodes making them huge in file size therefore taking up a vast amount of space on your device.
Many people always forget to delete the finished podcasts on their iPhone after they watched, there are more and more podcasts on their gadgets and the space will be less. If you also have tons of finished podcasts saved on your gadget, you can safely remove them to give way for other files such as MP3s, pictures, videos, etc. However, deleting podcasts from your iPhone is indeed tricky. Check out these tips below and learn how to erase them quickly and easily.
Solution 1: Delete Podcasts on iPhone directly
If you have less than 10 podcast episodes that need to be erased and you're far from your computer, you can easily remove them on your iPhone. This method requires no internet connection, cable or third party applications. See how to do it after the jump.
On your home screen tap "Music".
Click "More".
Tap "Podcasts" and a list of saved podcasts on your device will appear.
Choose the specific episode you want to delete.
Swipe an entry from right to left until delete button appears on the right.
Click "Delete" to remove it and repeat this process to eliminate the others.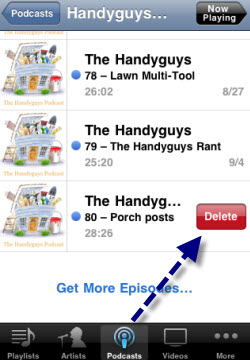 Solution 2: Remove Podcasts from iPhone with iTunes
For those who want to delete podcast episodes all at once, you can work it out on iTunes. This technique is advisable for users who needs to erase tons of saved podcasts for it's time consuming to delete one at a time. Additionally, it is easier to manage things on your computer as compared with iPhone.
How to delete podcasts from iPhone using iTunes is easy, all you need to do is:
Connect your iPhone to PC using USB cable and launch iTunes.
Under devices, click your iPhone.
Locate and select "Podcasts" tab, then click "Sync Podcasts".
Uncheck all the saved podcasts you want to erase.
Click "Apply" button.
Properly eject your iPhone to safely disconnect it from PC.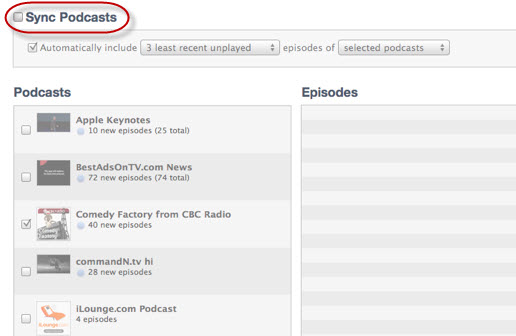 Bear in mind that neither the iTunes method nor the manual approach can guarantee that your data would be gone forever from your iOS device. Such files can still be retrieved via some recovery tools which may cause risk to your privacy. If you want to permanently and safely delete podcast episodes from iPhone, check out this next solution.
Solution 3: Delete Podcasts from iPhone permanently
Using iPhone Data Cleaner will help you remove saved podcasts on your device effectively. On top of it, you can similarly use it to delete photos, contacts, emails, reminders, documents, apps, passwords and other mobile data. This application works with all iOS gadgets, such as iPhone, iPod and iPads. If you've got a carrier locked and jail-broken iPhone, this doesn't matter because the iPhone Data Cleaner will still recognize and work for it as normal.
If you want to delete a podcast from iPhone and need it to be permanently removed, this software is what you need. It offers two erasing modes with three data erasing levels. From quick file deletion to overwriting existing files and removing sensitive data, they are all possible with this program. Using it is also simple unlike the somewhat technical way of iTunes and tiresome method of manual podcast deletion. You just need to:
Launch this tool and connect your iPhone to PC using USB cable.
After automatic device recognition, click "Erase deleted files" on the main interface.
Choose the appropriate data erasing level from low, medium or high.
Click "Start" button and wait until wiping process completes.
Click "Done" after the process is OK.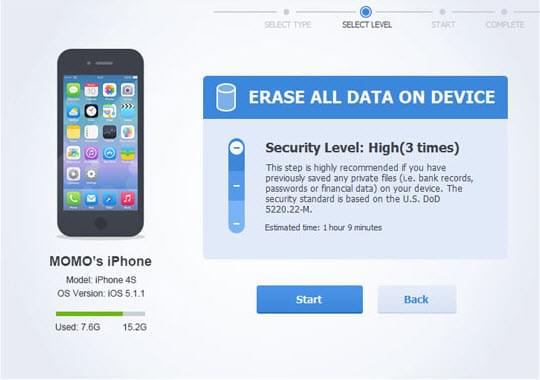 With iPhone Data Cleaner, there's a zero chance of file recovery. Recommended for users who want to totally delete podcast episodes from iPhone, this software can set your mind in peace. It is super easy to use, offers quick data deletion, comes with different security settings, and best of all guaranteed to be unrecoverable.
There are many ways on how to remove podcasts from iPhone. Some might only need the first method to have quick deletion, others may look for iTunes method, but iPhone Cleaner is surely the best selection for its guarantee of privacy protection and efficiency.