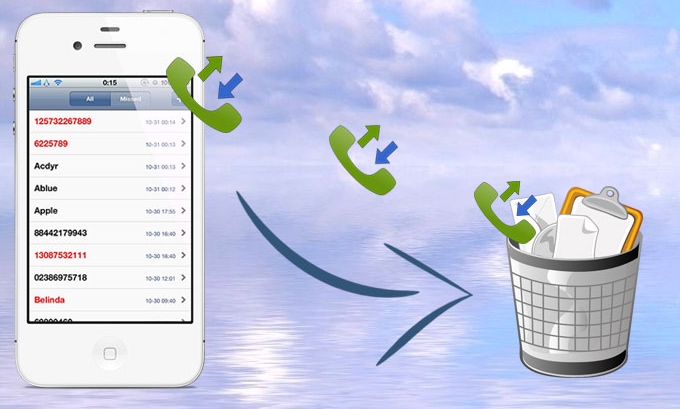 iPhone is indeed the most sought after smart phone these days due to its advance features and design. However, some users are still unsure about how to clean up the unwanted things on their mobile such as call history. It may be easy for techie users but not for beginners. By deleting call log on your iPhone with efficient means, you can free some space from your phone which makes it run faster. And in case you don't have an idea on how to delete call history on iPhone, then you can check the various solutions after the jump.
The finest ways to erase call history on iPhone
There could be different ways and means to remove all call logs from iPhone. You can delete the logs one after another or remove all at once, and here are the best ways to do so without ado.
1. Remove a single call log with a swipe (Single Deletion)
2. Delete multiple call logs with iPhone app on iPhone (Multiple Deletion)
3. Erase all call logs on your iPhone (Entire Deletion)
4. Remove all for your safety (Permanent Deletion)
Solution1: Delete a single call history from the logs directly
If you need to delete call logs individually then this is the method that you should use. With this solution you can pick and erase a certain call log that needs to be junk. Please follow the steps below:
Unlock your iPhone, go to the "Phone" app, then tap "Recents" button.
Now look for the specific log that you wish to delete, and then swipe it to the right.
After you swiped it, a "Delete" button will appear. All you need to do now is to tap this button and the log will be erased instantly.

On the other hand, you can also tap the "Edit" button located at the top portion, and then tap the red circle minus button which will show on the left side of each log. Now click the "Delete" button and you're done.
Solution 2: Erase multiple call records on iPhone
There are times that you need to delete multiple call records from iPhone, and in this event the swiping method will somewhat slow you down. Yet, here is the most efficient way of doing it.
Grab your iPhone and go directly to the "Phone" > "Recents".
On the upper right area, tap on the "Edit" button and a red minus button will appear.
Now locate the call logs that you want to remove and hit the red minus button besides the log.
After that, a "Delete" button will be shown on the right side of each call log that you selected. All you need to do is to tap it and the log will be erased.
Repeat this process until you have deleted all unwanted call records and then tap "Done" tab on the upper portion.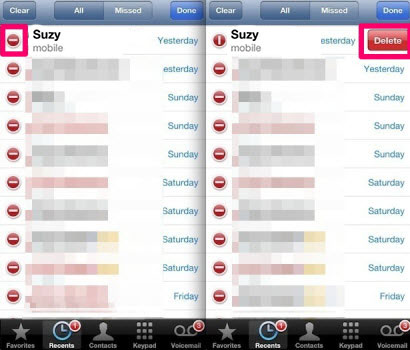 Solution 3: Erase the entire call logs on iPhone
Now if you don't have time to look over all call logs on iPhone, then you may remove all of them at once. Then the best thing that you can do is to delete all call history from iPhone. By doing this you can immediately get rid of all your logs fast and easy. It's also beneficial if you want to hand over your phone to another person or re-sell it out. Here is how you can wipe all your call logs at the same time.
Open your iPhone, go to "Phone" app, then "Recents".
Tap the "Edit" button that is located at the right upper corner.
Now a "Clear" button will be shown at the left upper corner, all you need to do is to tap it.
After that, another button will pop out, asking you to "Clear All Recents". If you have determined to erase your entire log, hit this button to commence the deletion.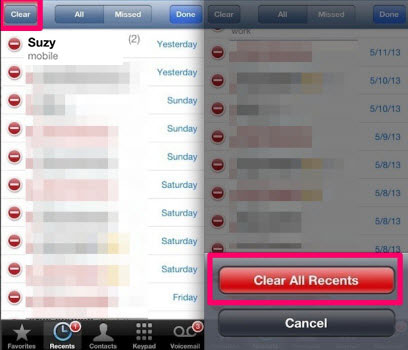 Solution 4: Permanently delete call history from iPhone
The call logs removed as instructed by the above methods are actually not gone forever. Anyone with a recovery tool can easily retrieve them instantly. In order to permanently erase your call history on iPhone, you can use a wonderful tool named iPhone Data Cleaner. By utilizing this application you can easily wipe out the entire call list on your iPhone without leaving any trace behind.
In addition, this program also has the ability to permanently delete images, notes, contacts, text messages, internet bookmarks, and many more. So there is no need to worry about your privacy being leaked. Here are the simple ways on how to operate this program.
Download and install the iPhone Data Cleaner on your PC or laptop.
Launch the tool and connect your iPhone to PC via USB.
Wait for a second till your device is recognized.
Once your iPhone is detected, it will lead you to the main interface and choose "Erase Deleted Files".

The next step is to select a security level from Low, Medium, and High.
To begin with the process hit the "Start" button. And when it is completed, click "Done" button to finalize the process.
Call log tends to pile up as we use our iPhone every now and then. We can get rid of them by the methods that we discussed above. However, only the fourth method leaves no trace behind and can really turn clean call log forever.